A joint legislative session assembled in Washington DC on 6 January to officially count the votes from the Electoral College and confirm the victory of Joe Biden. When pro-Trump rioters stormed the Capitol and burst into chambers and offices, lawmakers were pushed into the recess and told to hide in place and evacuate.
The president insisted that the election had been seized from his supporters, despite no credible facts from his team or from his own government and electoral authorities across the US. Instead, the president and his professional counsel have focused on false narratives promoted on social networking sites by right-wing news networks and unregulated media houses.
The rioting followers of Trump violated a section of administrative power, Congress, and they did so unlawfully by trespassing and property damage.
Timeline of  rioting at Washington DC
At 10 am, in Washington DC, Rudy Giuliani tells a pro-Trump rally audience that he is "prepared to risk [his] reputation" on electoral fraud.
"And we'll be made fools of it if we're wrong," he says. Although if we're right, there will be a lot of them going to court. But let's get a battle trial.
1200, the President attends the rally, declaring that he needs the V.P to do "the right thing."
Trump and his supporters have forced the vice president to ignore election decisions, overturning already-certified ballots, and discrediting the votes of millions of Americans. The president says that Pence "will have to come through for us."
1 pm. After facing threats from the president and his supporters to condemn the election outcome, the vice president released a message to members of Congress hours before the session began.
"It is my considered judgment than my oath to support and defend the Constitution constrained me from claiming unilateral authority to determine which electoral votes should be counted and which should not."
2 pm, Mitch McConnell of the Republican Senate opposes attempts to overturn the election outcome, threatening efforts to do so "will damage our republic forever."
2.15 pm, Capitol police alert Congressional personnel that "no entrance or exit is allowed" because of an external security threat in all Capitol buildings."
2.24 pm, Twitter tweets from the president: "Mike Pence did not have the courage to do what should have been done to protect our country and our Constitution, giving States the opportunity to certify a corrected set of facts, not the fraudulent or inaccurate ones they were previously asked to certify. The USA is calling for the facts! "
2.30 pm, Muriel Bowser, Washington DC Mayor, issues a 12-hour citywide curfew effective
Law officers at the Capitol were asking House legislators to wear gas masks when the doors to the chambers are barricaded. Rioters were smashing glass gallery doors, evacuating participants and workers on the floor.
In the rotunda, the police fired tear gas, and the Capitol police drew weapons at the House chamber window. Shots were fired.
A lady Got shot.
3.13 pm, Trump says "no violence" to supporters: "I'm asking for everyone in the U.S." Capitol in order to be calm. Oh, no abuse! Know, WE are the Law & Order Party, upholding the law and respecting our brave men and women in Blue.
4 pm, "The president-elect urged the president to "fulfill his oath and uphold the Constitution and insist that this siege be stopped.
"It's not a protest—it's an uprising," he says. "Watching the globe. I am deeply saddened and sad that our country, the beacon of light and hope for democracy for so long, has arrived at such a dark moment.
5.30 pm, Rioters occupied Capitol offices.
At 7.30 pm, Law enforcement officers accompanied lawmakers into their separate offices.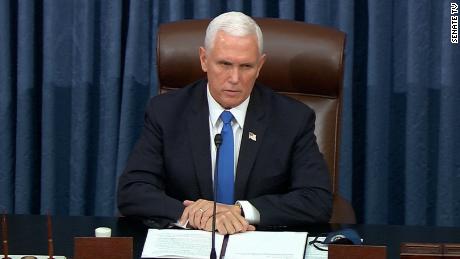 8 pm, Mike Pence reported to the Senate. He said: "Let's get back to work" after his opening remarks.
"Mobs, thugs, or threats will not keep us out of this chamber," said Senate Majority Leader Mitch McConnell.
"The clockwork of our Democracy has continued" despite conflict and turmoil at home and abroad, he said, " they were trying to overthrow democracy—they were failing. They have lost."
Also read,