Netflix has always delivered in terms of content. Time and again, they have proved that an investment in a Netflix subscription is never a loss when it comes to entertainment.
With Giants like, To All the Boys I've Loved Before, The Witcher, Friends, and more, all the popular hot series are available on Netflix for streaming.
But at one point in time, we all get bored of watching the same old movies or the ones everyone is talking about. We want to run astray and watch something underrated. But the thing about underrated movies is that they are UNDERRATED!!!
Here's Buzzpedia lightening your burden, child. Hop on to find out some gems handpicked by yours truly.
1. Stardust 
Director- Matthew Vaughn
Rotten Tomatoes- 76%
Cast- Claire Danes, Charlie Cox, Michelle Pfeiffer, Robert de Niro
Based on Neil Gaiman's novel of the same name, Stardust is the story of Tristan and his quest to find a fallen star for his beloved Victoria. But for this, Tristan has to cross the Wall, make dangerous enemies, and fight magical powers way out of his league.
Add to this the burden of transporting a living star! Stardust makes for a great family watch with a story as convoluted as it is beautiful. The acting and cinematography are to die for.  Watch it for this fairy tale makes you think as much as it makes you dream.
2. The Killing of a Sacred Deer
 Director-Yorgos Lanthimos
Rotten Tomatoes- 80%
Cast-Colin Farell, Nicole Kidman, Barry Keoghan
Based on Euripides's Greek Tragedy Iphigenia at Aulis, this movie borrows from the myth of Agamemnon, who accidentally kills a deer in one of Artemis's sacred fields. For this, he is made to sacrifice his daughter to the goddess.
In the movie, Steven Murphy, a skilled cardiothoracic surgeon, makes friends with a teenager named Martin. Martin's father died in a car accident and Murphy decides to help him deal with his loss. What follows is a fierce and pitiless punishment for the idyllic family as the innocents suffer for their crimes.
The cinematography has a weird unnerving feeling about it and the killing of a sacred deer succeeds in creating a truly horrifying psychological thriller.
3. Beautiful Creatures
Director- Richard LaGravenese
Rotten tomatoes-47%
Cast-   Alden Ehrenreich, Alice Englert, Jeremy Irons, Viola Davis
Based on the novel of the same name by Kami Garcia and Margaret Stohl, this romantic gothic fantasy film can be considered an upgrade to the entire forbidden teen romances that the 
Mainstream media has become over-cluttered. Beautiful Creatures is about Ethan Wate who lives in Gatlin, a town he tells in the opening voiceover, that only "people too stupid to leave and the ones too stuck to move" inhabit. Ethan has a recurring dream of a girl he has never met.
Things start to change when Lena Duchannes joins Ethan's school and he finds an uncanny resemblance between Lena and the girl in his dreams.
Ethan learns of a sinister past and how he was always bound to Lena in unbreakable ways. Beautiful Creatures is a breath of fresh air in toxic male-gaze-driven teen dramas. I highly recommend it.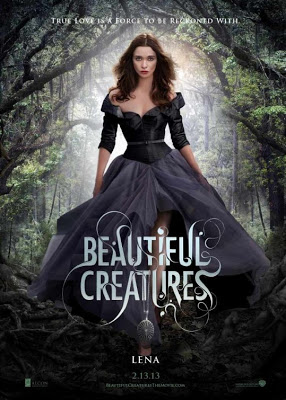 4. All the bright places
Director – Brett Haley
Rotten Tomatoes- 64%
Cast- Elle Fanning, Justice Smith, Felix Mallard
Based on the novel of the same name by Jennifer Niven, Violet and Theodore live in a small Indiana town both battling demons of their own. While Violet suffers from Survivor guilt, Theodore is bipolar with an emotionally absent father.
Violet is quiet and Theodore is a freak. As the two teens team up for a school project to find all the bright places in Indiana, they help each other heal through their pain. A friendly warning- sit with a box of tissues for this one is going to be a rollercoaster ride.
5. Rebecca 
Director- Ben Wheatley
Rotten Tomatoes- 39%
Cast- Lily James, Armie Hammer, Kristin Scott Thomas
Most of us are familiar with Alfred Hitchcock's version of this movie. But the Ben Wheatley version could not do what the 1940 version did, BUT this one has ARMIE HAMMER in it! Beautiful landscapes, beautiful people, grand old mansions, a scary apparition- all with our incredible Armie Hammer.
Rebecca is the story of a young woman falling in love with a mysterious Maxim de Winter and eventually getting married to him.
She soon finds out that all the people back home, especially the housekeeper, Mrs. Danvers, are too fond of the earlier Mrs. de Winter and too stubborn to let her take the helm.  And did I forget to mention Armie Hammer? 
6. Age of Adaline
Director- Lee Toland Krieger
Rotten Tomatoes- 54%
Cast- Blake Lively, Michiel Huisman, Harrison Ford, Kathy Baker
Age of Adaline is one of those underrated gems that make you fall in love with cinema all over again. The film rides a lot on Blake Lively's natural effortless charm.
Adaline Bowman is a 107-year-old ageless woman, thanks to a freak car accident, always running from one place to another in fear of being found out. After she meets Ellis, Adaline genuinely begins to question things and the way she has been living her life all those years.
7. Cargo 
Director- Arati Kadav
Rotten tomatoes-64%
Cast- Vikrant Massey, Shweta Tripathi, Ritwik Bhowmik
Built on a shoestring budget, Cargo tells the story of Prahastha, a rakshasa who has been readying recently deceased people for rebirth. Things heat up as a new assistant, Yuvishka, joins Prahastha for the duty.
The monotonous space odyssey becomes endearing and fun as the two rakshasas slowly bond throughout the movie. Cargo is out of the box and a must-watch for fans of Indian sci-fi. 
8. Ender's game
Director- Gavin Hood
Rotten Tomatoes- 62%
Cast- Asa Butterfield, Harrison Ford, Ben Kingsley, Viola Davis
Ender's Game is a post-apocalyptic movie based on the book of the same name written by Orson Scott Card. Ender is a gifted child who is sent to the military after catching the attention of Colonel Hyrum Graff and Major Gwen Anderson with his combat aptitude.
The movie deals with concepts of isolation, war, and the price of victory over human/alien life. Ender's journey through space and understanding of the alien race brings him closer to himself. Although designed like a children's movie, certain themes in the movie are more adult than your average Netflix.  
9. I am thinking of ending things
Director- Charlie Kauffman
Rotten Tomatoes- 82%
Cast- Jessie Buckley, Jesse Plemons, David Thewlis, Toni Collette
Classified as a surrealist psychological thriller, I am thinking of ending things, as a genre-bender. We watch the movie from the point of view of a young woman who goes unnamed throughout the movie.
She is visiting her boyfriend Jake's family farmhouse and much of the film is a sharehouse that makes the bulk of the movie. While the book it is based on is nothing short of terrifying, the movie takes a more philosophical stand and I am glad for that.
I mean I couldn't sleep 2 nights after being in the car itself. The conversation plays out between the lead characters and their eventual arrival at the feeding of the book.
10. Hugo
Director- Martin Scorsese
Rotten Tomatoes- 93%
Cast-Asa  Butterfield, Chloe Grace Moretz, Sacha Baron Cohen, Ben Kingsley
Hugo tells the story of a young boy named Hugo Cabret who lives alone in Paris's Gare Montparnasse railway station. Hugo is one of the lesser-known films by Scorsese, despite winning 4 Academy Awards and the Best Picture nomination.
Hugo finds a broken automaton that was created to write and he and his clockmaker father begin to repair it. However, Hugo's father dies in a fire, and henceforth, it becomes Hugo's mission to find out what the automaton did because he believes his father left him a message on it. Heart-warming and adorable, Hugo is a winner through and through.