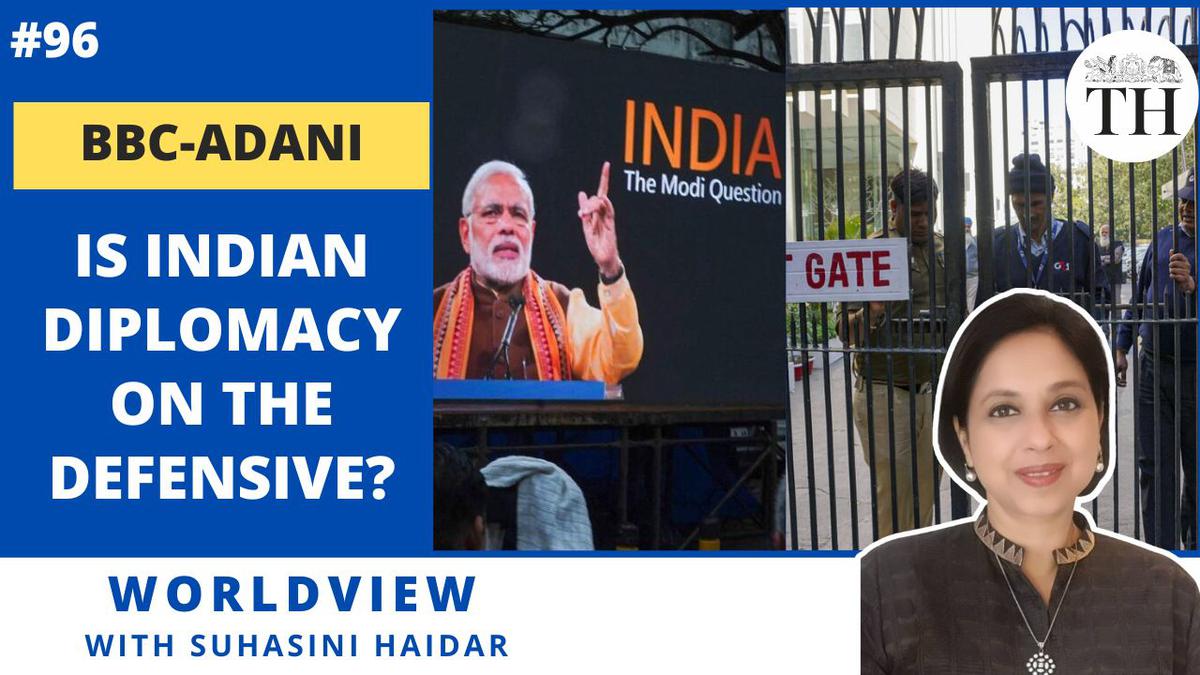 In this episode we are trying to dissect official speculation that has now become a part of Indian diplomacy- on an alleged foreign hand at work to run down India's development- So while in previous episodes we have spoken about Disaster diplomacy, Diaspora diplomacy, Neighbourhood diplomacy etc, this week we will focus on Defensive diplomacy, which is a big part of what the MEA and Indian diplomats in Embassies worldwide have to do
What Happened?
1. BBC- Britain's public broadcaster, that works under the Government's Department of Media, but is independent, aired a 2 part documentary last month, that raised questions about Prime Minister Narendra Modi's role as CM of Gujarat, virtually accusing him of being complicit in the killings of 2000 in the Gujarat riots of 2002. The second part looked at the actions of the Modi government at the centre since 2019, and accused it of instigating and condoning majoritarian violence.
Neither parts of the documentary were made available by the BBC to viewers in India.
– The government banned part 1 of the documentary, but did not ban part 2
– The MEA issued a strong statement, accusing the BBC of a colonial mindset
 External Affairs Ministry Spokesperson, Arindam Bagchi said, "Let me just make it very clear that we think this is a propaganda piece designed to push a particular discredited narrative. The bias, the lack of objectivity, and frankly a continuing colonial mindset, is blatantly visible."
– On February 14 th however, the government began a series of raids on BBC offices in Delhi and Mumbai- confiscating cell phones and computers and looking into the financial records of the company in India. No official has spoken on the record, but sources have alleged financial wrongdoing, non-compliance, and even a link to BBC sponsorship by Chinese companies.
There has been no formal response to the raids or the ban from the British government- officials said they were closely monitoring developments
2. The other big story was a report by an American financial research firm and short seller Hindenberg Research, who accused Adani Enterprises Limited of a number share market manipulations and false filings- the report was denied by AEL, but the company and its subsidiaries took a considerable hit on the stock exchanges, losing about $100 bn in value. The company also claimed the report was a hit-job aimed at damaging India and its economy, not just one company.
A senior minister also slammed a statement by American Investor George Soros, who had called for PM Modi to answer questions about his proximity to the Adani group chief- Minister Smriti Irani called Soros's speech, and a conspiracy to break indian democracy
This week, Vice President Jagadeep Dhanakhar said in response to what he called attacks on India's economy as well as the BBC documentary- He was speaking to India's Information service officers
"We have to boldly neutralise it (the invasion). We cannot allow free fall of doctored narratives to run down our growth story on so-called reputations. "How come Indian mind immediately absorbs something and does not analyse. There is a vicious mechanism designed to afloat a narrative to run down the growth story of this country all in the name of freedom of expression."
3. In the recent past as well, the government has reacted to International Reports that claim press freedoms in India, and democracy as a whole are under attack.
"We don't need to be told what to do on democracy. India is perhaps the most ancient civilization in the world as all of you know. In India, democracy had roots going back to 2500 years, we were always a democracy", Permanent Representative to the UN, Ambassador Ruchira Kamboj said.
4. Also last month, when India came under criticism for increasing its imports of Russian oil- EAM Jaishankar called it western hypocrisy
Dr. Jaishankar said, " Europe has managed to reduce its imports while doing it in a manner that is comfortable. If at a (per capita income) of €60,000, you are so caring about your population, I have a population of $2,000. I also need energy, and I am not in a position to pay high prices for oil."
5. In the past years, you may recall, the MEA reacted to criticism from Canadian PM Justin Trudeau on police action against protestors- by freezing bilateral ties for several months. And also issued statements against Pop star Rihanna and Youth environmental activist Greta Thunberg
What are the major worries for the MEA/Government?
1. Larger trend of criticism in the year of G20
2. Will dent India's image, and make diplomacy much more difficult
3. Will hurt India's economic growth, which is just recovering from Covid, the Ukraine War and global recession
4. Come from a colonial mindset- and could lead to racist attacks on India and diaspora
5. Worry of other international mechanisms being used like the HRC, FATF, Media bodies, Democracy bodies etc. As well as sanctions – as they have been against countries like Turkey, Iran, Bangladesh – or worries about isolation
But the reality doesn't back up these worries- just take a look at the past week
1. PM calls with Biden and Macron, statement by Sunak after Air India deals
2. NSA Doval to Washington UK Moscow- Many agreements on technology cooperation, strategic issues, Afghanistan
3. Jaishankar to Australia, Fiji
4. Upcoming visit of German Chancellor Scholz- NSA , Climate Change envoy visits
5. G20 Foreign Ministers meeting preparations- March 1-2, followed by Raisina Dialogue
6. SCO FM in May, SCO Summit in June, G20 Summit in September
7. State visit invite, Officials say clearly there will be no sanctions against India
There is, therefore little to indicate that Western countries – atleast officially are at all trying to target India in any way or isolate it. Even so, this does take up much of our diplomats time.
How does Defensive diplomacy work?
1. Public statements- of the kind we have seen in the past few weeks
2. Engaging media in foreign countries- interviews, press conferences, editorials
3. Embassies lobbying with Parliamentarians or hiring lobby firms
3. Visa Bans/ Deportations- India has refused visas for members of the US Commission on International Religious Freedoms on many occasions
4. Punitive actions: Legal action like with the BBC/ Visa cancellations
In addition, the government has restricted a number of foreign- mainly western NGOs from working or funding projects in India in a number of specific fields where it feels targetted
Reading Recommendations
This week, a mixed bag of book recommendations that may help you understand defensive diplomacy:
1. Why Leaders Lie: The Truth About Lying in International Politics by John J. Mearsheimer
2. Lobbying: The art of political persuasion Paperback by Lionel Zetter
3. The Ambassadors: Thinking about Diplomacy from Machiavelli to Modern Times :by Robert Cooper
4. The Ultimate Goal: A Former R&AW Chief Deconstructs How Nations and Intelligence Agencies Construct Narratives byVikram Sood
5. Friends with Benefits: The India-US Story by Seema Sirohi
6. Indian Lobbying and its Influence in US Decision Making: Post-Cold War by Ashok Sharma
7. The Hell of Good Intentions: America's Foreign Policy Elite and the Decline of U.S. Primacy : by Stephen M. Walt
8. Some on democracies and the messy diplomacy that needs to be done to defend them
9. The Anarchist Cookbook by Aakar Patel
10. A World Safe for Democracy: Liberal Internationalism and the Crises of Global Order by G. John Ikenberry
Some of my favourite Diplomatic memoirs
11. A Life in Diplomacy by Maharajakrishna Rasgotra
12. Pax Indica: India and the World of the Twenty-first Century Kindle Edition by Shashi Tharoor
13. The India Way: Strategies for an Uncertain World by S. Jaishankar
14. Walking With Lions: Tales From A Diplomatic Past by K. Natwar Singh
15. Diplomacy by Henry Kissinger
16. The Back Channel: American Diplomacy in a Disordered World by William J. Burns
17. Protocol: The Power of Diplomacy and How to Make It Work for You by Capricia Marshall
Script and Presentation: Suhasini Haidar
Production: Gayatri Menon and Reenu Cyriac