Ukrainian President Volodymyr Zelensky arrived in London on a surprise visit, days before the first anniversary of Russia's invasion of Ukraine.  Mr. Zelensky made a strong pitch for Western — specifically, British — fighter jets on Wednesday. The U.K. did not commit to providing aircraft but announced that it would train Ukrainian troops to fly NATO-fighter jets.
"I'm happy to be here," Mr. Zelenksy said as he got out of a grey SUV in his trademark military fatigues, outside No.10 Downing Street. This is only Mr. Zelensky's third visit abroad (he has visited the U.S. and Poland) since the invasion began. He was accompanied by U.K. Prime Minister Rishi Sunak who had met him on arrival at the Stansted Airport. The two men held talks , following which Mr. Zelenksy addressed both Houses of the U.K. Parliament.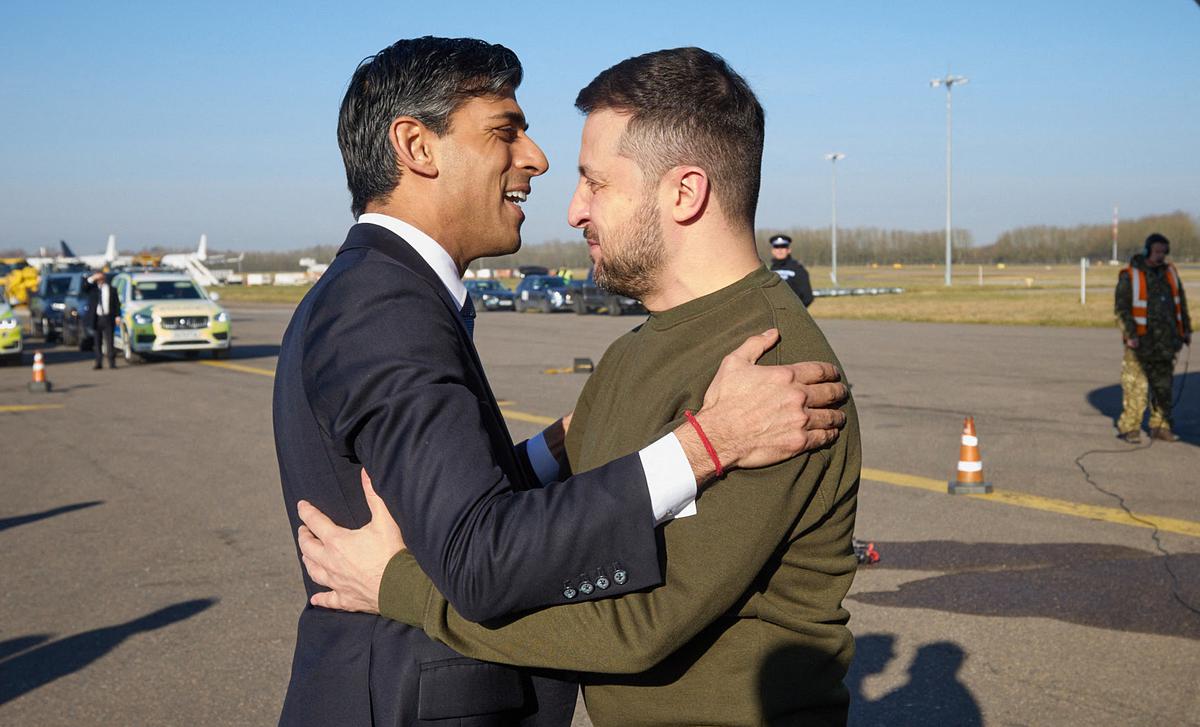 Addressing lawmakers, Mr. Zelensky thanked Britain for its support, including former U.K. Prime Minister Boris Johnson who was in the audience. Former British Prime Ministers Liz Truss, Teresa May, who are MPs,  were also present.
Mr. Zelensky also had a meeting with British monarch King Charles III in the afternoon.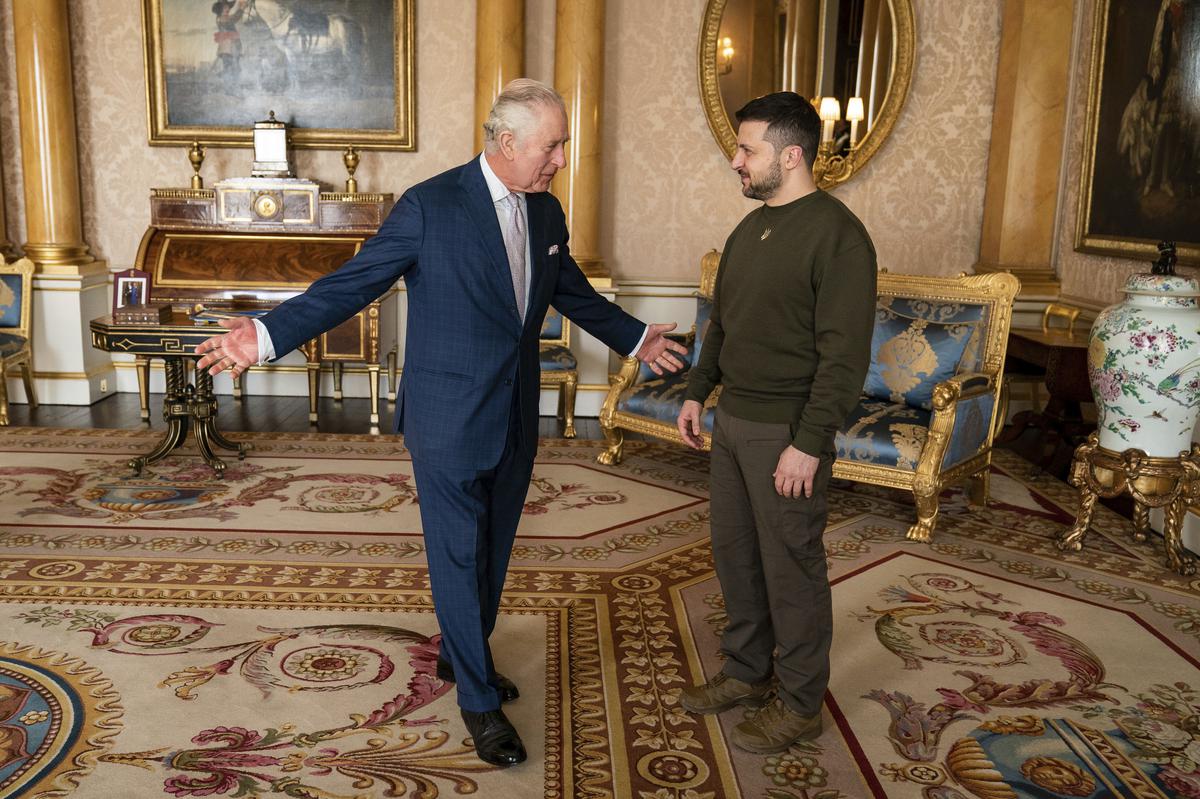 He is also scheduled to visit an Army training site in Dorset later on Wednesday, along with Mr. Sunak. The U.K. has trained 10,000 Ukrainian troops in the last six months, as per government estimates. Ukrainian troops are currently being trained to use Challenger 2 tanks, 14 of which London recently committed to provide Kyiv. On Wednesday, Downing Street announced that training would be expanded to include fighter jet pilots and marines.
Significantly, the training will include preparing soldiers to fly NATO-fighter jets, though NATO has not yet provided these jets to Ukraine, partly out of concerns that it could exacerbate the conflict with Russia. Kyiv had asked for longer-range artillery , which the U.S. recently agreed to provide. It had also has asked for Western fighter jets, especially American F-16s, a demand U.S. President Joe Biden has not acquiesced to.
Britain has also been reluctant to provide Kyiv with fighter jets, with Mr. Sunak's spokesperson saying in recent days that it was not "practical" right now to send Typhoon and F35 jets to Kyiv and that these jets were "extremely sophisticated" and required months of pilot training.
However, Mr. Zelensky reiterated his request for aircraft to the Houses of Parliament.
"…Combat aircraft for Ukraine, wings for freedom," he said and presented a fighter pilot's helmet to the House of Commons Speaker, Lindsay Hoyle, with the words 'We have freedom, gives us wings to protect it' inscribed on it.
"We know freedom will win, " Mr. Zelenksy said, to applause. "We know Russia will loose," he added.
The U.K government announced fresh sanctions on entities and individuals providing Russia with military equipment or connected to financial networks linked to "Kremlin elites" to coincide with Mr. Zelenksy's visit.