The world is full of weird and wonderful things. This weirdness of the world is reflected in many unusual festivals that are celebrated around the globe. From tomato throwing to hurling fireballs, everything is enjoyed in our unpredictable human world.
Today, let's take a look at 10 such bizarre festivals which one wouldn't believe exists today.
1. Las bolas de Fuego (Balls of Fire) in El Salvador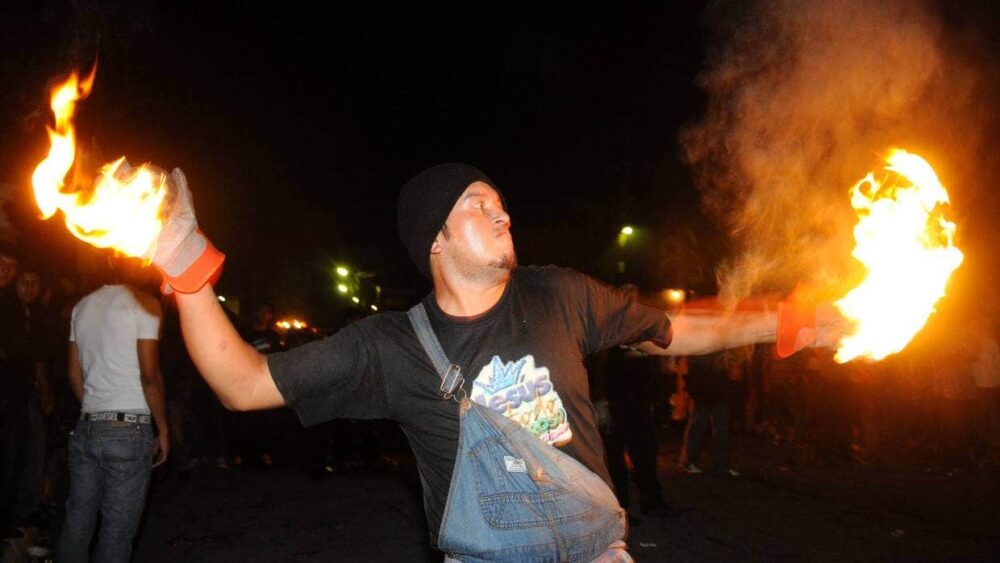 Origin:  This celebration is an old custom for the individuals of Nejapa in El Salvador. In 1922 eruption of a nearby volcano forced locals to clear the town. As they got out of the town, the residents saw giant balls of fire hurtling out of the volcano. They trust it was their benefactor holy person (patron) battling the demon for their sake. This celebration is a reenactment of that day.
To learn more, click here.
When is it celebrated?  Every year, on August 31
How is it celebrated?  Residents of town Nejapa paint their faces to look like skulls, soak their clothes and a pair of gardening gloves in water, and take to the streets in two teams to hurl fireballs at one another.
2. Punkin' Chunkin' in the USA
Origin:  It began in 1986 as a group of men in Lewes, Delaware, sat in a local blacksmith shop arguing over who could throw an anvil farthest. Someone heard some local college students were throwing pumpkins by hand to raise funds for their school. The group embellished that event. Anvils turned to pumpkins, and Punkin Chunkin was born.
To learn more, click here.
When is it celebrated?  In November 
How is it celebrated?  Punkin Chunkin is the sport of hurling' a pumpkin solely by mechanical means for distance. The devices used include slingshots, catapults, centrifugals, etc.
3. Battle of the Oranges in Italy
Origin:  The roots of the Battle of the Oranges go back to bygone eras and is said to celebrate the day the townsfolk were freed from a malicious duke's brutal rule.
The legend goes that the mill operator's daughter, Violetta, removed the duke's head when he attempted to lay down with young brides on their wedding night. This drove the town to ascend and burn down the duke's castle.
To learn more, click here.
When is it celebrated?  It is a three-day festival whose dates vary from year to year.
How is it celebrated?  Once a year, the citizens of the old medieval town of Ivrea, in Italy, gather in the main square to hurl oranges at each other. The battle represents the struggle between the supporters of the duke and those of Violetta.
4. Monkey Buffet Festival in Lopburi, Thailand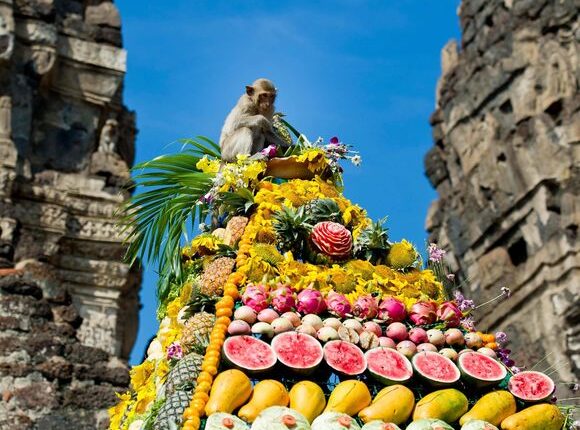 Origin:  Historians trace Lopburi's monkeys' roots back to the Ramayana, an ancient Sanskrit story. This is an epic tale of Rama, a divine prince, and his struggle to rescue his wife, Sita, from a demon lord's clutches. According to the tale, the king of monkey, Hanuman, and his army helped rescue Sita. That monkey has founded Lopburi, leading residents to believe that their current monkey neighbors are direct descendants of his bloodline. Lopburi's annual buffet is one way people mark their appreciation.
To learn more, click here.
When is it celebrated?  It usually occurs on the last Sunday of November.
How is it celebrated?  The Monkey Buffet Festival kicks off with an opening ceremony that includes performances by dancers in monkey costumes. When the monkeys arrive, hosts remove sheets from the banquet tables, revealing decorative spreads of vibrantly hued fruits and vegetables. The macaques jump across tables and climb towering pyramids of watermelon, durian, lettuce, pineapple, and more, indulging in the nearly two tons of offerings.
5. Tomatina Festival in Spain
Origin: In 1945, some young people wanted to have a place among the retinue of a parade with musicians, Giants, and big head figures. The energy and enthusiasm of these young people were over the top. In all the excitement, they happened to push one of the participants of the parade, and he fell down.
He flew into a fit of rage and started to hit everything in his path. There was a market stall full of vegetables, which unfortunately fell victim to the furious crowd and people started pelting each other with tomatoes until the local forces ended the battle.
To learn more, click here.
When is it celebrated?  On the last Wednesday of August each year in the town of Buñol near to Valencia in Spain.
How is it celebrated?  Tomatina Festival begins at 12 am with a bang. Trucks loaded of tomatoes proceed to drive through the fight area. While some locals in the back of the trucks throw tomatoes at all of the festival-goers. As soon as the truck passes, everyone dives on the ground, scooping tomatoes to get themselves armed for the battle.
6. Boryeong Mud Festival in Korea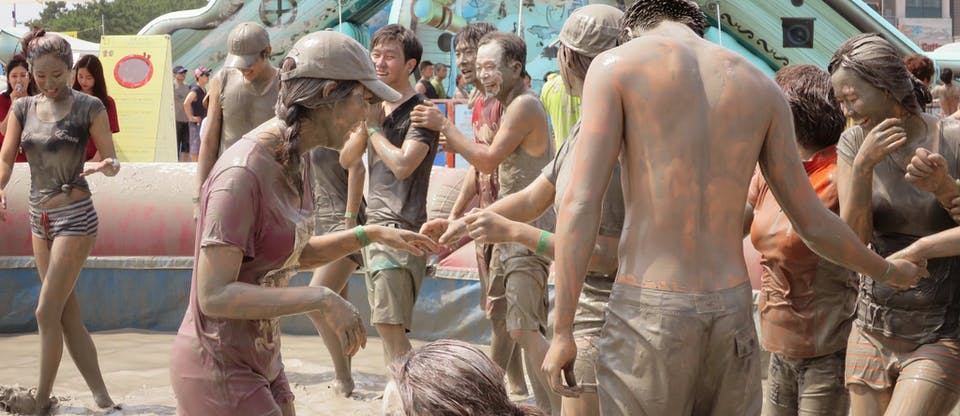 Origin: The Boryeong festival began in 1998 as an advertising initiative by a cosmetic company that uses the mud from Boryeong in manufacturing its products. The Boryeong mud is said to contain various natural minerals as well as germaniums and bentonites, which are good for the skin.
To learn more, click here.
When is it celebrated?  It is a 10 festival and is held every July. 
How is it celebrated?  The festival includes a variety of activities suitable for different people with different tastes. The event consists of such activities as mud skiing, mud swimming, wallowing in mud, wrestling in mud, face painting, music, and dance competitions.
7. Cooper's Hill Cheese-Rolling and Wake in England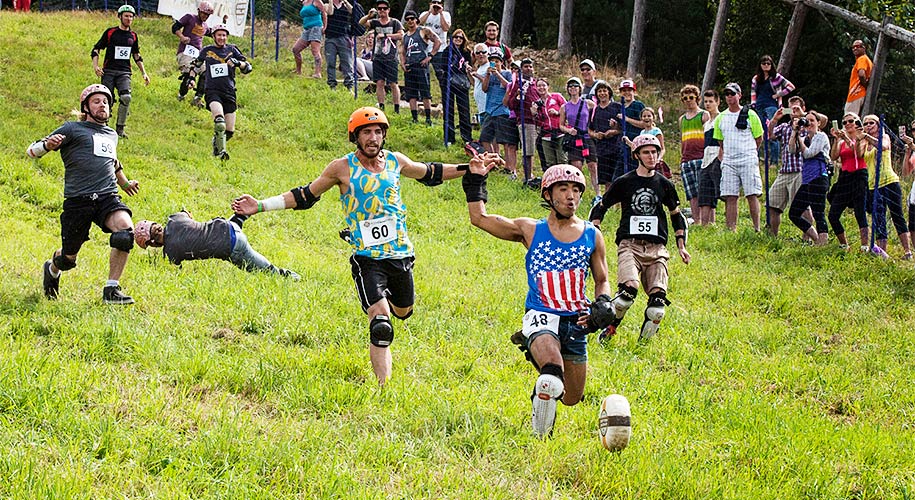 Origin: The cheese rolling tradition stretches back over 200 years. The most popular theory of its celebration says it is a celebration of the end of winter and the growth of new crops.
To learn more, click here.
When is it celebrated?  The event takes place on the second bank holiday of May every year.
How is it celebrated?  Participants chase a 4 kg wheel of Double Gloucester cheese down the hill, which can travel at over 70mph. Reaching the cheese is nearly impossible, so the winner is whoever gets to the bottom of the hill first.
8. La Noche de Rábanos in Mexico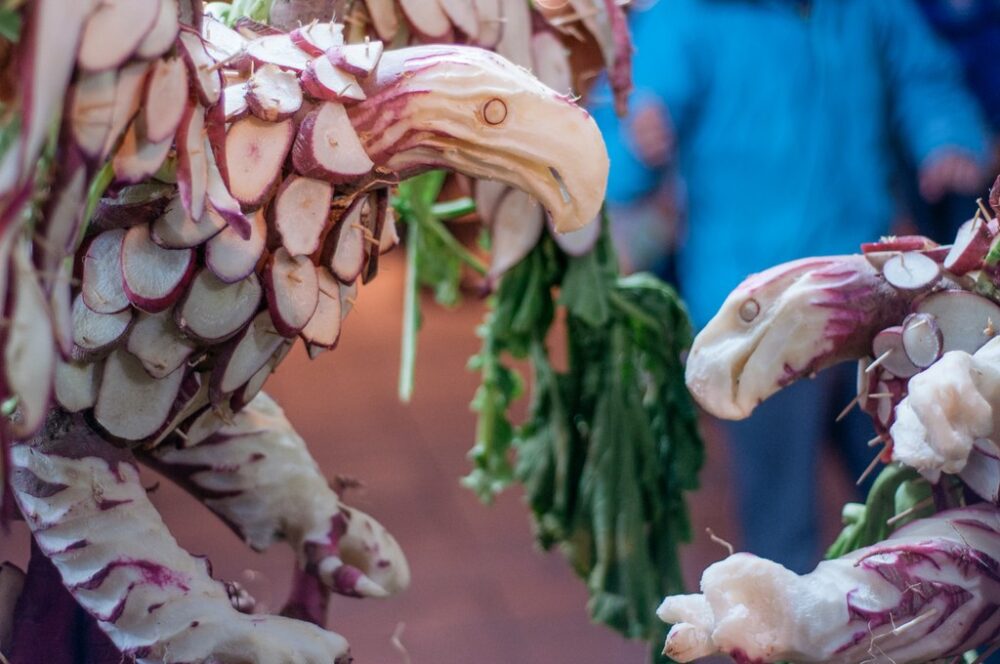 Origin: Night of the Radishes ( La Noche de Rábanos), began when market sellers at the Christmas market in Oaxaca's main square would carve radishes to attract buyers.
To learn more, click here.
In 1897, the Municipal President of the city declared that there would be an official radish-carving competition each year on December 23, and it became an annual tradition.
When is it celebrated?  It is an annual event held on December 23 in Oaxaca, Mexico.
How is it celebrated?  Radish growers from around Oaxaca gather together to carve abnormally large radishes into elaborate sculptures depicting historical scenes.
9. Naki Sumo in Japan
Origin:  The festival is considered to have roots in the folk belief that an innocent baby's loud cry can ward off demons or evil spirits.
To learn more, click here.
When is it celebrated?  Every year in April
How is it celebrated?  The Naki Sumo Crying Baby Festival is a Japanese festival in sumo wrestlers take babies in their arms. Two babies compete in a match in which the first child to cry is declared as the winner.
10. Baby Jumping Festival (Del Colacho) in Spain
Origin: Roots of this festival dates back to the 1600s. It was believed that the devil jumping over the babies prevents illnesses and guards them against evil spirits.
To learn more, click here.
When is it celebrated?  Every June 23. 
How is it celebrated?  Babies born within 12 months in the town of Castrillo de Murcia, Spain, are presented on a mattress on the floor outside their house. And then Colacho – a man dressed as the devil wearing a colorful outfit and a mask, representing the devil – jumps over the infants as onlookers cheer him on.
So, these were 10 of the bizarre festivals people around the globe celebrate. Would you like to take part in any of them, once the pandemic is over? Tell us your views in the comments section below. Also, feel free to check our listicle section for more such fun and amazing content.
Also Checkout: 10 Most Expensive Wedding Venues In The World