In Jammu-Kashmir, thousands of families have been dependent on sand extraction along river Jhelum, for generations. They dig the sand manually from mid-September to March only and transport it in hundreds of boats during the winters when the water level is usually low in the river. Then, they load the dumped sand on trippers, that ferry this sand to consumers from April till September because construction in Kashmir is carried out only in dry months.
By this arrangement, everyone would be in on the profits and making a living. Until the new rules implemented, the mining industry in the erstwhile state functioned on a small capital base.
Riverbed mining in the erstwhile state was done by local miners over small plots of land through short-term royalty contracts until the 2016 rules were enforced. The new rules mandate that the authorities hold auctions for minor mineral blocks, measuring not less than five hectares in area, with leases granted for a minimum period of five years.
After an unsuccessful attempt of auctioning, held in June 2019, UT administration e-auctioned around 400 minor mineral blocks along the river Jhelum, at the peak of internet blockade in Jammu-Kashmir (December 2019), opening the bid to non-resident bidders.
Oddly, when states like Chhattisgarh are reserving certain mining rights for their residents, Jammu-Kashmir opened up minor mineral extraction to outsiders rendering one lakh people who extracted sand manually and around 50,000 tippers that ferried this sand, jobless in one blow.
In 2019, Chhattisgarh issued a circular making domicile certificates mandatory for those applying for riverbed mining leases in the state.
Generally, local minors dominate the sector in many states, as most states do not have any legal requirements. However, it is not uncommon to acquire mining rights in other states.
Since 1947, for the first time in the history of Jammu-Kashmir, non-local companies have earned 100 per cent sand mining (and other minerals) rights in Srinagar, over 60 per cent rights in Pulwama, and 67 per cent in Baramullah, according to a report published by Kashmir observer.
Data accessed by ground report.in showed that in Srinagar, all 10 blocks have gone into the hands of non-resident contractors against the bidding amount of Rs. 5.08 crores.
Out of 20 blocks of Bandipore district, only one was won by a local contractor Mohammad Amin Mir, according to a report published by Kashmirlife.net.
In Pulwama district, the highest bid for one block was against a whopping amount of Rs. 3.25 crore. "Until now the rate per block was not much. Some of the blocks would cost around Rs. 1 lakh, NewsClick quoted a local bidder from Pulwama, as saying.
Unequal Competition
When asked, why did they not file their tenders for these contracts, local contractors told Kasmirlife.net about the inaccessibility of the internet. Other reasons being the ignorance about the outsiders applying for the leases and also their inability to shell out money in comparison to outside bidders.
Newsclick quotes a businessman in Srinagar, as sharing his experience while bidding "I even crossed Rs 1 crore to secure a block despite knowing that the amount was way too much for the block. But, someone else from outside did not want to let that go. Thus, the tender slipped out of my hands."
Kashmir.net quotes one other businessman from Bandipore blaming the internet for his loss. Despite him going to a district office for internet he could not win a bid. "DC Bandipore was generous enough to provide us internet access but unfortunately it had very low speed and our opponents had leased lines with more than 20 Mbps. During bidding, our computer used to show us "please wait" after providing a new rate and till the time the page refreshed, the tenders were won by outsiders.
Local sand diggers allege that they were not allowed a level-playing-field during the application process. The entire electronic process for auctioning was ill-intentioned from the beginning. This can be gauged from the fact that Kashmir-based contractors had to apply online when there was no internet in Kashmir. And, that the terms and conditions of the contract were such that only non-locals were bound to qualify.
Kashmirlife.net quoted a local contractor as saying, the first order issued by the department read that if non-local contractors wished to apply, they should have a local state subject along but soon the department came with a corrigendum and omitted that condition.
They call it an "organized cartel at play". Kashmir has a history of giving jobs to outsiders but it feels like they want us to be just employees and labourers to outsiders, not employers, Kashmiri says.
However, the UT administration is thrilled that its revenue from extraction this year was much higher than the previous years. The auctions had fetched the government Rs. 300 crores, an officer from the Geology department told the Scroll.in "Our main objective is revenue generation under a strict environmental protection framework."  The administration argues that Jammu and Kashmir had benefited from opening up the mining sector to non-local firms, writes scroll.in.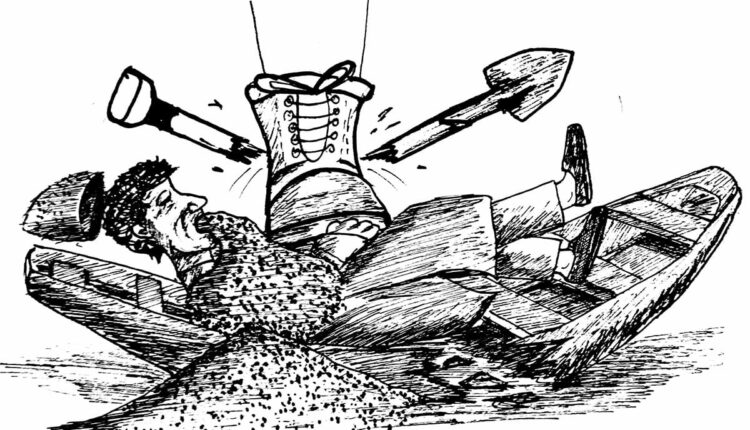 "We don't know whose development is being talked about. This is all what New Delhi has for Kashmir?" quotes The Print, an office-bearer of The Kashmir Chamber of Commerce, as saying. Every single step of their is pushing helpless Kashmiri youth towards a chasm. There has been no letup in New Delhi's repugnance for rights of Kashmiri people especially the youth. "Leave aside the educated youth; the labourers are being robbed of their livelihood. How will seizing people's rights, job avenues and other constitutional rights help the situation to improve. The imprudent measures will aggravate the already alienated youth. Where is the promised investment? We are not a part of any conversation about the economy. I can't see our economy growing in the next 20 years. It seems that the government is on a mission of disenfranchising Kashmir in every aspect. The measures give a picture of colonial-era discrimination and mortification," wrote the Print quoting office bearers of The Kashmir Chamber of Commerce.
Members of Parliament from Kashmir said the educated youth of J&K are already suffering due to shrinking employment opportunities aggravated by measures taken on the 5th of August last year. Then the domicile policy added to the frustration of J&K youth on account of diminishing job avenues. Unavailability of a viable private sector and the ruin caused to local hospitality, handicraft and manufacturing sectors post august 5th and successive COVID-19 induced lockdown had increased the trepidation of the unemployed youth of J&K.
Price-Rise
In addition to it, this new two-tier sand mining structure, with non-local leaseholders sub-contracting operations to local extractors, and both earning profit margins is resulting in an exorbitant price hike of construction material. The sand-tractor which earlier cost between Rs. 2,500 to Rs. 2,700 is now being sold between Rs. 4,500 to Rs. 6,000, according to groundreport.in.  Now a Kashmiri is buying Kashmir's sand from a non-local extractor at a higher price. Local extractors are now earning a smaller share of the profits than what they earned earlier when they themselves were contract-holders.
Among other changes, the new rules made it compulsory for miners to obtain environmental clearances before starting mining operations. And because of a lacklustre process of clearance, lease-holders are yet to secure environmental clearances.
Worse, these local extractors told the scroll that they are now forced to work illegally, to meet the soaring demands of real estate business. Some local youths who ferried the sand-trucks, despite the ban, were even booked under FIRs. "Sometimes it looks like as if we're not ferrying sand but RDX. We can't even ferry other building material like bajri, boulders, soil. If we're caught, the first time we're fined Rs. 10,000. The second time, we could be sent to jail and our vehicle auctioned", Kashmirlife.net quotes a local tipper driver as saying.
Thus, sand mining in Jammu & Kashmir has now become a dangerous and costly business.
Coming to Ecological aspect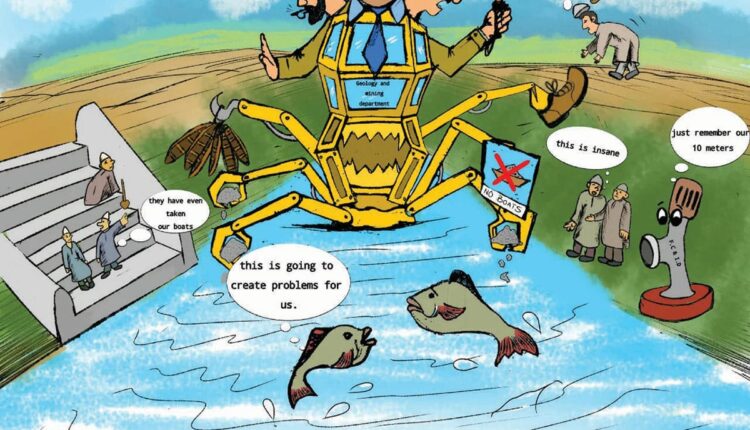 Even when sand mining and mining of other minerals was done by Kashmiri contractors, there was always an ecological cost associated with the mining. Take, for instance, the impact of heavy mechanization on river Jhelum, while the local labourers handpicked the stones, gravel and sand keeping the surface beneath it intact, the heavy sand excavation machines employed by non-local companies instead labourers for bulk extraction will dig up the entire earth instead of just stones.
The blocks primarily contained sand deposits but also host an abundant supply of minerals such as limestone, gypsum, bauxite and borax, besides fuel, coal, granite and marble. The local administration has also identified gemstones such as sapphire, garnet, and tourmaline says a report published in The Print.
Now that close to 300 blocks have been thrown open for mining minerals in Kashmir, there are apprehension of it leading to severe environmental consequences.
According to the flood management department of Kashmir, when massive excavation is done, it increases the velocity of the river, which, in turn, can result in flooding, as has been in 2014.
However, officials affirmed that no mechanical mining will be allowed. Despite, there has been instances at some blocks where the use of heavy machinery was taken place.
The unpredictable situation that developed post removal of the special status of the erstwhile state proved conducive for the sand mafia to carry out the illegal activities and all this was being done with the connivance of some officials, claim a report published by SANDRP.
Despite a ban by Jammu-Kashmir High Court (HC), in Kupwara district, unabated sand and bajri-extraction was taking place under the nose of authorities in January 2019.  Some private companies continued with their illegal ways to maximize profits. "We are fed up with this issue and many times conveyed to the concerned officials but it seems like they are looking the other way", said a local resident of district Kupwara. And due to the illegal sand-extraction, the area is now becoming vulnerable to flooding, according to a report published by SANDRP.