One of the most popular sub-genres in anime is unquestionably romance. Love at first sight, heartbreaks, teenage love, conflicts, and long-term adult love are all explored in the best romance anime films.
These romantic anime films will undoubtedly alter your perspective on love. You'll begin to see the world in rainbow colors, as it was meant to be seen. This list is dominated by Makoto Shinkai and Hayao Miyazaki films, which is unsurprising. 
As you cruise through some of the greatest and best romantic anime movies ever, prepare to be embraced by the pure adorability and magnanimity of romance anime!
A decent romantic anime film is worth a try whether you are dreaming of a love story that will sweep you off your feet or you are already living one.
1. Weathering With You
Kotoba Mado Aru kai ni dekiru ni dekiru ni dekiru ni dekiru ni dekiru ni dekiru ni de (Is there anything love can't accomplish?) This question hangs large throughout the novel.
This film is fantasy at its finest, and it is another example of 'Makoto Shinkai's greatness. Tokyo is engulfed in a never-ending downpour. The only chance for a little respite from the rain is a mysterious girl named Hina, who possesses the ability to stop it.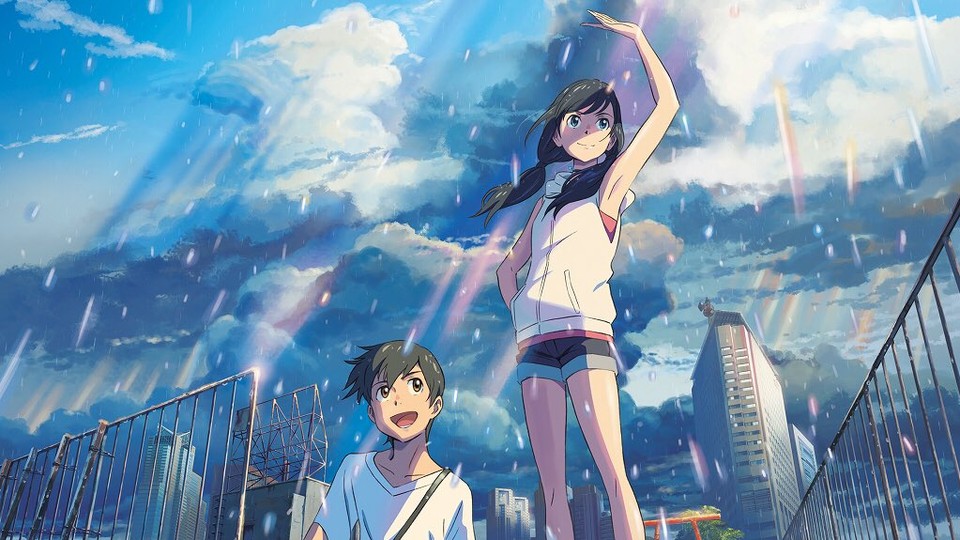 Hina falls in love with Hodaka, a young lad attempting to make a livelihood in Tokyo. The animation is just fantastic!
You'll be astounded not only by how gorgeous the film looks but also by the impression it will have on you. This love animation flick is adorned with Radwimps' music.
2. Your Name
Never before had a love story been so heartbreakingly good. Prepare to enter a world that is very different from the one we see, but with emotions that are very close to our own.
You'll be caught from the start of this Makoto Shinkai masterpiece, not just by the beautiful animation but also by the excellent plot. This isn't the kind of film that fits neatly into a single genre.
It's a well-balanced blend of everything that's good and true. Radwimps' oh-so-good music will leave you dumbfounded and entranced. Without a question, it is the greatest romantic anime film ever made.
3. Voices of a Distant Star
This science-fiction romantic film, directed by Makoto Shinkai, will undoubtedly blow your mind. It's only 25 minutes long, but it has the potential to move you to tears in that little amount of time.
Earth has been attacked by aliens in the year 2046. Some individuals are selected to retaliate against the aliens. Mikako Nagamine is one of them.
She is separated from Noboru Terao during this process, but they agree to communicate by email.
However, as the distance between the spaceship and the earth grows, so does the time it takes for the letter to reach the intended recipient. Will their love be able to survive in such a situation?
4. 5 Centimeters Per Second
Do you know how my friend persuaded me to watch this hour-long film? He just informed me that cherry blossoms fall at a rate of 5 cm/s from the tree to the earth.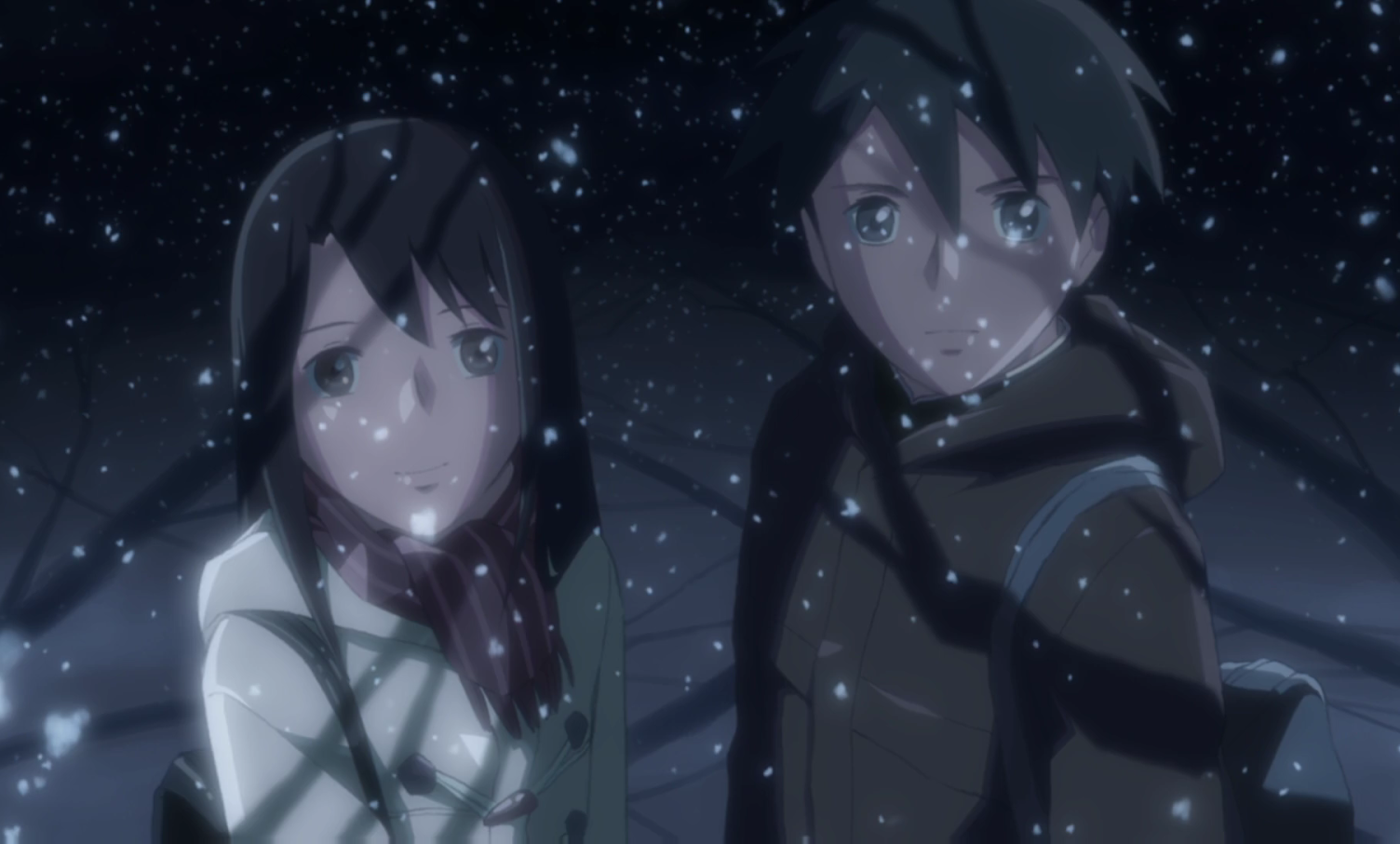 That's exactly what this film provides: facts. It hits you like a tonne of bricks after you've been forced to put on the protective armor of optimism.
Isn't there a winter waiting for love if it's like spring? Makoto Shinkai never fails to wow.
5. The Garden of Words
Despite its title, the film says a lot with very few words. Shinkai's wonderfully beautiful animation does the majority of the talking.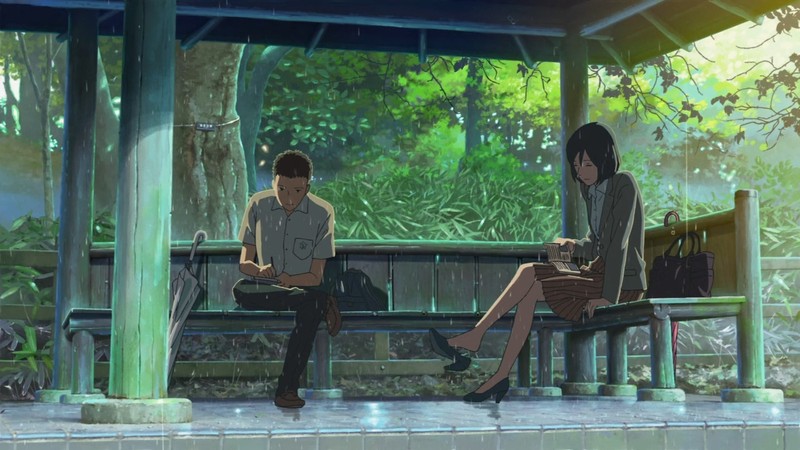 A 27-year-old instructor and a 15-year-old pupil meet in a garden to get away from the stresses of everyday life.
In the most poetic way possible, the two end up filling in the blanks in each other's life. The only thing odd about this incredibly realistic film is that you can feel the love mixed with petrichor through the screen!
6. The Night is Short, Walk on Girl
A young lady spends an extraordinarily long night in Kyoto, partying and meeting different people, in what appears to be a James Joyce narrative.
Her senpai, who is madly in love with her, follows her about, attempting to attract her attention in a way that appears coincidental.
If you're seeking something different, this quirky romantic comedy anime is just what you need to see. Even the animation is unlike anything we've seen before, which adds to the amazement of the encounter.
7. Into the Forest of Firefly Lights
A girl named Hotaru falls in love with Gin, a masked woodland spirit, in this supernatural romantic film. But there's a catch: if Gin is touched by a human, he'll vanish.
The things you make people do, love. What an example of a long-distance romance! This appears to be a lot worse. This moving and beautiful film will undoubtedly bring tears to your eyes.
8. Doukyusei
The literal translation of Doukyuusei is classmates. Because of the simplicity with which it portrays human emotions, this film is considered Shoko Nakamura's masterpiece.
Hikaru Kusakabe, a member of a rock band, volunteers to assist his straight-A student classmate Rihito Sajou with his forthcoming chorus festival singing.
The two boys begin to have affection for one another. The story that follows is a touching love story that will tug at your heartstrings.
9. I want to Eat Your Pancreas
The name has a spooky ring to it. However, don't be fooled by the title. The name comes from an ancient Japanese concept that if you watch the movie long enough, you'll figure it out.
Don't worry, there aren't any spoilers here. In the hospital waiting area, a youngster discovers one of his classmates' secret diaries and learns that she is suffering from a terminal pancreatic illness.
He assists Sakura in completing her bucket list before she passes away. As a result, he realizes the value of friendship and begins to open up to the world. It's a charming love story, to be sure.
Also Read: 8 Highest Grossing Movies Of Indian Cinema