A person's most useful asset is not a head full of knowledge, but a heart full of love, an ear ready to listen and a hand willing to help others without expecting anything in return. Venjeti Venkataramana Reddy, from Anantapur, is a man who has been rendering services to the needy & poor people for the last 15 years and this has made people call him affectionately 'Sanjeevani' which means a lifesaver and sometimes as blood donor Ramana. For him, helping people in need is a true form of service and he had been doing it since he was in school.
"If not for him, it would have been very hard for me to survive," said Anji who has been helped by Reddy. Eighteen years ago, when he was studying in class 9th, he fell from a tree while playing and got a spinal injury. He also added that, "my mother, who works as a farmhand supported me all these years, but it was getting difficult both financially and physically, as my mother was getting old." When Venkataramana came to know about this, he came forward with helping hands. Apart from providing medicines every month, which cost around 30,000, he also gave support to the family financially by 1,000 per month. He took Anji to Bellary for physiotherapy, at his own cost.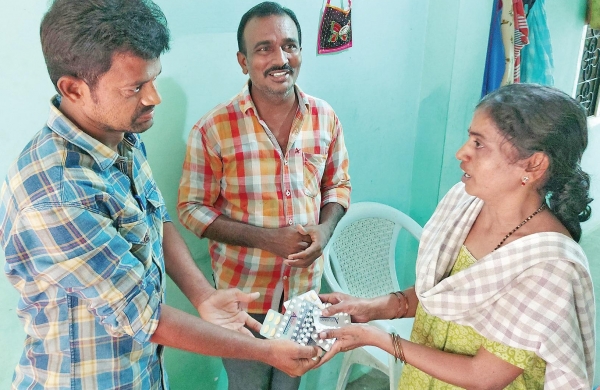 Barber Kullayappa is another person who has been helped by Sanjeevani for the medicines of his wife who was suffering from heart ailments which cost around 30,000. When Vannur Saheb in Anantapur got injured on his head while working as an electrician, called Venkataramana for help, the latter readily extended a helping hand. Vannur said, "there are no words to express my gratitude."
Venkataramana said in an interview with TNIE that "I am from a poor family, but poverty did not stop me from helping others. My mother Ramalakshmi supported his family as a tailor and my brother presently works as a security guard. Due to financial problems, I studied only till class 10 and got married 5 years ago and my wife is a contract lecturer in government schools". He also added that "In my school days, I was influenced by the Muslim friends who used to share and help each other.
In 2005, when a lecturer called out Venakataramana for helping him with blood, he came forward and donated his blood for the first time. To this date, he has donated blood to 5,000 people.
He also collects the leftover food from the functions and takes it to the old age homes and government hospitals to feed the needy. In the last 6 months, he has performed the last rites of 250 abandoned bodies.
Venakataramana proved himself as a real superhero for the needy people of Anantapur by lending helping hands to them without expecting anything in return.
Also read:
Browse through our Inspiring section to read more such stories of compassion.
For more, like us on Facebook or follow us on Twitter, Instagram and Telegram