Fans of Max's "Sex and the City" revival series, "And Just Like That…," might be in for a treat when it comes to the future storyline for Aidan Shaw, played by John Corbett.
During Thursday's episode of the "And Just Like That… The Writers Room" podcast, the show's executive producer and writer/director Michael Patrick King discussed the series' most recent episode with writers Julie Rottenberg, Elisa Zuritsky and Samantha Irby. Rottenberg and Zuritsky also serve as executive producers, and Irby serves as a supervising producer.
The writers each discussed Aidan Shaw's anticipated return to the show and reunion with his ex-girlfriend Carrie Bradshaw, who is played by Sarah Jessica Parker. Corbett's character made his appearance in Season 2, Episode 7, titled "February 14th," which premiered on Thursday.
"If we're bringing somebody back, we have to find a way to bring them back in a new way," King said about the decision to bring Corbett back. "So here we are now, bringing Aidan back again, and we have tricks up our sleeves as to how he is new and what we can actually do with this storyline."
King later explained that the show would dive more into Aidan's life and that his appearance in the latest episode was "the tip of an iceberg."
"Before you know how something— the tip of the iceberg, you have to create the iceberg," he said. "So underneath all of this, we have layered all this stuff."
The series had teased Aidan's appearance in Episode 6 when Carrie reached out to Aidan via e-mail. The characters were previously engaged in the "Sex and the City" HBO series, and they briefly reconnected when they ran into each other in the "Sex and the City 2" movie. (TV and film writers and actors, including those who worked on "And Just Like That," are currently on strike over fair pay and working conditions in the streaming era.)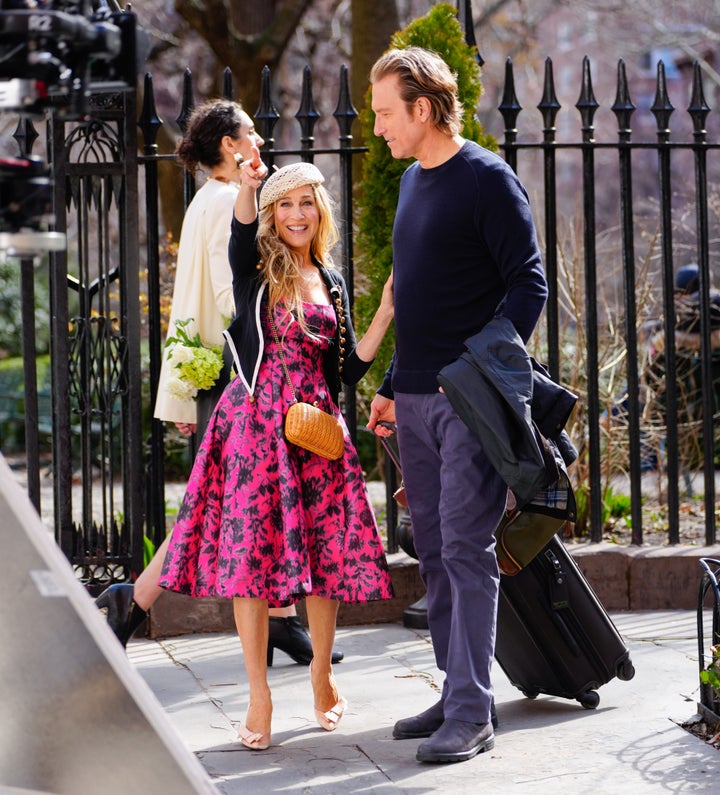 In February, Corbett and Parker were spotted filming scenes in New York City for "And Just Like That…"
The show had teased Aidan's return on its official Instagram account at the time, posting a slideshow of photos that showed Parker and Corbett embracing on set.
The caption of the post read, "And just like that Carrie is back on her tip toes."
(this story has not been edited by TSA Mag staff and is published from a syndicated feed.)