What if I tell you that you don't have to break your head to make payments? Yes! You heard me right, no more late bill payments and no more late fees. Have you missed your bill payments? Millennials today own multiple cards and accounts which makes it all the harder to keep a track of spending.
So if you are tired of all the fuss of maintaining your finances and are on the lookout for an application that does it all for you, congratulations you're in the right spot. In this post, we are going to look at some of the best Bill Reminders Apps for you to try.
Let these amazing bill reminder apps do it for you. Here are 10 best bill reminder apps curated not only to remind you to pay your credit bills but also to help you do your finances hassle-free, they will keep a track of all your deadlines and bill payments.
These apps are the best for Android and iOS and also are the best bill reminder apps available in the market.
10 BEST BILL REMINDER APPS:
1. BILLS REMINDER
Bills reminder is hands down one of the best bill reminder apps out there. It provides great financial assistance. This application sends out daily payment reminders.
Helps keep an eye on payment history and advanced repeating options. Not only that, Bills reminder lets users make partial and full payments.
The application is available in both dark and light themes. It offers different viewing options, like overdue, monthly due, or custom view.
Bills reminder has a backup system that restores the data in case there is a change of devices. It lets its users manage multiple categories with the availability of multiple currencies and languages.
2. MONEY LOVERS
Money lovers help you put your income, financial transactions, debts, and invoices in a precise manner. It is an award-winning app for managing personal finances.
It has multiple features like budgeting, reporting, and forecasting budgets which will help you not only to set reminders for your bill payments but also let you manage finances in one place.
Money management becomes easy as you can categorize income and expenses. It offers an alert assistant which helps in keeping a check on your expenses. It offers a built-in calculator, data syncing, and currency converter. It offers categories for debts and bills.
3. WALLET
Tracking expenses was never this easy as  Wallet lets you organize, record, and report expenses made on a daily basis.  A user can set reminders to make payments well in advance to avoid late fee payments.
Users can save financial reports without fear of losing the reports as the application is cloud synchronized. The wallet works very well as a personal financial manager.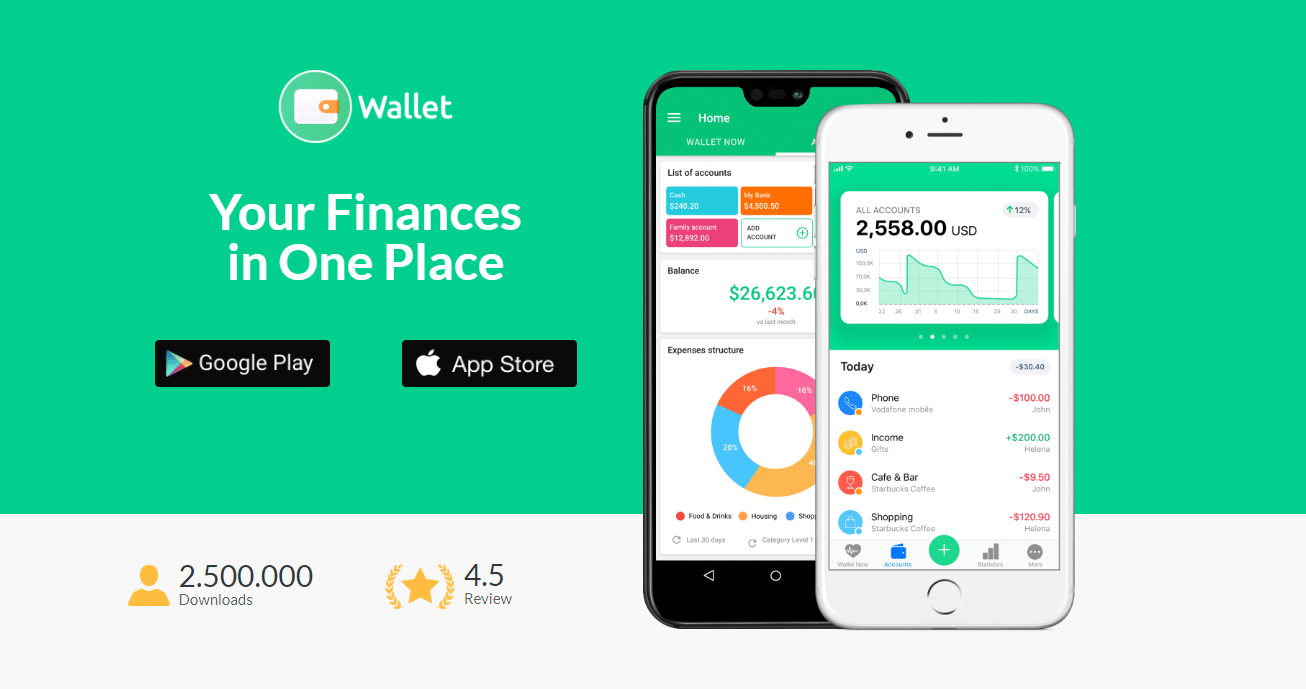 The wallet lets you plan your long-term finances. The unique feature of Wallet is that it lets you share a single account with persons that you want to share it with, it's a good application for couples. Makes automatic bank updates and planned payments. Organizes the financial overview in an easy-to-understand manner.
Also Checkout: 12 Best GarageBand Alternatives for Android in 2022
4. MOBILLS BUDGET PLANNER
One of the easiest to manage bill reminder apps. It helps track spending, manage money/ income and save. Mobile helps you create a monthly budget plan so that you do not overspend. It's multifunctional with a super simple and clear interface.
The best feature of this app is that it works without the internet. It features an app calculator, calendar, multiple currencies, and passcode security. This application also offers dark and light modes.
5. MONEFY
One of the most popular bills reminder apps. Offers a simple interface. Notifies you to pay before and on the particular due date. Helps you save money and gives tips on how to save money. Let users easily add, edit or delete data from the expenses. 
Budgeting becomes very easy as it lets you keep an eye on your expenses and income. One single user can use multiple accounts at once. Widgets help instantly access previous expenditures. Passcodes help protect the account.
6. SPENDING TRACKER
Helps keep you from overdue bills and save money from late payment charges. A user can add budget and expenses to compare and track. Has a widget just to track savings. Has a flexible time frame for scheduling payments. 
A spending tracker can track expenses on a weekly, monthly, and yearly basis. Interactive charts to visualize financial conditions so that you can track your finances. It offers different categories for different financial needs. Additionally, it backs up everything into Dropbox.
7. PRISM
Prism is one of the versatile finance apps from bills reminders to paying bills and managing personal finances. No need to worry about paying bills late as reminders come in standard and bill payment alerts. Easy to manage debt and income with an account balance in one application.
An automatic bill tracker is a great feature that allows you to view bills, payment history and due dates. Graphs of personal expenses are curated in the application which is easy to understand aside from exclusive payment options. Multipurpose applications with different types of functionalities. 
8. MINT
If you want a super simple payment reminder that is hassle-free Mint is for you. Easily set reminders to make payments. A very easy-to-use interface. It also helps track expenses and income so that the user has track of both.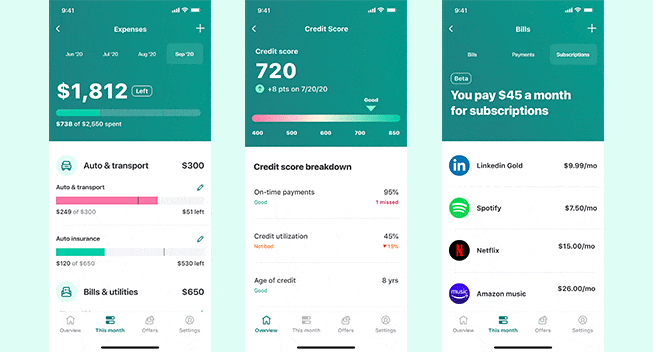 Mint helps you keep track of all of your transactions is it a card or a bank account. It mentions a user's credit score and also helps the user keep a healthy financial condition. It provides a breakdown of factors that contribute to the credit score and helps you improve it. 
9. SPENDEE
Most of the apps in this category are for individual use. Spendee, on the other hand, allows a user to create a shared wallet with friends and family.
Not only that this application lets you manage expenses together with family and friends and you can also create a budget with them. 
You can categorize all your transactions. Create monthly budgets easily. Spendee allows budgeting for each category, helping you stay within budget. Reminds you to pay bills and avoid late fees by sending multiple notifications. Easy for couples to use for their financial needs.
10. EVERNOTE
A great app for bill reminders. Helps you take notes and create financial tasks. You can simply put in your payment details and set reminder dates and the app will schedule the payment. It synchronizes PC/laptop and smartphone.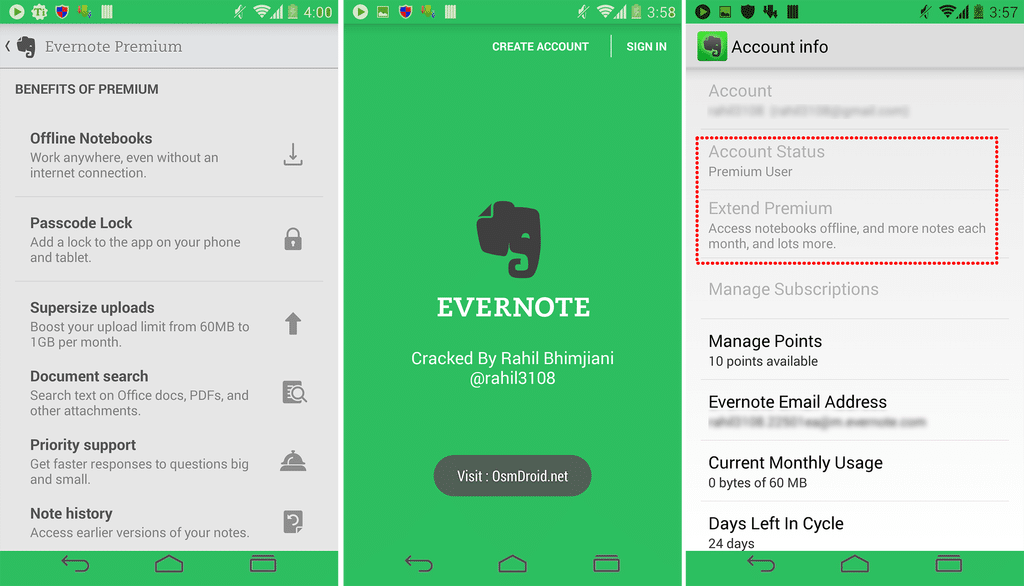 It notifies all the logged-in devices. Let's document the management of previously made payments. Allows editing, changing, and deletion of documents. Evernote has a very easy-to-use interface.
CONCLUSION
The current pandemic has taught us a lot of lessons and one of those lessons is to manage finances wisely. An individual will have complete control over their finances using the apps listed above. All the apps listed above are the best across both Android and iOS.
Many of these apps not only work as bill reminders but in addition, they work as budget planners, save money, and a lot of other features. Try these best bill reminder apps out and let us know which is your favorite of them all.
Also Checkout: 10 Best Laptops To Buy Under 50000