Swami Vivekananda's contributions fascinate as well as attract hundreds of Indians and foreigners toward his ideologies, which later become philosophies of Swami Vivekananda. It is indeed astonishing that the personality of Swami Vivekananda influenced millions of his countrymen and countrywomen, through his speeches and beliefs.
The National Youth Day is also celebrated on this day. It is celebrated on Swami Vivekananda's birthday to commemorate his ideas and thoughts for youth. He was very vocal about the importance of youth in building a strong nation. He wanted to motivate and educate the youth to counter the oppression of the British to attain independence. He wanted the youth to get out of their comfort zones and achieve anything they wish.
What Swami Vivekananda achieved in his life was a miracle. On the occasion of Swami Vivekananda's 158th birthday, let's evoke his contributions. Though a variety of activities have been performed to commemorate Swami Vivekananda's contributions. He was also the chief disciple of the 19th-century saint Ramakrishna Paramahansa, founder of Ramakrishna Math and Ramakrishna Mission. He was always remembered all over the world for his speeches at the Parliament of World religions in Chicago in 1893. He encouraged the world to recognize the culture and traditions of India, and also proliferate notions on Vedanta and Yoga to the Western world. Moreover, he has played an important role in the revival of Hinduism in Modern India.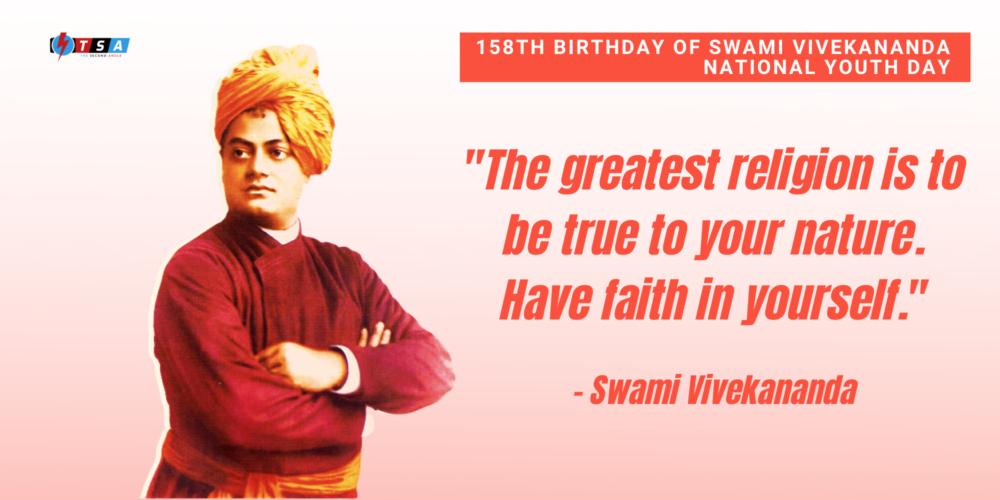 On 12th January 1863, God blessed the world with a gem, Swami Vivekananda. He grew up in a Bengali family in Kolkata. His family name was Narendra Nath Datt. He was born with a special interest in Yoga and meditation, performance meditation from his boyhood. He was associated with 'Brahmo Samaj' for some time. He obtained knowledge of several subjects, primarily, Philosophy and History. 
He had uncertainties about the existence of God. To clear his concerns, he went to Sri Ramakrishna who was staying at the Kali temple in Dakshineswar. His theories and ideologies won  Narendra's heart, and he became a true follower of Ramakrishna.
Sri Ramakrishna taught him the spirit of renunciation and brotherly love for others, especially those who need it the most – poor masses. After the demise of Ramakrishna, Narender Nath Dutt took the vows of 'Sanyaas' and became Swami Vivekanand.
How did everything start?
During his travels all over India, he found out the key problems of poor and backward masses, they had lost their faith in their capacities to achieve something because of decades of oppression. Firstly, it was important to understand that keeping faith in themselves is the key to success. 
Vivekananda has said that there is a need for two types of knowledge, secular as well as spiritual knowledge to improve their economic conditions and to understand the value of faith in themselves.
Swami Ji founded the Ramakrishna Mission on 1st May 1897 to propagate the practices of Vedanta, and numerous social services, not only this he also set up mass relief and rehabilitation work for natural disasters in a different part of India.
Some of the most prominent contributions of Swami Vivekananda to the world culture are –
An Understanding Of Religion
The most significant contribution was an 'understanding of religion' to the modern world. He took the challenge of science by showing that religion is as scientific as science is. Religion is the 'science of consciousness.' He visualized that religion and science are not contradictory to each other but are complementary to each other. This universal understanding frees religion from all the notions, beliefs, priestcraft, intolerance, and makes religion the highest pursuit.
The next contribution was the 'new view of man'. It was based on the 'potential divinity of the soul' and enables a new concept of man. At the present age, humanism holds that man should be the main concern and center of all activities and thinkings. With the help of science and technology, man has attained great wealth and power. But with good comes bad also, that is a massive increase in broken homes, immorality, violence, crime, etc. in modern society.
The Potential Divinity Of The Soul
Vivekananda's concept of the 'potential divinity of the soul' prevents this degradation, divinizes human relationships, and makes life meaningful and worth living. Swami Ji had laid the foundation for 'spiritual humanism', which is manifesting itself through several neo humanistic movements and the current interest in meditation all over the world.
The Principle Of Morale And Ethics
The next contribution was the 'principle of morale and ethics'. The most common morality is based on fear – fear of public ridicule, fear of the police, fear of God's punishment, fear of Karma, and many more. 
He has given a new theory of ethics and a new principle of morality based on the intrinsic purity and indivisibility of the Atman. We should focus on our purity because purity is our true reality or our true divine self or Atman. So, we should have affection towards our neighbours because we are all one in the Supreme Spirit known as Paramatman or Brahman.
A Bridge Between Indian Culture And Western Cultures
Another great contribution was the bridge between the East and the West. Swami Vivekananda built a bridge between Indian culture and Western cultures with help of Hindu Scriptures and philosophy. 
He has made the Western people understand that they had to learn much from Indian spirituality for their wellbeing. Despite much poverty and backwardness, India has contributed to the world's culture. Vivekananda was India's first great cultural ambassador to the West. 
Apart from these contributions, Swami Vivekananda has given understanding and importance of Indian cultural heritage, which has given a sense of unity, peace, and brotherhood among Indians.