Spoilers for "The Bear" Season 2 below that may leave you as torn up as The Beef's renovation.
The argument as to whether two characters in "The Bear" should get together is getting grizzly online.
Ever since Season 2 of the popular FX series premiered on Hulu last week, fans have once again become vocal about their desire for the show's two leads — the Michelin star-winning chef Carmen "Carmy" Berzatto (Jeremy Allen White) and his former protégé and current business partner Sydney Adamu (Ayo Edebiri) — to embark on a romantic relationship.
It's understandable why so many people are shipping the pair that's been bestowed the couple name "SydCarmy." The two actors have oodles of chemistry that is so palpable that it makes Carmy's dynamic with his romantic interest in Season 2, Claire (Molly Gordon), feel stale in comparison.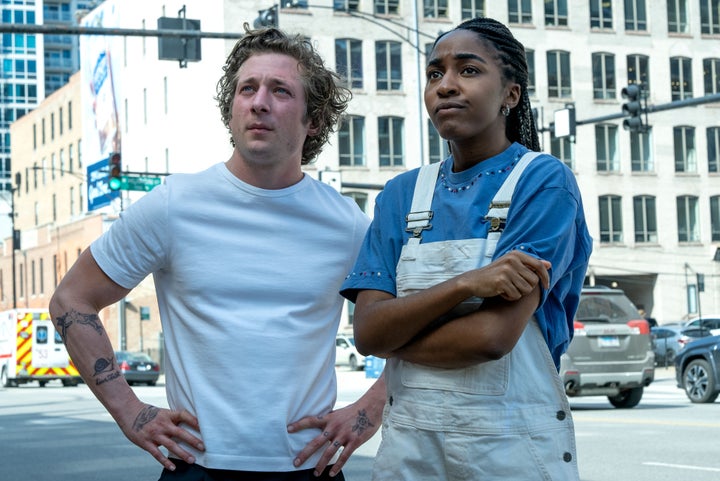 Carmy and Syd also share some very intimate and emotionally mature moments throughout Season 2. In one episode, Carmy and Syd confess to one another while fixing a wobbly table 30 minutes before they open their new restaurant for a friends and family preview that they make the other one a "better" person. In another scene in Season 2, Carmy explains to Sydney that whenever two cooks in a prior kitchen he worked in would get into heated arguments, they'd use the ASL sign for "I'm sorry," which includes rubbing one's heart with their right fist, to signify the spat has gotten out of hand and that they respect one another enough to take a beat. In a later scenes, Carmy and Syd use the sign during intense moments and their shouting matches evolve into more empathetic conversations.
These scenes have emboldened SydCarmy shippers to loudly proclaim their need for Syd and Carmy to hook up already.
But there's also an entirely different camp that wants the two to simply remain friends.
Although the belief that Syd is a lesbian is purely speculative (the show has never directly indicated that she is queer), another big argument that exists between Team Romance and Team Platonic is that both sides have wildly different interpretations of a scene in Season 2, Episode 9 in which Carmy has a panic attack.
During the scene, Carmy is plagued with memories of trauma interlaced by images of his new girlfriend, Claire. Carmy's onslaught of anxiety-inducing thoughts seems to dissipate once he thinks of Syd.
Team Romance seems to think this indicates that this is a sign that Syd and Carmy are meant to embrace Cupid's arrow.
While Team Platonic believes the thought of Syd reminds Carmy of his passion for cooking and his sense of purpose.
It also appears that White and Edebiri — who portray Carmy and Syd — and the creators of "The Bear" aren't interested in SydCarmy heading off into Janine and Gregory a la "Abbott Elementary" territory.
"I know there are people who are very invested in that, and I understand and I appreciate it, but it was not that for me," Edebiri told Variety in January. "No! It was never discussed by anybody," White concurred with his co-star.
Co-creator Chris Storer added to Variety that he never intended to make "The Bear" a traditional love story, saying he "wanted to make something that was about friendship and a partnership."
Storer said, "From the beginning, it was like, we should just show people being really good at their jobs and pushing each other. Selfishly, I hadn't seen a show without a romantic plot and was like, that could be kind of cool and interesting."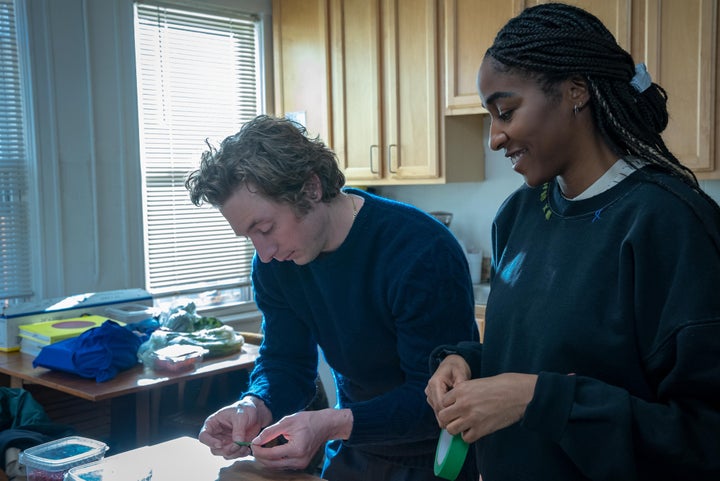 Culture writers and TV critics have also given their takes on their will-they-won't-they dynamic.
Vulture's Roxana Hadadi offers a pretty strong argument for Team Platonic, comparing Carmy and Syd's tumultuous-yet-satisfying dynamic to Don (Jon Hamm) and Peggy (Elisabeth Moss) in "Mad Men." Hadadi argues that the friendship between Don and Peggy was much more fulfilling to watch unfold than any of their romantic entanglements.
"In 'Mad Men,' the relationship between Don and Peggy felt like the show's most meaningful both because it rejected the fickleness of romance and because they pushed each other to extremes of good and bad in ways that had nothing to do with physical attraction," Hadadi wrote. "There were no ulterior motives to their fights or agreements past the work, and each season incorporated a professional challenge for Don and Peggy to illustrate how they deeply understood, appreciated, and sometimes couldn't stand each other."
Slate's Nadira Goffe agrees, writing in a piece published Wednesday that we don't get to see incredibly intimate friendships between men and women on TV that often, and describes their soulmate-like dynamic as "cosmic platonic."
"I do not think that I've seen a friendship between a heterosexual man and woman that is as solid and intimate as SydCarmy's is depicted on television in quite some time," Goffe wrote. "Their friendship is full of disappointment and love—yes, love—and it survives because they trusted each other before they even really knew each other. Imagine being in love with your best friend, but with zero romantic undertones. It feels like fate brought you together, and they help make your current reality worth living."
Ultimately, keeping SydCarmy in the friendzone isn't necessarily a bad thing, and shows audiences that life-changing relationships are not limited to sexual ones.
(this story has not been edited by TSA Mag staff and is published from a syndicated feed.)