Drone footage captured by rangers shows dozens of tiger sharks feeding on the carcass of a humpback whale off the Australian coast.
The feasting involved some 50 tiger sharks scavenging a humpback whale that died of natural causes and was floating adrift in the Great Sandy Marine Park off Hervey Bay, which is about 180 miles north of Brisbane.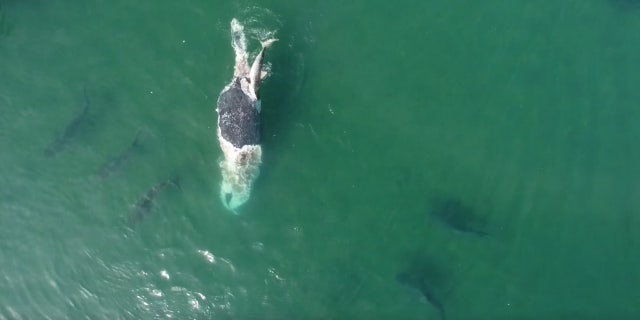 MONTANA MAN SENTENCED TO OVER 3 YEARS FOR TRAFFICKING EAGLE FEATHERS, PARTS
The frenzy, captured on video by marine park rangers Sunday afternoon, prompted a warning from the Queensland Department of Environment and Science, reminding people to keep their distance from stranded or deceased marine animals.
"Where there are dead whales, there are likely sharks nearby and this vision clearly shows why this is the case," senior ranger Daniel Clifton told Australia's news.com.au.
CLICK HERE TO GET THE FOX NEWS APP
"The death of one whale, although sad, creates a life source for many other scavenging animals, including fish, sharks, and other marine like. We're fortunate here in the Great Sandy Marine Park that we can experience these natural processes firsthand," he said.
(this story has not been edited by TSA Mag staff and is published from a syndicated feed.)