In the first three months of 2022, China's economy grew at a rate of 4.8%. According to official figures, however, first-quarter growth fell considerably below the ruling Communist Party's declared objective of 5.5 per cent for the full year.
The country's GDP increased by 4.8 per cent year on year from January to March, following a 4% gain in the fourth quarter of last year, according to National Bureau of Statistics (NBS) figures released on Monday.
In India, the fiscal year runs from April 1 to March 31. In China, however, the fiscal year coincides with the calendar year. As a result, the Chinese fiscal year runs from January 1 to December 31.
ECONOMY OF CHINA
Economic growth remained below government projections as new Coronavirus infections forced the closure of key industrial towns, including Shanghai's financial centre.
A collapse was also caused by tougher government limits on the use of debt by China's massive real estate industry. According to The Associated Press, forecasters believe it will be difficult to achieve without further government stimulus spending (AP)
In March, retail sales in China declined 3.5 per cent year on year. The shrinkage was the first since August 2020.
China's economy has also been under "exceptional negative pressure since the first quarter of 2020 owing to coronavirus flare-ups, supply chain snags, and foreign uncertainty emanating from the Russia-Ukraine conflict," according to observers.
GROWTH IN CHINA'S GDP
Earlier this year, China set its GDP growth target for 2022 at about 5.5 per cent in order to focus on slower growth and stabilize its economic fundamentals as the world's second-largest economy bolstered supporting measures to shore up growth against significant headwinds.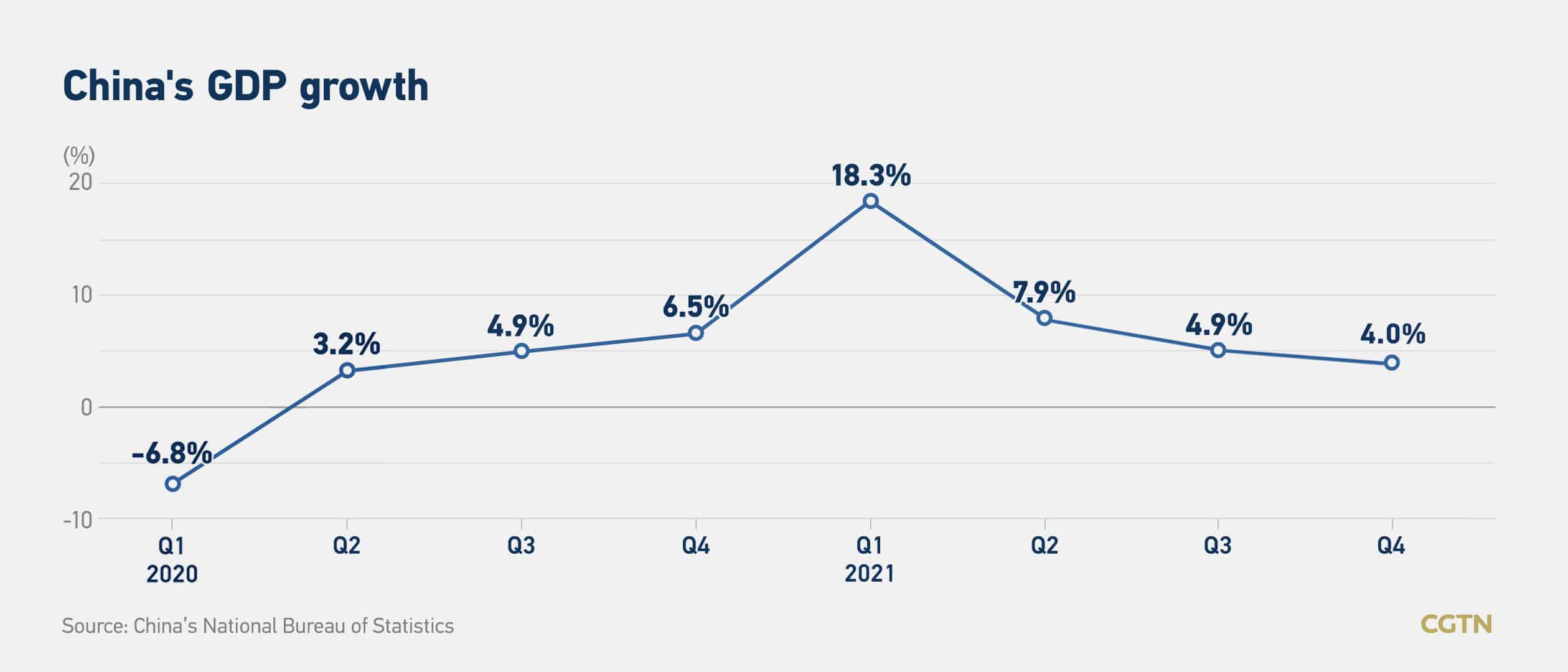 China's central bank decreased its reserve requirement ratio (RRR), or the amount of cash that banks must maintain in deposits, in a much-anticipated step to prop up its weakening economy amid mounting headwinds.
LOCKDOWN IN CHINA FOR COVID-19
The current outbreak of the Omicron virus in China, which has sent one city after another into a state of lockdown, was widely predicted to have a negative impact on the economy.
After major cities such as Xian and Shenzhen, Shanghai, China's largest business and economic hub, was placed under lockdown.
The city has been placed under lockdown for the third week in a row. The city of 26 million people ground to a halt as it recorded around 30,000 cases in the previous two weeks with no respite.
Shanghai is a major contributor to China's $18 trillion GDP.
Conclusion
The result, though, places the economy on a path that falls short of this year's stated aim of increasing GDP by 5.5 per cent, a target that, if met, would already represent the weakest annual increase in more than a quarter-century. According to experts, the forecast for the second quarter is similarly grim.
Economists predicted that GDP will increase by 4.6 per cent in the first quarter, accelerating from the 4 per cent year-on-year growth reported in the fourth quarter of 2021.
After an epidemic of the Omicron strain of the coronavirus spurred authorities in Shenzhen and later Shanghai to impose harsh lockdowns and quarantine restrictions on its residents, the Chinese economy has been under strong downward pressure.
The harsh, weeks-long lockdown in Shanghai, in particular, has forced numerous experts to lower their growth projections for China this year.
According to China's National Bureau of Statistics, GDP increased 1.3 per cent in the fourth quarter of 2021, down from the previous quarter's 1.6 per cent gain.
Also Checkout: Sanctions imposed by the West and Putin's drive for new energy markets: Can Europe deal with oil and gas shortages?