It Ends With US Book Review: With this bold and deeply personal novel, colleen hoover delivers a heart-wrenching story that breaks exciting new ground for her as a writer. It Ends With Us is an unforgettable tale of love that comes at the ultimate price. Lily Bloom – the protagonist, is a 23-year-old college graduate who recently moved to Boston from Plethora, Maine. Lily hasn't always had it easy, but that's never stopped her from working hard for the life she wants. 
We get to see Lily's resentment towards her father, who has passed away, for being abusive towards her mother. Eventually, after Lily moved to Boston after her graduation and started her own business happens to meet with a gorgeous neurosurgeon, Ryle Kincaid. Lily's life suddenly seems almost too good to be true. Lily gets truly involved with Ryle little does she know her relationship with Ryle turns out to be like her parents, an abusive.
Lily wrestles with her past, not just with the figure of her father but also with her past relationship with Atlas Corrigan, a homeless boy whom Lily helped and who helped Lily too. Lily is still stuck somewhere in her past and keeps reminiscing her moments with Atlas- her first love. Atlas's sudden appearance in Lily's life sabotages her present relationship with Ryle. 
Throughout the novel, we get to see Lily's constant struggle to avoid becoming like her mother. Her greatest nightmare is her fear of history being repeated, like what happened between her parents seems to scare the hell out of her. 
QOTD: "Fifteen seconds. That's all it takes to completely change everything about a person. Fifteen."
It Ends With US Storyline:  Spoiler Alert!
Lily is described by her mother as 'bold' and 'brave' but she is also compassionate. Her compassion is demonstrated by helping Atlas despite all the risks. Lily's compassion is also seen in her present relationship with Ryle where even after being hurt by him she offers him help through his rage. We get to see all the sides of Lily throughout the novel: brave, bold, compassionate, ambitious, creative, kind, vulnerable, happy, lost, and then found.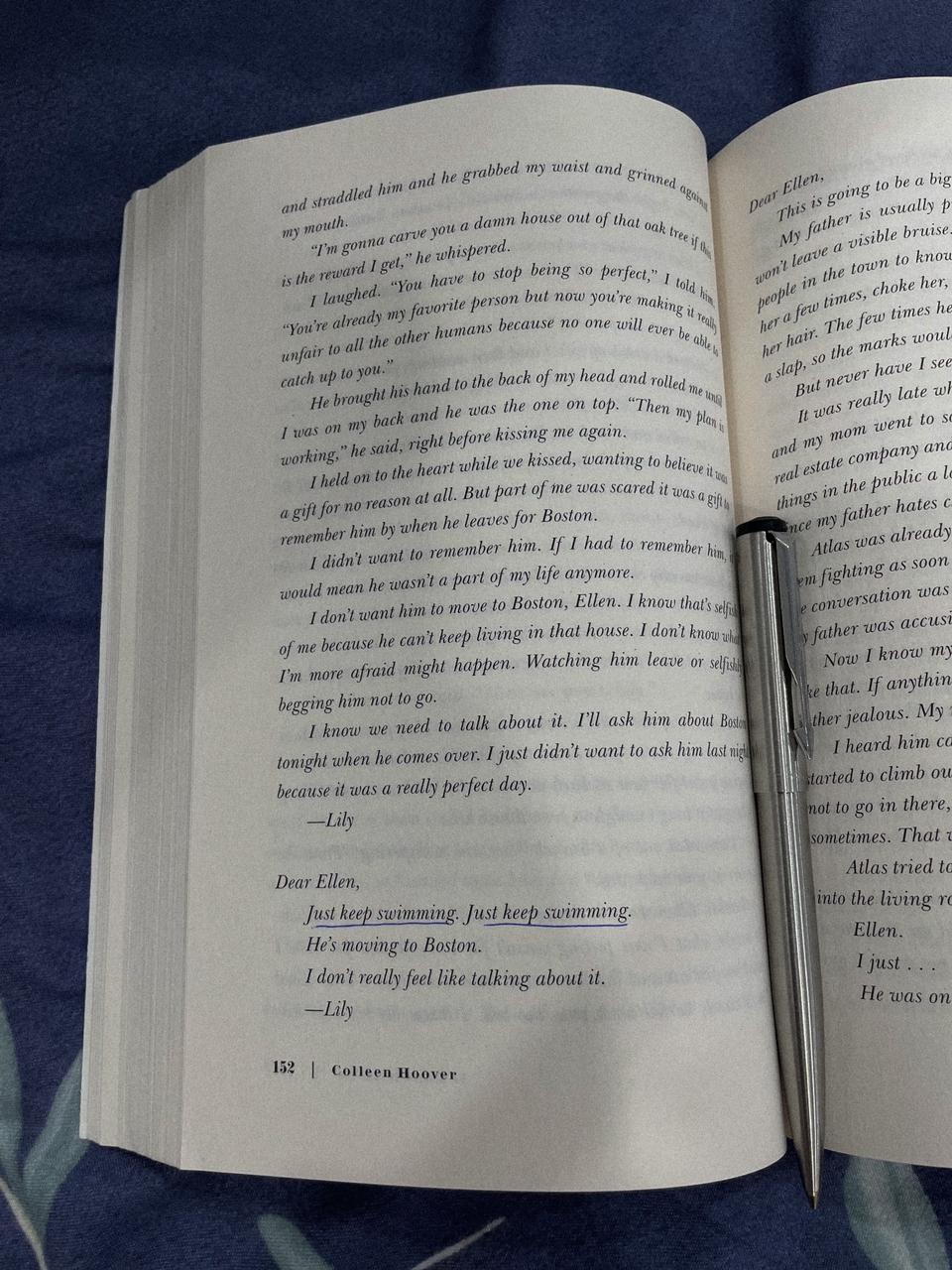 The purpose of Ryle's character was to show how a flawed perception of love leads to abuse. Ryle was seen to be assertive, stubborn, and had temper issues but on the other hand, he was also sensitive, brilliant, and had a soft spot for Lily. Ryle loved Lily, but he failed to understand 'you cannot love someone and hurt them at the same time'. The arguable fact about Ryle being apologetic towards Lily after hurting her cannot be denied. But again, this was all about Lily and her process of breaking free from abuse. She broke the pattern. " Cycles exist because they are excruciating to break." Lily broke that cycle of abuse.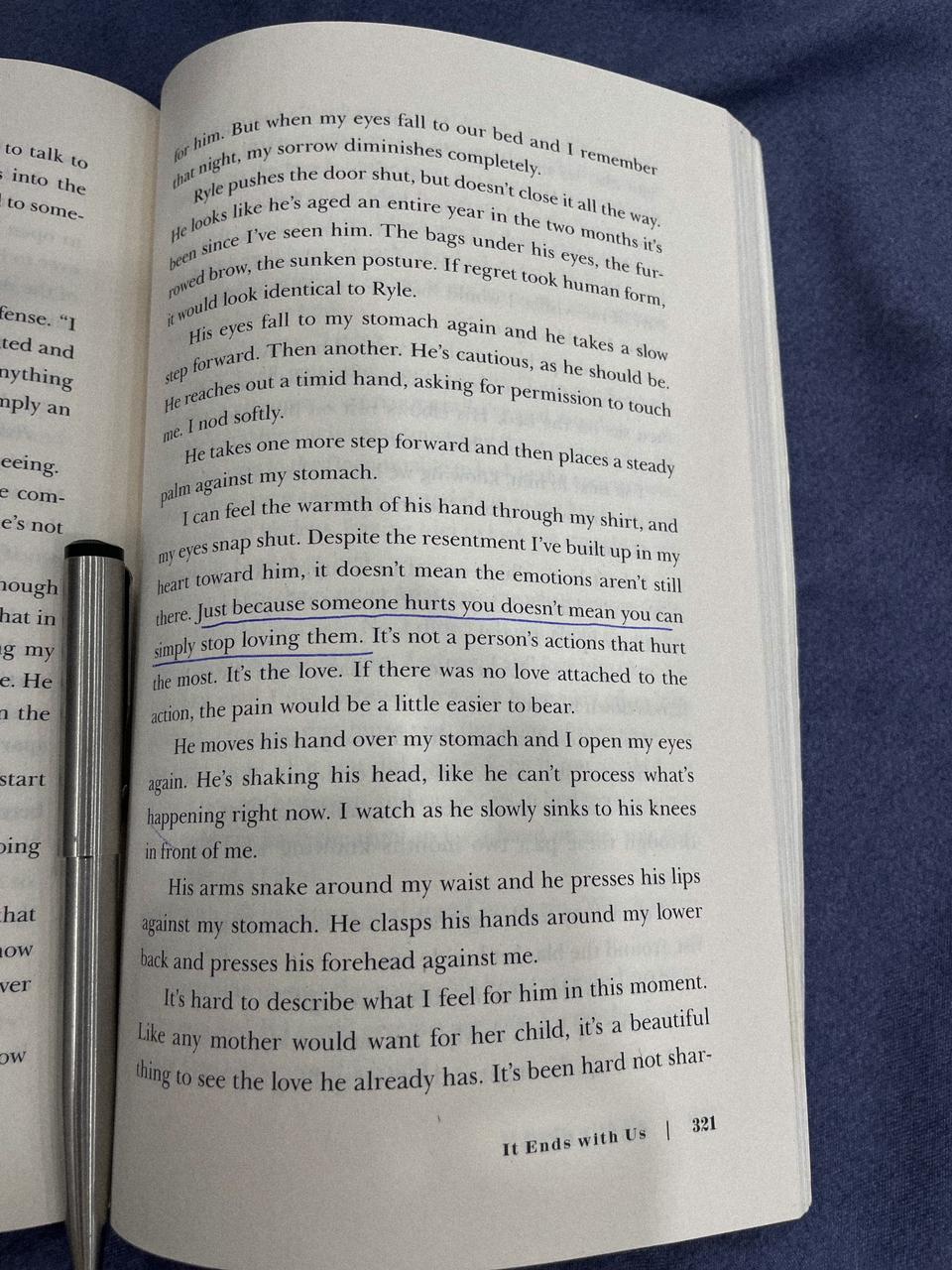 The fact that Ryle could have changed if given the chance is irrefutable. Even though there was a slight possibility that Ryle could have eventually changed for the better, some risks are never worth taking. Especially when those risks have failed you in the past. How could Lily gamble with her daughter's life? The process of Lily meeting with Ryle and eventually falling for him in the first few chapters made us fall in love with Ryle. 
It seemed to be an honest relationship with all their naked truths but we also cannot turn a blind eye to the fact that Ryle hurt her physically. He hurt her badly. And that chance Lily couldn't have taken for her daughter, because she knew it if she gave Ryle a chance and accepted him with his abusive nature her daughter would have hated Ryle as a father like Lily resentfully hated her father. Ryle was not a good husband but Lily gave him the opportunity to be a good father.
Trust me when I say this, the last few pages got me so thrilled and for a moment there I felt Lily would have accepted Ryle and would have given him a chance, but phew!  I won't be lying here that I couldn't feel that gut-wrenching pain that Ryle must have felt. It got me all sobbing but also smiling.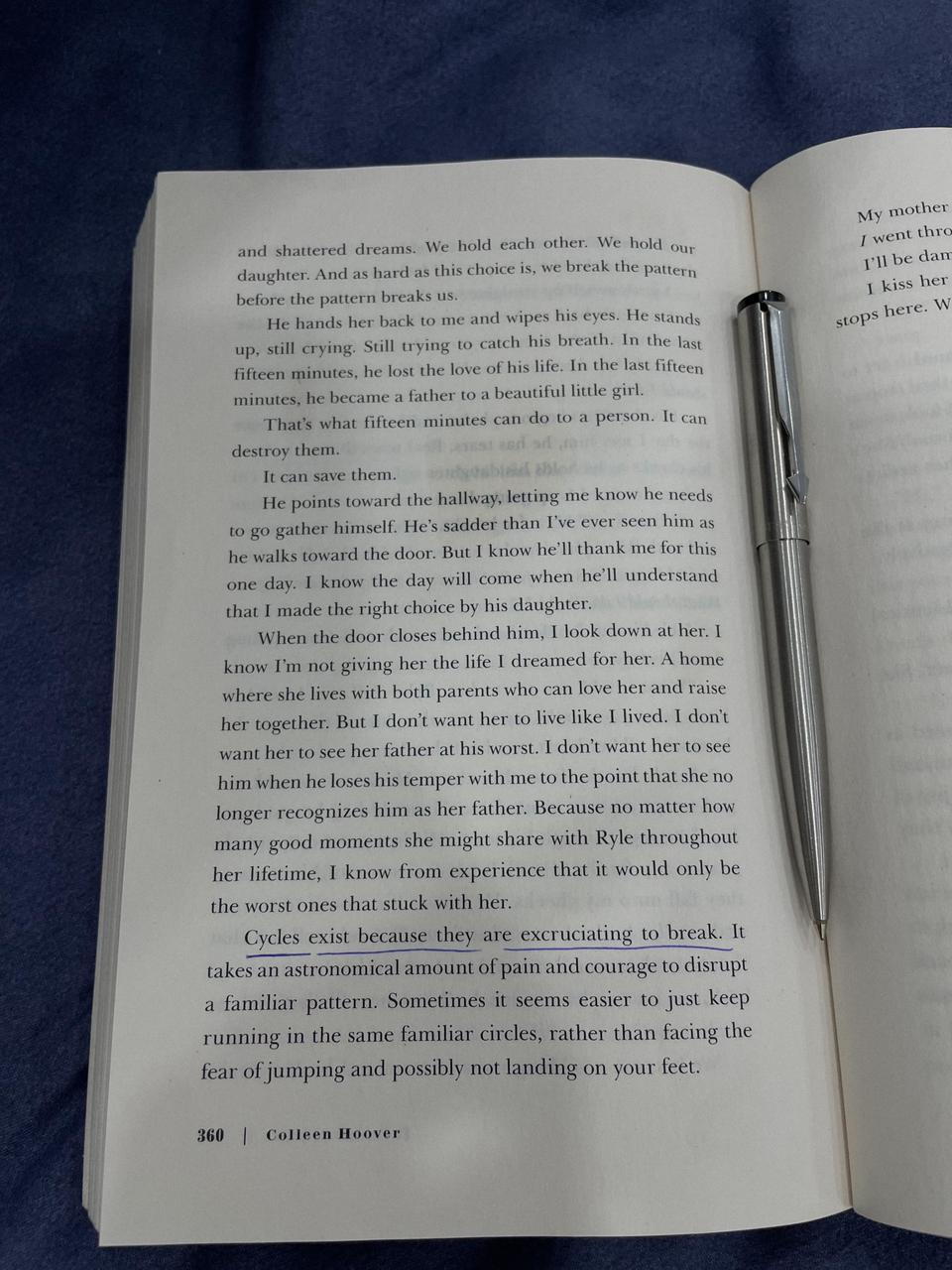 The decision that she took needed a lot of courage and she did it because she prioritized her daughter's future, so that her daughter doesn't have to be in the same situation as her, and that her daughter doesn't get to hate her father as she did. Lily made this ultimate decision to leave Ryle for the sake of their daughter. 
Colleen Hoover has brilliantly described everything in this novel with such emotion that while reading I was smiling through my tears. The climax will surely give you goosebumps. Like everyone who has read this book said, 'can't wait to see this story in the movies'. This book is so deep, so profound. 
This book is a MUST MUST read!! I will be honest here after I completed this book I couldn't stop my tears from rolling out. The naked truth you learn while reading it will get you so indulge in it that you feel every emotion the protagonist feels. 'IT ENDS WITH US' is one of the greatest books I've read and I really can't wait to read its sequel "IT STARTS WITH the US" (soon to be released. Yay!! ). 
This book has made me a fan of CoHo's work. I am looking forward to reading her other books too. Already listed some of them in my reading wishlist. Hope you liked this It Ends With US Book Review. Let me know your thoughts on this review in the comment section below.
Also Checkout: Summary and book review of 'The Beekeeper of Aleppo' by Christy Lefteri