Droughts in Hungary have become constant, and Lake Valence is facing its long-term impact, it seems. The lake, which is usually a popular tourist attraction, used to be the hub of over 100 birds and dozens of species of fish.
However, there is a steep decline in the lake's visitors, both animal and human, as extreme heat has brought the water to extremely low levels, reported Justin Spike from Associated Press. 
Activists and environmental experts are concerned that the country's third-largest natural lake is in an economic and ecological crisis.
They added that climate change and insufficient infrastructure are contributing to creating a dangerous scenario. Due to the frequent occurring of these dry and hot summers, the lake has lost nearly half of its water in the past two years.
Moreover, an increasing amount of evaporation is observed in the lake with deteriorating water quality as well. 
Environmental management engineer and activist Tibor Horanyi said, "We are talking about years of rainfall deficit, drought, and a continuous water shortage.
For years we've seen what role global warming is playing in our lives, and it's connected to this low water level." 
The local water authority informed that the optimal water level for Lake Velence (pronounced 'VEH-len-tseh) in August is 150 centimeters (5 feet).
However, on Thursday, the water level went down to 80 centimeters (2 feet 7 inches). An amount of water that Horanyi called "critical." 
While writing about Droughts and their impact ability, ClimateChangePost mentioned that heavy drought phenomena have been common in Hungary and have had "tragic outcomes" many times.
At the beginning of the 21st century, the country faced droughts where low precipitation was directly proportional to high temperatures. 
Regional climate model projections predict disastrous consequences for 2021 – 2050 and 2071–2100 compared with 1961–1990. The model predicted the following concerns:
Soil erosion hazard is to increase.

Drought hazard to become a severe problem in mainly the south-eastern part of the country.

Wind erosion sensitivity follows the drought sensitivity changes in the spatial distribution of Hungary (south-eastern part), with increased sensitivity, mainly caused by the soil and vegetation cover characteristics.

Flash flood hazard to increase in the Transdanubian Hills and the Northern Mountains.

Mass movements will show patterns similar to flash floods but will probably not increase.
(Data from ClimateChangePost)
According to the national meteorological service, Hungary experienced its third hottest June since 1901 and then the hottest July on record after a season of a long, cold spring. 
Horanyi said that the extreme heat has caused the water temperature in the lake to rise by 10 degrees Celsius (18 F), which has resulted in the death of more than four tonnes (8,800 pounds) of fish in the lake. 
Otto Balogh, a local fisherman, told the independent journalism agency, Associated Press, that "There are no fish. In the last three weekends that I've come here, this is the first time I caught anything."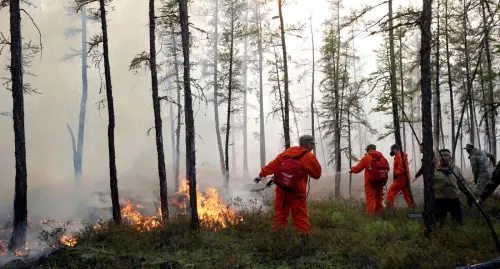 "There aren't any water birds now. They've gone somewhere else to find food, I suppose," Balogh added. 
Two reservoirs were built in the 1970s for situations like this so that the water from the reservoirs could help keep the water level to the requisite amount.
However, a spokesperson for the national water authority has informed AP News that the water there has gone very low due to extreme heat and drought.  
Also Read:  India only G20 Nation to progress towards achieving the Climate Goals: PM Modi