The streets of central London saw thousands of climate change demonstrators on Monday, as the two weeks of the environmental activist group Extinction Rebellion's fifth mass protest started. 
The activists formed human chains in the middle of the day to obstruct the Lang Acre roundabout. Hundreds of activists gathered around the roundabout and Trafalgar Square, demanding the government to terminate its investment in fossil fuels effective immediately. 
With the slogan in their hands saying "Come to the table", Demonstrators explained their intent to stick to the site for the two-week-long protest aimed at underlining the role of the government's investments in the climate crisis. In the evening, the police removed the activists in Garrick Street 'from under the vehicles'.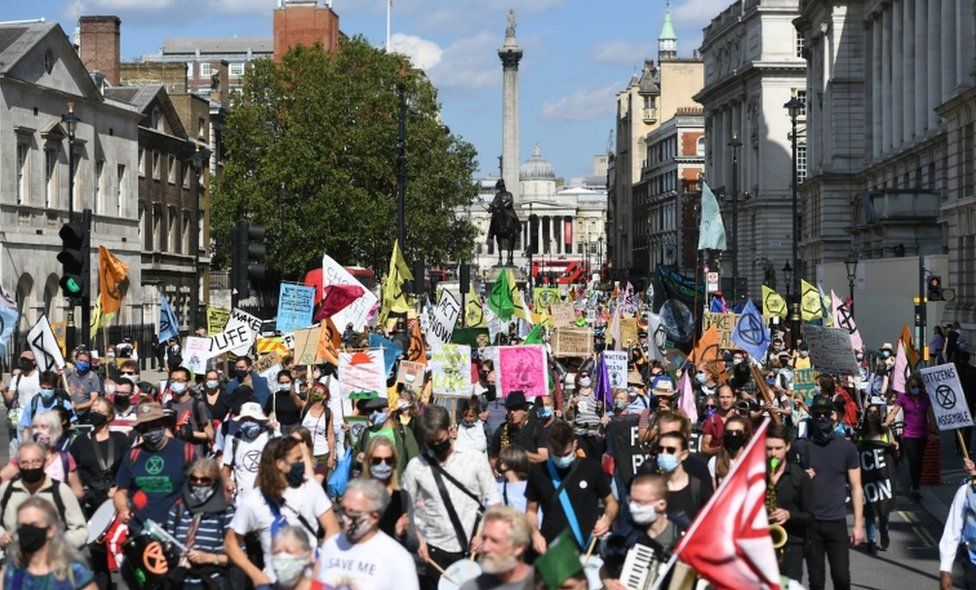 The Extinction Rebellion (XR) group expects thousands of people to join the demonstrations at St James' Park and Piccadilly Circus. Protests similar to 2019 will occur in the upcoming weeks, targeting the "root cause of the climate and ecological crisis". 
Dr Gail Bradbrook, the 49-year-old founder of XR, gave an interview on Monday to Cristo Foufas on TalkRadio. She inadvertently admitted to driving a diesel car due to the unavailability of buses near her home and the inability to afford an electric vehicle.
This isn't the first time that the founder has been criticised for being a 'hypocrite'. In 2016, her 11,000 miles trip to Costa Rica for a holiday was also called out by many, to which she answered that flying to the island was not for any holiday but due to her health issue, which could not be treated in the UK. 
"No, because I can't afford it. But if somebody wants to give me £5,000 you can convert my car to electric, and I don't have the money at the minute," she answered when Mr Foufas asked if her car is electric.
The interview became more uncomfortable when she called Mr Foufas, 'a boring interviewer' after calling her a hypocrite.
After Cop26 UN climate change conference president Alok Sharma, Bradbrook is the second to be caught in the 'hypocrite' scandal. 
Formed in 2018, the group use civil disobedience to question the government's inaction towards climate change. From targeting newspapers' offices to energy companies' headquarters, the demonstrators demand more pragmatic action against global warming.
"What are you waiting for? Your local area to flood, or your street to get blocked with rubble and cars?" XR's UK branch said on Twitter.
The activists took different parts of the Northern and Southern of London and other cities to perform their demonstrations, holding placards and slogans since 2018.
Also Read:  Rain observed on the Greenland Ice Sheet for the first time, and it suggests severe climate change patterns