Facebook temporarily hid posts calling for the resignation of Indian Prime Minister Narendra Modi, marking the platform's latest foray in a series of controversial decisions affecting free speech in a country experiencing a full-blown COVID-19 crisis.
On Wednesday, the world's largest social network said that posts with the hashtag or text #ResignModi "are temporarily hidden here" because "some content in those posts goes against our Community Standards." Because the posts were hidden, it's unclear what content violated the rules of a company whose executives have often expressed a commitment to open expression.
After hiding posts with the hashtag for about three hours, Facebook reversed its decision and allowed users to find and access posts with the criticism of Modi, just after this story was published.
Last week, the Indian government ordered Twitter to block access to more than 50 tweets that criticized Modi's handling of the pandemic. The Wall Street Journal also reported that Facebook and Instagram had blocked posts about Modi on the orders of the government.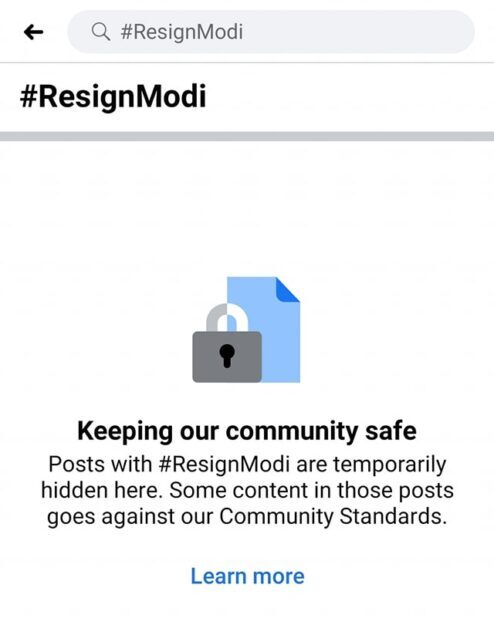 So Facebook directly assisting Modi now pic.twitter.com/WVLHzyKRv4

— Priyamvada Gopal (@PriyamvadaGopal) April 28, 2021
Modi murders, Facebook hides the bodies. #ResignModi #ResignModi #ResignModi pic.twitter.com/NSPeXnDT3I

— Varsha Gandikota-Nellutla (@VarshaGandikota) April 28, 2021