Media makes us aware of various social, political and economic activities around us. It is like a mirror which reveals us the bare truth and harsh realities of life, its main job is to inform people about unbiased news without any censorship or tampering. It is considered to be a two-sided weapon. The media also has its own opinion. But they can only put it in their personal space (editorials) leaving it for the public to make its assessment. At the same time, they have to incorporate other opinions too. However, contradicting this fact, media has started shaping public opinions instead of sharing. It is considered to be the 4th pillar of democracy but today's journalism has started considering itself as the only pillar of democracy. "Power corrupts and absolute power corrupts even more". Thus, many news media started selective reporting. Apart from that, they instead of presenting views started imposing views.
One such news anchor, Arnab Goswami whose distinct style of 'reporting' is not lost to anyone. And while it has won him both fans and haters, it now appears to have 'won' him a film. In the race of sensationalism and TRP, media houses have taken a corporate turn.
The news which are TRP generating is shown in repetitive loops, while notable news gets neglected. The tragic death of Sushant Singh Rajput has become a tool for some political parties, celebrities, and a section of media to tarnish the image of their rivals. The Republic TV head, Arnab has been targeting Bollywood biggies and the industry in his news shows post-Sushant Singh Rajput's demise. The news anchor's reference to Bollywood as a hub of gangsters and psychos. Well, as we all know after the demise of Sushant Singh Rajput, the channel held a lot of debates around the functioning of Bollywood. Without any proven facts, he combined the deaths of Divya Bharthi, Jiah khan, Sridevi and Sushant into one case and claimed that the murderer is Bollywood…incidentally, the 4 deaths happened over a span of 25 years. And in all the four cases of Divya, Jiah, Sridevi and Sushant there were completely different people and circumstances. But in Arnab's mind, they are all one and had been killed by an entity called Bollywood. Arnab Goswami's extremely critical coverage on Bollywood, in the wake of shocking revelations in the alleged suicide case of Sushant Singh Rajput. Goswami's particularly scathing remarks against the industry riddled with charges of nepotism, connection with the underworld,
Angered by Republic TV editor and popular news anchor Arnab Goswami's utterances against the Hindi film industry, Ram Gopal Varma (an Indian film director, screenwriter and producer, known for his works in Telugu cinema, Bollywood, and television. Varma directed films across multiple genres) declared that he would make a film on this popular journalist, Arbab Goswami, titled as "ARNAB" THE NEWS PROSTITUTE.
My film on him is titled

"ARNAB"
THE NEWS PROSTITUTE
After extensively studying him I mulled on whether the tagline should be The News Pimp or The News Prostitute though both are relevant I finally settled on prostitute for its sound.

— Ram Gopal Varma (@RGVzoomin) August 3, 2020
Ram Gopal Varma took it to Twitter to slam him. He took to his Twitter handle to show his anger towards the anchor and explained why he wants to make a film on him. Varma twitted, "Was shocked to see #ArnabGoswami talking about Bollywood in such a horrible way. He calls it the dirtiest industry ever with criminal connections, it's full of Rapists, gangsters, sexual exploiters and what not? It beats me in what dumb way #ArnabGoswami can combine the deaths of Divya Bharthi, Jiah khan, Sridevi and Sushant into one case and claim that the murderer is Bollywood…incidentally, the 4 deaths happened over a span of nearly 25 years."
Ram Gopal Varma also wrote, "That guy #ArnabGoswami is banking on the fact that we don't have the spine and as long as he runs the debate he will anyway make sure no one's point of view is ever heard and that's his modus operandi anyway."
Not only did RGV blast Goswami, but he also chided Aditya Chopra, Shah Rukh Khan and Salman Khan for remaining silent when the media is painting the industry as being run by rapists and murderers. Varma said, "My one last word of advice to Aditya Chopra, Mahesh Bhatt, Karan Johar, Shahrukh Khan, Salman Khan and many others, is that it's not enough to create heroes in films and be heroes in films, but it's also important to stand up to villains like Arnab Goswami. The filmmaker added, "At Least now all film industry people should come out and speak openly about #ArnabGoswami 's falsifications instead of running scared like deer from a wild dog"
The fact that he is making all of us #AdityaChopra , @karanjohar , @MaheshNBhatt @iamsrk @BeingSalmanKhan and many many others in the industry look like we are criminals rapists etc it's better we don't act like one by hiding and come out to face him like a man

— Ram Gopal Varma (@RGVzoomin) August 3, 2020
 Twitter reacts to Ram Gopal Verma's series of tweets.  Twitter witnessed the hashtag #ArnabTheNewsProstitute trending and churned out reactions around the same.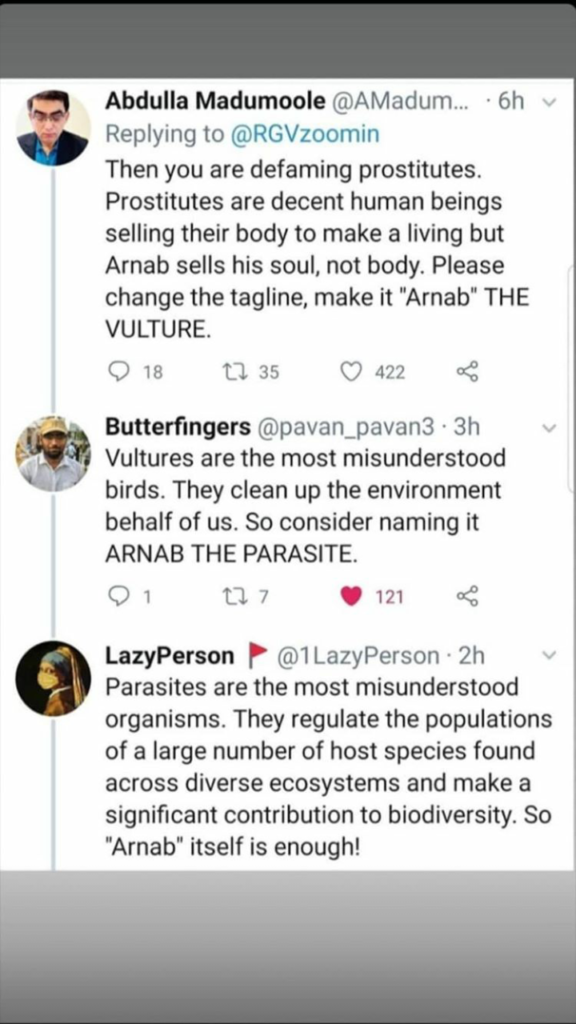 One user wrote: "Then you are defaming prostitutes. Prostitutes are decent human beings selling their body to make a living but Arnab sells his soul, not body. Please change the tagline, make it "Arnab" THE VULTURE."
Arnab Goswami is yet to respond to Ram Gopal Verma's statements.
India's journalism is coming forward in presenting the opinions rather than facts/truth. But What is the Truth?
The answer lies in the facts, nothing but the facts and all the facts. Whatever happened to who, what, where, when and why? Media does not tend to take things at face value and cannot pass the judgements according to their opinions. What is seen is not always true and what is true is not always seen. In India, selective journalism is adopted to stir things up and to calm things down! There are some news channels that are not actually running on true journalism and reporting so How they are fulfilling their interests, not the interests of people. That's why Indian media's ranking in the world is very low compared to some African and sub-Saharan countries. so there is a huge gap to fill the demerits of media. In any democracy, weakening of pillars is always damaging. We need to reach the main trunk, to trim the vicious aerial roots that are spreading and poisoning the society.
[zombify_post]