Tesla cars have been the talk of the town since it has launched its self-driving cars in autopilot mode. The electric-powered cars brand has been brave enough to provide Full Self Driving assistance.
But, it has raised questions for the safety and reliability of the customers. US agencies are getting petitions to investigate whether the provided assistance is accident-proof, and it is under government agencies' scrutiny to understand the series of crashes.
The critics and consumers have said that the FSD is not standing up to its promises. The consumers claim that the additional subscription package, which costs $199 per month or a one-time payment of $10,000, has been able to cross highways and summon the car from the parking lot via mobile app, and even respond to traffic.
But, is it what full self-driving means? They added that we do have to keep our hands around steering when it comes to heavy traffic or changing lanes and stuff.
Joel Young, a consumer, claims that he purchased the $6000 FSD subscriptions back in 2019. He was wishing to see the system working smoothly by the end of the year.
And even after two years, he remains disappointed. Placitas, New Mexico living, Young who is a lawyer, writer, and a motorhead asked for a refund from the motor company and they refused it.
He arranged the tech giant company in no. of complaints accusing of fraud, breach of contract, etc, commenting, "Tesla has not delivered what it promised."
Also, Southern California-based two brothers have filed a similar suit. Reddit is also encountering car enthusiasts talking about being frauded for a system that doesn't even exist. The California Dept. of Motor Vehicles has recently started to scrutinize the term Full Self Driving used by Tesla.
The Federal Trade Commission has received letters from the Senator of District of Connecticut and District of Massachusetts, respectively Richard Blumenthal and Edward Markey in order to investigate the Autopilot and FSD's marketing and advertising schemes of the company.
Bryant Walker Smith, an associate professor at the University of South Carolina says, "If we can't trust Tesla when they say their vehicles are fully self-driving, how can we trust the company when it says they are safe?"
However, Tesla refrained from commenting on several requests and claims. 
The company claims that they have different work mechanisms than the other autopilot cars in the market. The other tech giant automakers use LIDAR and RADAR to navigate the streets through 3D maps. Whereas, Tesla Motors CEO, Elon Musk believes that automated cars can navigate through streets without 'Light Detection and Ranging'(LIDAR) and 3D maps. Musk adds that as human drivers use their eyes to ride and not maps, so should the machine. Tesla has been arguing for years about using only one kind of sensor, which is cameras. And they claim that their autopilot addition FSD is a step towards their belief.
Machines cannot yet function or react as a human does. Predicting what's next according to the situation also seems to be an issue for cars. That's why other companies are taking their time with deploying and testing their autonomous versions. Tesla has now even removed RADAR from their new cars, and only equipped them with cameras for sensing.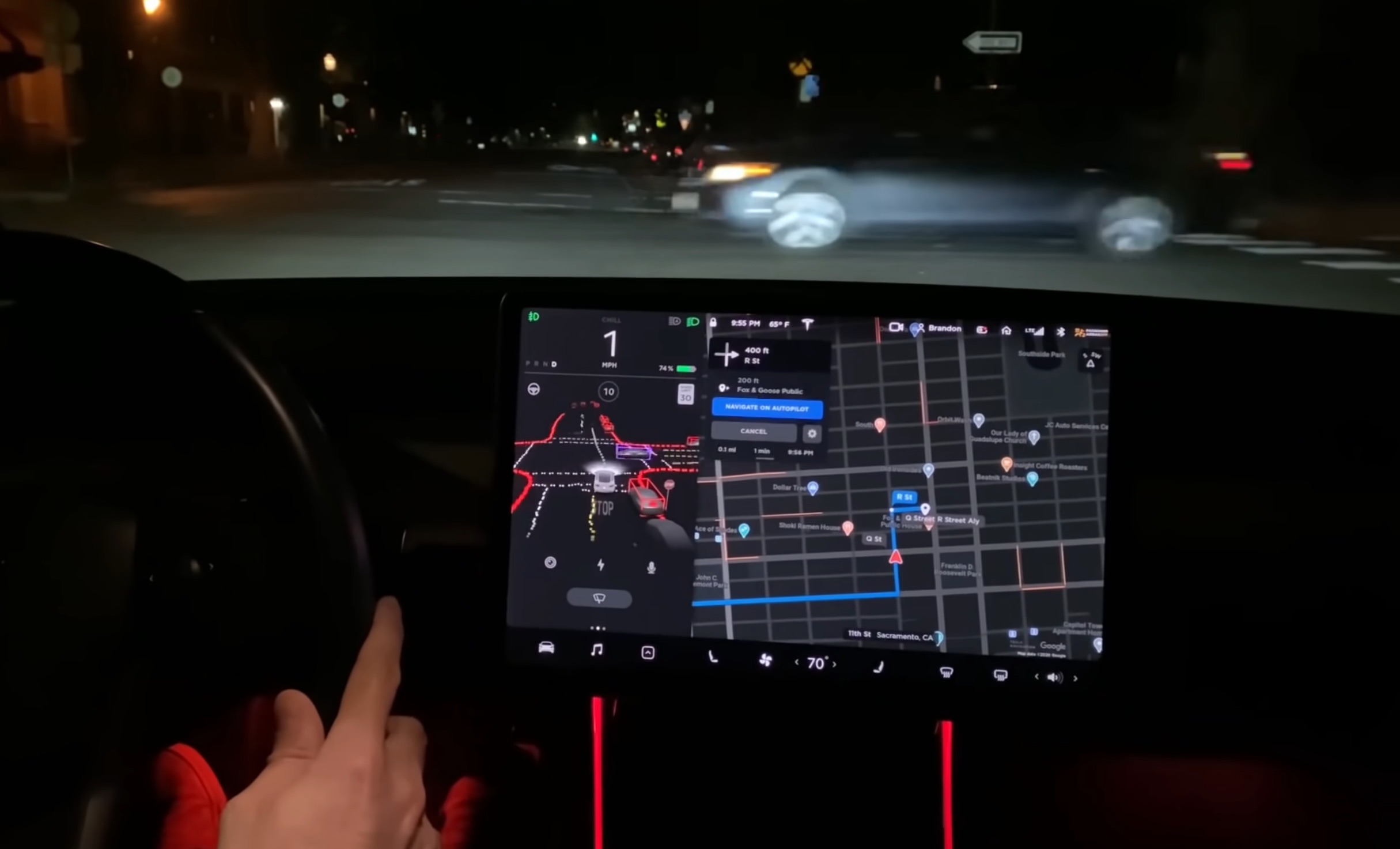 Musk recently stated, "Highly confident the car will be able to drive itself with reliability in excess of humans this year." Although this is a 'Beta' service, Musk claims that approx. 2000 people are using the version and they call it, "Autosteer on city streets".
Many experts predict that this technology still needs improvements, as cameras have limitations when it comes to speed and algorithms. And relying on such sensing technology might not be enough for full-proof security.
Also Read:  Do we still remember Pegasus Spygate? what's the latest development