According to UNESCO Institute for Statistics, less than 30% of the world's researchers are women, such a glaring gender gap finds its roots in the deterrence of women from pursuing careers in science, technology, engineering, and mathematics (STEM.)
The gendered attribution to subjects like science and math as male domains play a significant role in forming career choices for young aspirants.
The Global Gender Gap Report of the World Economic Forum (WEF) reflects how careers like education and healthcare have underrepresented men while STEM careers have an underrepresentation of women.
The report also concluded that gender stereotypes have significantly coerced gender segregation in educational and job-related fields, where men are deemed appropriate for technical and labour-intensive work and women are a natural fit for human-centric fields.
The Leaking Pipeline: A trend in the Gender Gap
Higher Education Student Data suggests that women have relatively lower undergraduate enrolment in subjects like physics, computer science, mathematics and engineering, and technology.  The data, published in the journal Cell Stem Cell showed that women made up more than half of undergraduate and postgraduate students, 42% of assistant professors, and 23% of full professors, although rates varied by institution.
A pervasion of 'the leaking pipeline' shows that not enough women are coming into STEM subjects, and when they do come in they are not reaching the highest ranks in the profession. That is, there is a proportionate decrease in the number of women at every level.
The Royal Society of Chemistry said in its report, Breaking the barriers, showed that in the UK, 44% of chemists at the undergraduate level are women – but only 9% of them are professors.
While the epitome of gender difference is the measure of productivity that a person from a particular gender can bring forth throughout their careers, women are always on the side of the perceived gender roles and biases. Family responsibilities, career absences, resource allocation, lack of funding, collaboration, role/gender stereotypes, specialization, work climate and rigid unwelcoming institutions have been best understood to be the reasons that sieve out women through various levels of advancement in the field of science.
Why is gender diversity crucial to science?
When gender is taken into consideration, scientific analysis is more reliable.
When conducting studies, most scientific research does not view sex or gender as factors and regards males as the norm. This can reduce the benefits of research and result in varying results for men and women in terms of health and safety, especially when designing vehicles or medical facilities. Therefore, acknowledging gender in science will lead to improved and more precise research findings.
Women bring unique perspectives to research and scientific conversation.
According to a report in the Harvard Business Review, "diversity adds to the collective intelligence of a research group" and therefore,  diverse research teams are more likely to come up with new ideas and perspectives. This will enhance creativity and provide new ways to understand the societal aspects of the research. Furthermore, when experiments fail, women and men adopt different problem-solving strategies.
 More professionals are needed.
With the level of gender-imbalance, there is a high probability that not optimal use of scientific talents is being made which also holds back the potential of productivity, innovations, and advancement in the various fields of science. Hence, more quality scientists are needed in the field and there is a high probability to find them amongst the female population.
How to reduce the gender gap in science?
There is enough evidence on the vitality of gender inclusivity in science and healthcare and quite evidently little has been done to strike a balance.
Sarah Kaplan, professor of gender and the economy at the University of Toronto, lists down five steps towards ensuring participation and representation of women in the field of science.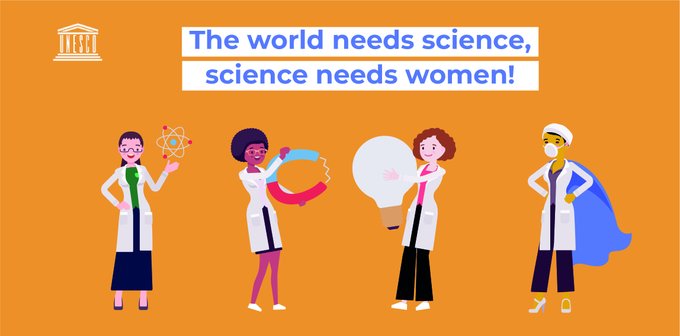 Treat gender equality as an innovation challenge
As explained earlier, the absence of women researchers and scientists has an adverse effect on the design thinking models and methodologies adopted to carry out any study. Hence, when old tactics fail, new observations and insights must be welcomed, and women are crucial in leading the way to inclusive innovations.
Change institutional norms
As cliché, as it sounds, having a solid leadership, is indispensable towards bridging the gender gap. A leader who is feminist and disengages from discriminatory attitudes and behaviors while upholding values of equal representation of less privileged sections of society, here women in the field of science, is conducive in achieving gender equality.
Make people responsible for a change
Gender-bias, however strong an endemic, requires collective responsibility of individuals, schools, institutions, workplaces, and government. The best way forward is to start it early through various programs and diversity training at school levels that remove the confirmation bias of individuals. These efforts can be further guided when individuals are responsible for the success of one another.
Formulate guidelines and make plans
It is not enough to tell individuals values rather a step further should be taken towards showing individuals ways in which they can change their behaviour. For instance, the Engendering Success in STEM Consortium has created a worksheet as a starting point for organisations to set their goals for inclusivity.
Promote organisation accountability
Progress estimates must also be made at the level of the organization and the entities should be held accountable. Therefore a need exists for a greater organization to monitor and keep track of the steps towards diversity of our whole system.
Also Checkout: What is the Indian slum suffering from?
For more, like us on Facebook or follow us on Twitter, Instagram  and Telegram