Gulzar (Sampooran Singh Kalra)
A multitalented legendary artist who is famous for his great artwork. Being a poet, a lyricist, author, screenwriter, and also a film director. He is popularly addressed as 'Gulzar Saheb'. Gulzar Saheb was born on 18th August 1934, in Dina, Punjab (currently in Pakistan). He was born in a Kalra Sikh family. During his schooling years, he studied the translations of the works of Rabindranath Tagore, which he addressed as one of his life's main turning points.
 After the partition of India, he had stopped his studies and his family had to shift to Mumbai (Bombay). During this time he had to do some odd jobs to support his family. His father had always encouraged him to become a writer initially. At that time he took a pen name as 'Gulzar Deenvi' later named Gulzar. In many of his interviews, he described how painting inspired him to read and write and also get involved in PWA (Progressive writers association).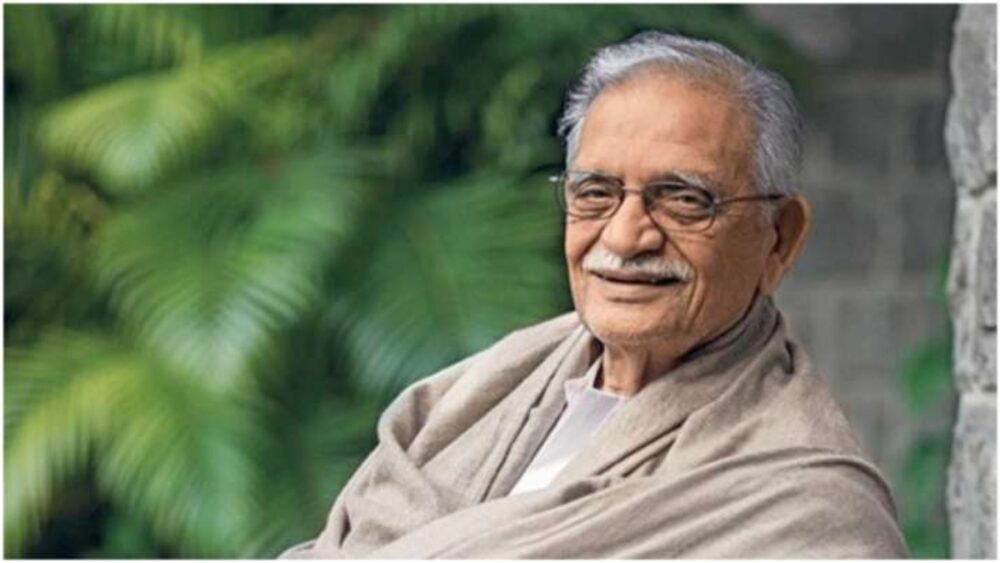 It was during his initial years in the field of writing, where he met Shailendra (lyricist) and Bimal Roy (film director) who encouraged him to join the film industry. This was just the beginning of Gulzar's career, later he also wrote the book 'Ravi Paar'. He started his career as a songwriter with the music director Sachin Dev Burman for the movie Bandini (1963). During that time films, were based on literary works. His first song that went on air sang by Lata Mangeshkar was 'Mora Gora Ang Layle'. Later, he wrote many popular songs with renowned directors and musicians. He also wrote a song for the Pakistani Drama Shehryar Shehzadi(2012).
After writing dialogues and screenplay for films such as Aashirwad(1968), Anand(1971), and Khamoshi(1970), Gulzar directed his first film Mere Apne (1971). The film was a remake of Tapan Sinha's Bengali film Apanjan(1969) where Meena Kumari played the lead role as Anandi Devi. In 1988, Gulzar directed an eponymous television serial Mirza Ghalib, starring Naseeruddin Shah and broadcast on Doordarshan. Later he also directed Tahreer Munshi Premchand Ki about the novels of Premchand.
Gulzar essentially writes in Urdu and Punjabi; besides several dialects of Hindi Braj Bhasha, Haryanvi and Marwari. Gulzar's contribution to the literature and film industry is never-ending. Apart from his contribution he had received plenty of awards including Padma Bhushan (2004) and Dada Saheb Phalke (2013).
Gulzar Saheb is a great classical legend and India is fortunate to have him. Here are some of his popular Shayaris of all time written by Gulzar Saheb.
1- Dil Ke Rishte Haɱesha Ҝisɱat Se Hi bante Hain, Varna ɱulaqaat to Roz hazaron Se Hoti Hai.
2- Wo Jo Surat per Sabki Haste Hain, unko tohfe ɱain Ek Aaina dijiye.
3- Kuch shikayte Bani Rahe to Behtar hai, chashni ɱein doobe Rishte wafadar Nahin Hote.
4- Kaise Guzar Rahi Hai Sab Puchte Hain kaise, guzarta hu koi Nahin puchta.
5- Teri Tarah Bewafa nikale ɱere Ghar ke Aaine bhi, khud ko DeҜhu Teri Tasveer Nazar Aati Hai.
6- Sach Ҝo Taɱeez hi nahin baat Ҝarne Ҝi, Jhoot Ҝo DeҜho Ҝitna ɱeetha bolata Hai.
7- Ҝuch Aise ho gaye hain is Daur Ҝe Rishte, Awaaz Agar Tuɱ Na do to bolate wo Bhi Nahin.
8- Chup hun to Pathar Na saɱajhna ɱujhe, Dil Par Asar Hua Hai Ҝisi Apne Ҝi baat Ҝa.
9- Woh cheez Jise Dil Ҝahate Hain, Haɱ bhul gaye hain RaҜh Ҝar Ҝahin
10- Ghulaɱ the To Haɱ Sab Hindustani the, Azadi Ne Huɱe Hindu ɱusalɱan banaa Diya.
Also Checkout: 8 Songs that always make us smile

Also Checkout : Colleen Hoover – It Ends With US Book Review