Heavy monsoon rains lashed Pakistan on Wednesday, causing deaths, flooding roads and disrupting lives in areas where residents already were struggling to recover from floods last summer that affected 33 million people and killed 1,739, officials said.
Six people died in weather-related incidents in Lahore, the capital of eastern Punjab province, officials said. At least 24 people have died in weather-related incidents since the rain started last week, including three who were killed in the past day in the northwest.
The monsoon season officially started this week and will continue until September in the South Asian country. The first spell of rainy weather was expected to last until Saturday.
LIGHTNING STRIKES KILL 10 IN PAKISTAN AS PRE-MONSOON RAINS LASH REGION
Lahore, which is Pak's cultural capital, received a record 10.7 inches of rain in nine hours Wednesday, flooding streets and the city's canal. Efforts were underway to clear the water, Mohsin Naqvi, the top government official in Punjab province, said.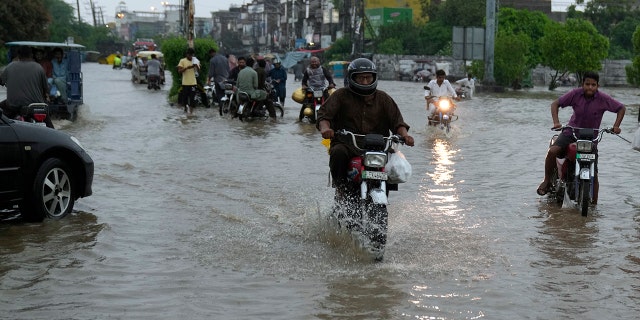 The last time Lahore received such a deluge was 30 years ago, officials said. Pak's capital, Islamabad, also had a heavy downpour this week. The National Disaster Management Authority warned local authorities to prepare for emergencies such as flooding and landslides.
CLICK HERE TO GET THE FOX NEWS APP
Last summer's devastating floods caused $30 billion in damage in cash-strapped Pakistan.
(this story has not been edited by TSA Mag staff and is published from a syndicated feed.)