Heavy rain as a result of thunderstorms has caused havoc in Mumbai on Sunday. It led to the flooding of low-lying areas and triggered landslides, house collapses, and electrocutions. The heavy rain was also the cause of the deaths of around 32 people according to officials, reported the HT Times.
Moreover, the city received 235mm of rain in four hours (between 12 am and 4 am) on Sunday, according to weather officials, hours after a similar extreme weather event resulted in the season's highest daily rainfall (253mm) on Friday.
Authorities have informed about two incidents of landslides, two incidents of electrocution, and one incident where a wall collapse took the life of a 16-year-old boy. Also, one man was electrocuted to death in Andheri West.
Both the incidents of landslides took a toll on houses with people sleeping in them. Rescuers had to use whatever immediate means they could to find any survivors.
Maharashtra Chief Minister, Uddhav Thackeray on Sunday held a meeting to discuss the preparedness of various agencies to handle the situation in case the emergency persists.
The persistent heavy rainfall however continued and blocked many routes and passages. People had to manage through inconveniences as railway tracks and streets were waterlogged, while flight operations were also briefly suspended early Sunday morning.
Akshay Deoras, an independent meteorologist and Ph.D. researcher at the University of Reading, England said, "The cloud-top height is a good indicator of how intense a storm will be. Furthermore, the vertical wind shear is significant, which is prolonging the lifespan of thunderstorms, such thunderstorms are definitely uncommon for Mumbai or the west coast during an active phase of the monsoon, and in a month like July.
The cloud top height of this monster thunderstorm is definitely comparable to the one that produced rains on 26 July 2005."
Prime Minister Narendra Modi announced his condolences and announced a compensation of Rs 2 lakh to the family of the deceased. State chief minister Uddhav Thackeray also announced a compensation of ₹5 lakh for the families in mourning.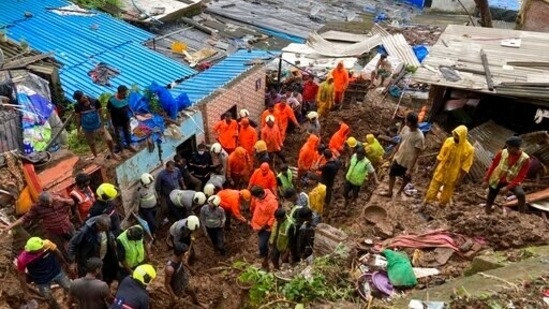 State environment minister Aadtiya Thackeray labeled the event as a "mini cloudburst," though the India Meteorological Department (IMD) termed it only as a thunderstorm whose impact was on a larger scale and caused devastation as much as a cloudburst.
"We have been talking about climate change and it is happening because for a few years we have been witnessing that in a few hours, excess rainfall is reported, which makes it even more for the administration to handle," Thackeray said.
This year rains have hit the shores of Mumbai earlier than usual and have flooded the streets and other areas.
The Brihanmumbai Municipal Corporation (BMC) has urged the people to stay away from the shores and avoid water-logged areas. Moreover, the citizens were also instructed to boil water before drinking as a purification complex at Bhandup was flooded due to the impact of heavy rains, reported India Today.
The Mumbai Police has also appealed to the people to not venture out of their homes unnecessarily and avoid some of the highly affected areas.
Also Read: Congress Member Rahul Gandhi, IT Minister Ashwini Vaishnaw, And Poll Strategist Prashant Kishor Were Mentioned In The List Of Pegasus Spyware Hack