Informal Schools in Delhi Provide Free Learning to Students Amid Pandemic
There are some schools in Delhi that are running amid lockdown to provide education to the needy children.
Amid COVID-19, everything has come home via the digital and electronic means. But not everyone is fortunate enough to have these facilities at disposal. When all schools and colleges are locked up due to COVID-19, there are unofficial schools running under the Barapullah flyover in East Delhi, assuring that the students do not miss out on basic and important learning.
From July onwards, they have started their classes which run from morning to evening. As per the report in the Indian Express, these schools along the banks of the Yamuna, which earlier used to provide after-school extra classes, are now the main learning centres for children of urban farmers.
There are various schools in one place and are run by different individuals on their personal level. They understood the gravity of the situation and also knew about the impact of the lockdown on the 40% of the school-going children, who are now sitting ideal after everything has come to a halt because of the lack of resources.
Satyendra Pal, a 25-year old B.Sc. graduate restarted the school with only nine children in July. Later, the students and parents interest pushed him to restart the classes for all. The classes begin at 8 am and end at 3 in the afternoon every day. "I had restarted with only nine of the older children in July. After demands from the other children and their parents as well, and because children's studies were suffering, we decided to go ahead with precautions," Satyendra said in an interview with the Indian Express
"The children are getting worksheets once a week from school, which amounts to them getting homework. No one is teaching or explaining the new things in their syllabus to them. In this case, we are teaching them the syllabus from scratch. What started as a remedial centre is now a full-time school." He further adds.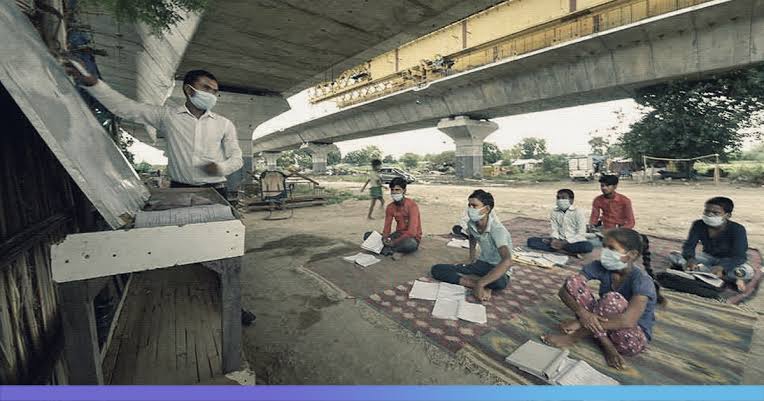 People who study in these schools are very poor that they are often unable to pay fees. However, before the lockdown, some people used to pay fees between Rs 100 to 300.
The school which is owned by Satyendra has approx 150 students all from families, who had to go through a fairly tough time after the pandemic hit and social distancing with lockdown became evil so necessary. The students and teachers follow various safety precautions. The younger ones are constantly reminded to keep a distance from one another, wear masks and use hand sanitizers provided by the school authority.
Not only Satyendra but there are many like him who are teaching poor students in the wake of COVID-19 and contributing to society.