Intel couldn't let Tech-Tober pass without reminding everyone that they have got new processors coming out early next year. Intel has released a teaser for the new Intel 11th Gen 'Rocket Lake' processors. It's very impressive that they have released the new processors on-schedule despite the pandemic. This is great for Intel as Ryzen 5000 series processors seem to have gotten all the hype. Intel 11th Gen processors will launch somewhere in Q1 2021, skipping the shopping season this year.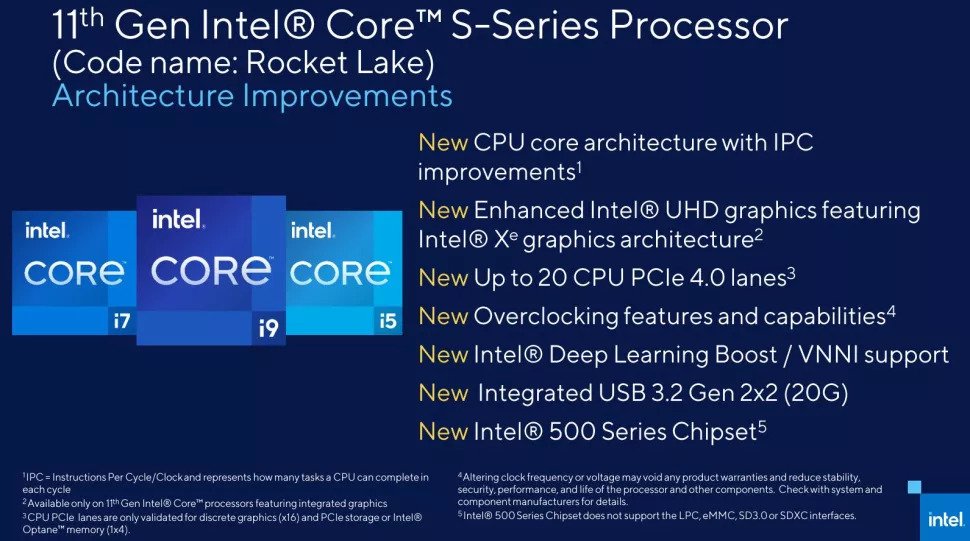 What's New with the new 11th Gen Intel Processors?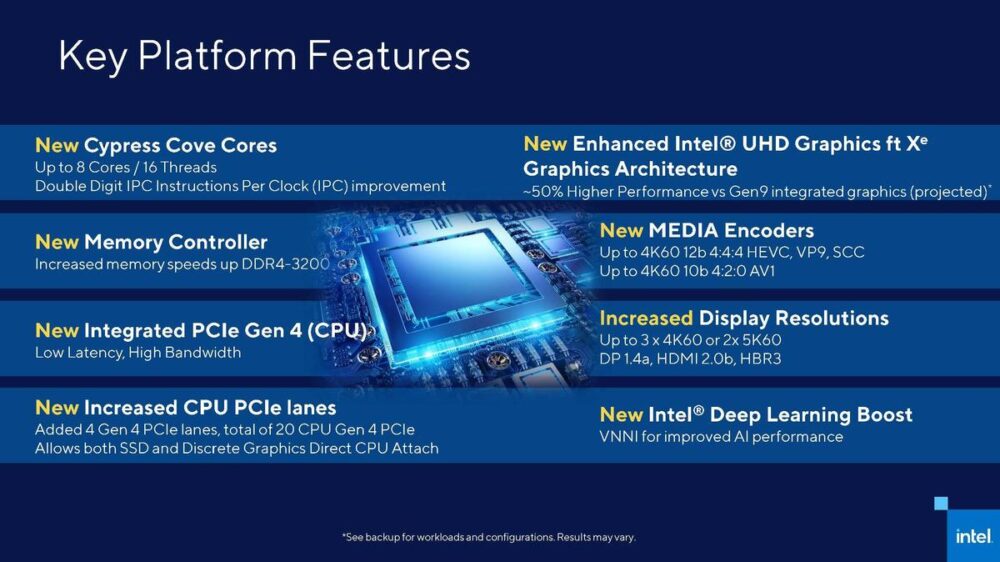 New Cypress Cove architecture featuring Ice Lake Core architecture and Tiger Lake Graphics architecture.
Double-digit percentage IPC (Instructions per Cycle) performance improvement. (Better Single-Core and Multi-Core Performance)
Better gen-on-gen performance
Up to 20 CPU PCIe 4.0 lanes (x16 Lanes for GPU and 4x Lanes for PCIe Storage like SSD)
Intel Quick Sync video, offering better video transcoding and hardware acceleration for the latest codecs
New overclocking features for more flexible tuning performance
Intel Deep Learning Boost and VNNI (Vector Neural Network Instructions) support
New Intel 500 chipset
Integrated USB 3.2 Gen 2×2
New memory controller with support for DDR4-3200
Other than designing better CPUs, AMD also seems to be better at keeping secrets than Intel. As the leaks and rumours already had all the information out. Intel's press release has just confirmed, what we already knew. The 11th Gen Intel CPUs are based on the age-old 14nm technology and won't be using Intel's 10nm tech. Intel will be using new architecture called Cypress Cove, which is essentially 10nm Ice Lake cores that have been backported to 14nm, combined with the Tiger Lake architecture for the iGPU (Integrated Graphics Processing Unit). This is quite an impressive feat as architecture and IPC are difficult to scale along with different lithography.
The new iGPU is quite impressive as has already been demonstrated by the laptops but the Desktop will feature only 32 EU (Execution Units) which is in contrast to the 64-96 EU found in laptops. So, shouldn't expect to game on the new iGPU.
For the first time in a long time. The new Intel 11th Gen processors will be compatible with the 400-series motherboard. Intel also showcased support for Deep Learning Boost and Vector Neural Network Instructions(VNNI). Pushing AVX-512 on desktops is a great idea and will encourage developers to use it. AI will surely give rise to more features and explosive performance improvements if implemented in the software.
The features of Intel 11th Gen processors are looking great. However, the same can't be said for the CPU line-up. The flagship 11th Gen processor features 8 Cores/16 Threads. It remains to be seen whether the IPC improvements alone can get the 8 Core processor equivalent to their i9-10900K (10 Core/20 Threads processor), but they won't be able to compete with AMD's Ryzen 5950X (16 Core/32 Threads processor). It's not much but these CPU's can compete with the Ryzen CPUs if priced reasonably.
For more such articles read our Tech and Automobile Section
For more, like us on Facebook or follow us on Twitter, Instagram  and Telegram