Lebanon blast : dozens reportedly injured as explosion rocks Beirut
Source of blast, which apparently occurred around Lebanese capital's port, still unclear
A massive explosion has rocked central Beirut, shattering windows, knocking down doors and shaking buildings several hundred feet away.
The source of the blast, which appeared to occur around the Lebanese capital's port, is currently unclear. Cars were left strewn across the surrounding highway. Witnesses told LBC television that at least dozens were hurt and hospitals were full of injured people.
Another driving past the port said he first saw a fire from his window and then felt an enormous explosion that lifted the highway. Many people were feared to be trapped in rubble in the area immediately surrounding the explosion.
Lebanon's health minister told journalists a ship carrying fireworks had blown up in the port, though the size of the blast heard across the country raised suspicions it might have resulted from a rocket strike or detonation of explosives, deliberate or otherwise. He said at least dozens were wounded but did not give further details of casualties.
An enormous cloud of smoke could be seen from across the city and witnesses said there were reports of a fire and several smaller explosions at the port that preceded the large blast after 6 pm on Tuesday.
Two major explosions rocked Lebanese capital Beirut on Tuesday. No immediate casualties were reported. According to RT news, the first explosion struck the city's port area after 6pm local time. Videos captured the shockwave striking building kilometers away. #lebanon pic.twitter.com/Y5xwFKeYpX

— The Second Angle (@TheSecondAngle) August 4, 2020
A large explosion rocked Beirut on Tuesday, injuring many people as glass shattered and balconies collapsed from the impact, Reuters witnesses said. At least 10 bodies have been taken to hospitals following a massive explosion in Beirut's port area, a Lebanese security source and a medical source told Reuters.
Lebanon's state news agency NNA and two security sources said the blast had occurred in the port area where there are warehouses housing explosives. It was not immediately clear what caused the blast or what kind of explosives were in the warehouses.
BREAKING: Massive explosion in Beirut. Footage from the daily star office now in Lebanon pic.twitter.com/2uBsKP5wCH

— Ghada Alsharif (@GhadaaSharif) August 4, 2020
"I saw a fireball and smoke billowing over Beirut. People were screaming and running, bleeding. Balconies were blown off buildings. Glass in high-rise buildings shattered and fell to the street," said a Reuters witness.
Local broadcaster LBC quoted the health minister as saying there was a "very high number" of injures and a large amount of damage. Al Mayadeen television said hundreds were wounded.
Update Time: 12:55 am IST
Two massive explosions that hit Beirut on Tuesday may have been caused by explosive materials confiscated years ago and stored at the city's port, General Security chief Abbas Ibrahim said.
"It appears that there is a warehouse containing material that was confiscated years ago, and it appears that it was highly explosive material," the senior security official said, adding that an investigation would be launched into the explosions.
As per the reports, the blast was caused by a fire in a depot of highly explosive material, including Ammonium nitrate at Beirut's port. Nitrate compounds are very explosive in nature.
One of the other serious concern is Pollution caused by the explosion. The smoke is filled with nitric acid which is toxic for people if consumed directly.  Many people also claimed it as a masked attack.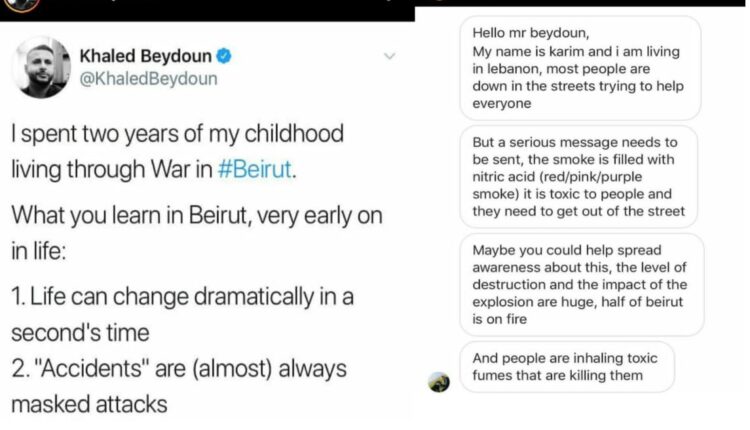 Khaled Beydoun is a lawyer, Professor, and activist working for Muslim rights.
We are updating this story