Trail cameras, also known as game cameras or wildlife cameras, are a great tool for hunters, wildlife enthusiasts, and property owners who want to monitor animal activity. These cameras can capture images or video when motion is detected, even at night or during inclement weather. One of the most important factors in getting good performance from a trail camera is using the right secure digital (SD) memory card. The SD card stores all the photos and videos captured by the camera. Choosing the proper card and storage capacity can maximize your trail camera's efficiency. Here are 7 tips for picking the optimal SD card for your needs:
Choose an SD Card Designed for Security Cameras
SD cards designed specifically for security and surveillance cameras are best suited for trail cameras. These cards are engineered to endure constant overwriting as the camera loops recording. They're rated for high endurance for continuous operation 24/7. General use SD cards may become corrupted or fail faster in a game camera application. Look for SD cards marketed for trail cams or built for endurance when recording video.
When choosing an SD card, check the packaging or product description for mention of security cameras, trail cameras, or endurance ratings. Terms like "surveillance grade" or "high endurance" indicate a card that can handle continuous loop recording. The card should be rated for rewrite cycles of at least 10,000 if not more. Avoid generic consumer SD cards not built for cameras that are constantly recording and overwriting data. Investing in a robust, specialized SD card gives you reliability and peace of mind.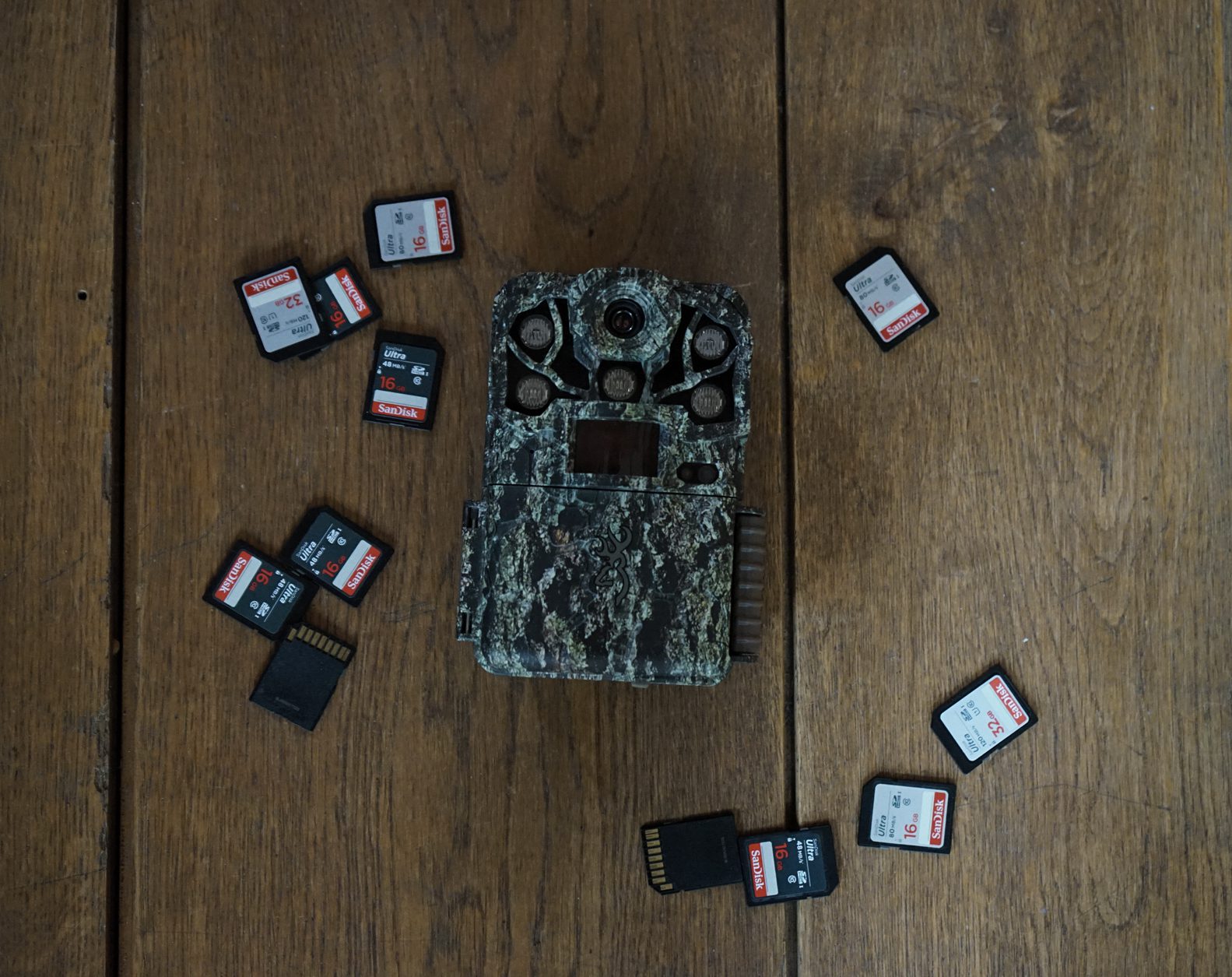 Select a High-Capacity SD Card
Given that trail cameras can snap hundreds or even thousands of images per week, depending on setup, it's important to use a high storage capacity SD card. This allows the camera to capture and retain more photos and videos before filling up. Aim for at least 32GB cards, but capacities up to 512GB are available. The higher the capacity, the longer you can go between needing to offload images and reformat the card. Just be sure the camera model supports the larger card size you choose.
When determining what size SD card to get, consider your specific trail camera model and how you have it configured for image size, video length, and sensor triggers. Read the camera specs and manual to see what maximum SD card capacity it supports – newer models may handle up to 512GB. Estimate the number of photos you expect it to take per week, then give yourself lots of extra breathing room with higher capacity. A 64GB or 128GB SD card is a good place to start for most users. Buying more capacity than needed is better than running out of space to capture wildlife activity when you can't access the camera frequently.
Use High-Speed SD Cards Rated U3 or V30
To effectively save HD video and rapid succession photos, your trail camera needs an SD card with fast write speeds. Look for cards with speed ratings of U3 or V30. These designations guarantee minimum sustained write speeds of 30 megabytes per second. This enables fast shot-to-shot times and smooth video recording. Slow SD cards are more likely to have corrupted data or freeze up entirely. Invest in the fastest SD card your camera can use for optimal performance.
The speed rating printed on SD cards indicates its category for minimum write speeds. For trail cameras, you want Class 10, U3, or V30 cards at a minimum. U3 and V30 represent the fastest speed categories, with sustained performance of 30 megabytes per second. This allows quick offloading of image data from the camera processor to the SD card, even for HD video. Check your trail camera manual for the optimal speed class rating it supports. Pay attention to the sustained write speed rather than peak speed for reliability.
Buy SD Cards Specifically Made for Game Cameras
Several leading manufacturers like SanDisk and Kingston now produce SD card lines designed and tested specifically for trail cameras. The stability and sustained performance of these cards is engineered for constant loop recording under harsh outdoor conditions. While slightly more expensive, these SD cards are worth it to avoid issues caused by consumer-grade cards. Look for terms like "game camera qualified," "rugged," or "hunting" on the packaging.
Trail camera SD cards from top brands like SanDisk or Kingston optimize performance for security cameras and game cams. These cards undergo rigorous testing with continuous read/write cycles, vibration, extremes of temperature, and weather resistance. Their components and firmware are designed for reliability during unattended 24/7 operation. Expect to pay a small premium over regular consumer SD cards, but the investment is worthwhile. You don't want a cheap card failing at a critical moment and missing that trophy buck! Always buy SD cards marketed specifically for trail camera use.
Choose SD Cards with Sufficient Temperature Ratings
Standard SD cards often aren't rated for sub-freezing temperatures that hunters may expose their trail cameras to. Look for trail camera SD cards that are tested down to -13°F or -25°C for cold weather operation. Industrial SD cards meet more extreme temperature specifications for reliability in all seasons. Avoid using cheap cards prone to failure in winter.
Trail cameras advertised as "all weather" or "weatherproof" still need a robust SD card that performs in temperature extremes. Inexpensive consumer SD cards can become brittle and damaged by freezing temperatures. Look for trail camera SD cards rated down to -10°F or -20°C at a minimum. But for cold weather hunting, choose SD cards rated to -25°C / -13°F for dependable operation. Testing and certification for extreme cold gives you confidence in remote trail camera deployment anywhere. Check the operating temperature range before buying SD cards for use in frigid conditions.
Buy from Trusted Brands Like SanDisk or Kingston
When purchasing SD cards for trail cameras, it's advisable to stick with major, reputable brands known for quality and reliability:
SanDisk: The company offers a full line of specialized trail camera SD cards in various capacities. Top choices are the SanDisk Extreme Pro and SanDisk High Endurance cards.

Kingston: For trail cameras, Kingston's Canvas series cards offer a good balance of high capacities, fast speeds, and durable build.

Lexar and PNY: These brands also produce high-performance SD cards suitable for game cameras.
Avoid using cheap, generic SD cards from obscure brands that may have higher failure rates. Pay a little more for a quality card that will perform when you need it.
The brand reputation matters when buying SD cards for trail cameras. Look to industry leaders like SanDisk, Kingston, Lexar, or PNY for reliable performance. These companies manufacture top-tier NAND flash memory components and advanced SD card controllers. They rigorously test cards for endurance in harsh environments. Lesser known brands could skimp on materials or lack stringent quality control. For hunters who depend on their trail cameras, a small investment in a premium SD card brand pays dividends through years of flawless use. Don't risk losing precious wildlife data by trying to save a few dollars on a no-name card of uncertain pedigree.
Buy SD Cards in Bulk to Save
Since trail cameras use SD cards as consumables that need regular replacement, buy them in multi-packs. Buying 2, 3, or 5 SD cards together in a bundle can save per-unit cost significantly. Shop for SD card packs designed for trail cameras for the best value. Buy in bulk to save more. Then you'll have spare SD cards on hand when you need to swap out full cards in the field.
Choosing the right SD card is crucial to get flawless photo and video capture from your trail camera. Follow these tips to pick SD cards with ample storage capacity, fast write speed ratings, extreme temperature tolerance, and durable construction purpose-built for game cameras. Investing in quality SD cards from leading brands and buying in bulk can maximize your trail camera efficiency for capturing awesome wildlife footage.