Mirzapur is a much-loved crime drama series. Its first season was released on Amazon Prime in 2018 and had received much love from the OTT audience.
After two years of gap, its second season released and it seems the amount of love has only increased. Netizens are going gaga with excitement and they took their excitement to the social milieu. Each and every social platform is overflowing with their reactions, be it Instagram, Facebook or Twitter.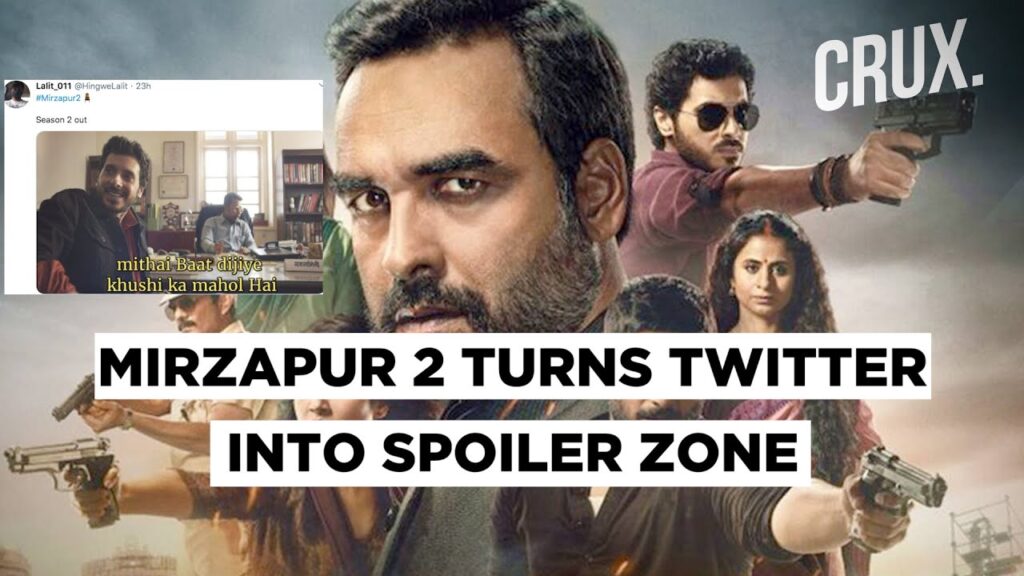 Let's see some of the best reactions, we found:
#mirzapurseason2 released today ….😜
Me .. pic.twitter.com/0nejY0ggg2

— 👑محمد غفران خان👑 (@Mohd_G_Khan) October 22, 2020
https://twitter.com/KrishRa31235492/status/1319375365522001926?s=20
Just started watching the final episode of #Mirzapur2 and I'm drowning in a pool of adrenaline.
God! This is good.
Chills.

— Saket Mishra (@saket_wannabe) October 23, 2020
So, was it worth all the wait? Totally 🔥 #Mirzapur2 #bhaukaal @alifazal9 @TripathiiPankaj @divyenndu @battatawada ❤️ pic.twitter.com/F6jdXOgAZC

— Ishaan Singh (@byishaansingh) October 23, 2020
Two episodes into #Mirzapur2 and the show looks more detailed, richer and bustling with various sub-plots! 😎

Cannot wait to watch the rest.
Binging #Mirzapur S2 on @PrimeVideoIN tonight! 🔥@YehHaiMirzapur @excelmovies @TripathiiPankaj @alifazal9 @divyenndu @battatawada pic.twitter.com/9cTN1RbRgp

— Ankita Bhalla (@ankitabhalla28) October 22, 2020
Just got done watching the first two episodes of #Mirzapur2 and I am already hooked!!!
Can't wait for finish the whole series @PrimeVideoIN @excelmovies@TripathiiPankaj @alifazal9@divyenndu @battatawada@RasikaDugal @HarshitaGaur12@mrvijayvarma @FarOutAkhtar@ritesh_sid
1/2 pic.twitter.com/mfnvmAoUjD

— Ashwani kumar (@BorntobeAshwani) October 22, 2020
#LastEpisode 🔥 Aag, Adbhut, Goosebumps, Dhagdhag, etc etc. 💥💥 Full #Bhaukaal #mirzapurseason2 #MirzapurOnPrime #Mirzapur2review #Mirzapur2 #mirzapur @alifazal9 @divyenndu @TripathiiPankaj @excelmovies pic.twitter.com/RhnrYgbJLw

— Subham Srivastav (@Subhham_beast) October 23, 2020
#Bhaukaal with #Bavandar.. https://t.co/XymNtbHlyc

— Umar Daraz (@umardarazzz) October 23, 2020
10/10 #mirzapurseason2 . Amazingly written script with alot of action, thrill, comedy and a women empowerment scene😍
Let's not spoil #mirzapurseason2 . Watch it if you haven't, coz some people can't keep their mouth shut.#Mirzapur2review #bhaukaal

— Pratyush Mishra (@BabaYaga_xx) October 23, 2020
One of the Best Revenge drama what a masterpiece all actors is out standing !!! #Bhaukaal #Mirzapur2

— Shoib Khan (@khan_shoib12) October 23, 2020
https://twitter.com/rickysharma_83/status/1319486532093431808?s=20
Chacha finally gave his reply😂😂🤣#Mirzapur2 #Mirzapur #mirzapurseason2 pic.twitter.com/VXK1DmT6B7

— Main Hoon Gian (@MainHoon_Gian) October 23, 2020
@divyenndu Bhai each character of #Mirzapur2 is very crafted but you are a true gold… Your range is amazing. Keep up the good works! I am sure you will go very very far!

— Irfan Khondker (@irfan_khondker) October 23, 2020
#Mirzapur2 Take a bow ❤!
Kya bawaal cheez banaye ho be!!

— Utkarsh Singh (@listenMrUtkarsh) October 23, 2020
Mirzapur S2 – What an epic saga of revenge and justice. That last episode damn it was lit !🔥@alifazal, @divyenndu and Pankaj Sir seriously you all just were the best yet again!!

Thanks to the entire Mirzapur team to entertain us with this blockbuster. #mirzapurseason2

— Devneet Mohanty (@DevneetM) October 23, 2020
#Mirzapur2review #MirzapurOnPrime #Mirzapur #MirzapurWatchParty #Mirzapur2
I would say a masterpiece
It has matched up that level of season 1 and has lived up to expectations

Acting 5/5
Suspense 5/5
Thrill 5/5
Dialogues 5/5
Storytelling 5/5

10/5 for this year's ending pic.twitter.com/ziXaZDTPvG

— 👻MOGAMBO KHUSH HUA👻 (@MOGAMBO_TWEETS) October 23, 2020
People seem to enjoy the second season and the acting of the main cast a lot. Read our detailed review on Mirzapur Season 2 to know what we think about its story, acting of the cast, music and much more.
And for more such content keep checking our entertainment section.
Read: Bachchan Pandey Review: Unconvincing Film Saved by Actor's Performances