A tornado that tore through southeastern Missouri on April 5 caused widespread destruction and killed and injured multiple people, authorities said.
The tornado moved through a rural area of Bollinger County, about 50 miles (80 kilometers) south of St. Louis, between 3:30 and 4 a.m., said Sgt. Clark Parrott of the Missouri State Highway Patrol. He said it caused "multiple injuries and multiple deaths," but he didn't say how many or precisely where they occurred.
"The damage is pretty widespread. It's just heartbreaking to see it," Parrott said.
He said said a search and rescue operation is underway that involves multiple agencies. Crews are having to use chainsaws to cutback trees and brush to reach homes.
Severe thunderstorms packed the threat of more hail and tornadoes were forecast across parts of the Midwest and South.
The storms threatened a region that includes portions of the country still reeling from deadly weekend weather. The Storm Prediction Center said up to 40 million people from Chicago, Indianapolis, Detroit to Memphis, Tennessee, were at risk for storms later Wednesday, with the greatest threat from lower Michigan, across the middle to lower Ohio River valley and into the mid-South.
Storms were moving on Wednesday morning across the Ozarks in northern Arkansas and southern Missouri, prompting tornado warnings. The National Weather Service said a tornado struck in Bollinger County in southeastern Missouri on Wednesday morning, causing an unknown number of injuries.
"A tornado definitely touched down, there is damage to homes, we know that, there have been people injured, we don't know the extent" or if there are fatalities, said meteorologist Justin Gibbs with the weather service in Paducah, Kentucky.
Mr. Gibbs said it appears initially that the tornado was on the ground for 15-20 miles (24-32 km) in the area about 90 miles (145 km) south of St. Louis. He said the weather service will send a survey team to the area later Wednesday to assess the damage and determine the strength of the tornado.
The Missouri State Highway Patrol had earlier reported suspected tornado damage with a widespread debris field and some injuries in Bolinger County in the state's southeast near the communities of Grassy and Marble Hill. Sgt. Clark Parrott of the Missouri State Highway Patrol told KFVS-TV it was not immediately clear how many were injured.
Messages seeking more details on the overnight damage were left by The Associated Press with Missouri Highway Patrol and Bolinger County Sheriff's office on Wednesday morning.
The storms come after severe weather and possibly dozens of tornadoes killed at least 32 people days ago, meaning more potential misery for those whose homes were destroyed in Arkansas, Iowa and Illinois.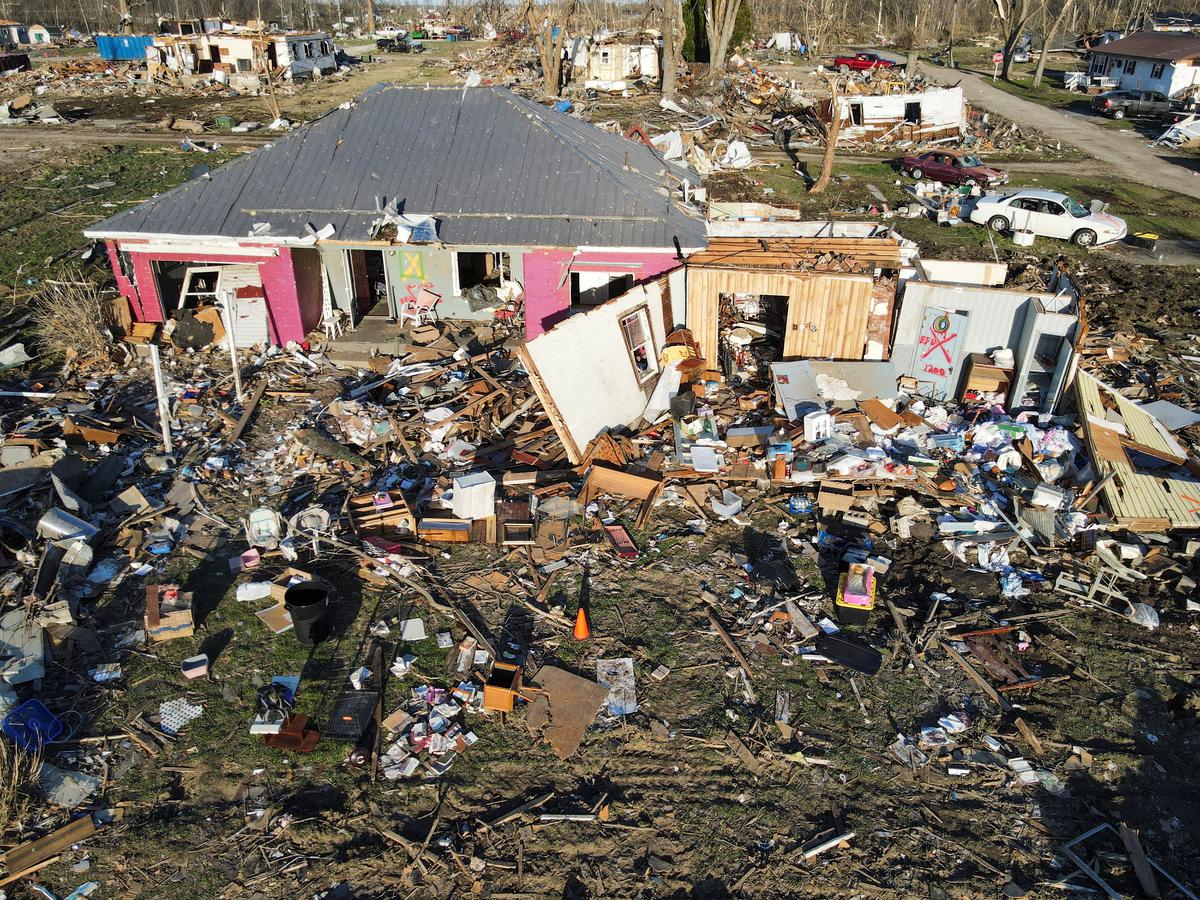 The fierce storms started last Friday and continued into the weekend spawning deadly tornadoes in 11 States as the system plodded through Arkansas and onto the South, Midwest and Northeast.
Schools in Little Rock canceled Wednesday's classes because the storms were expected to move through the metro during morning rush hour, KFVS-TV reported.
At least two tornadoes were confirmed on Tuesday in Illinois as storms targeted the state and eastern Iowa and southwest Wisconsin before nightfall.
The National Weather Service issued tornado warnings in Iowa and Illinois on Tuesday evening and said a confirmed twister was spotted southwest of Chicago near Bryant, Illinois. Officials said another tornado touched down Tuesday morning in the western Illinois community of Colona. Local news reports showed wind damage to some businesses there.
Earlier Tuesday, strong thunderstorms swept through the Quad Cities area of Iowa and Illinois with winds up to 90 mph (145 kph) and baseball-size hail. No injuries were reported, but trees were downed and some businesses were damaged in Moline, Illinois.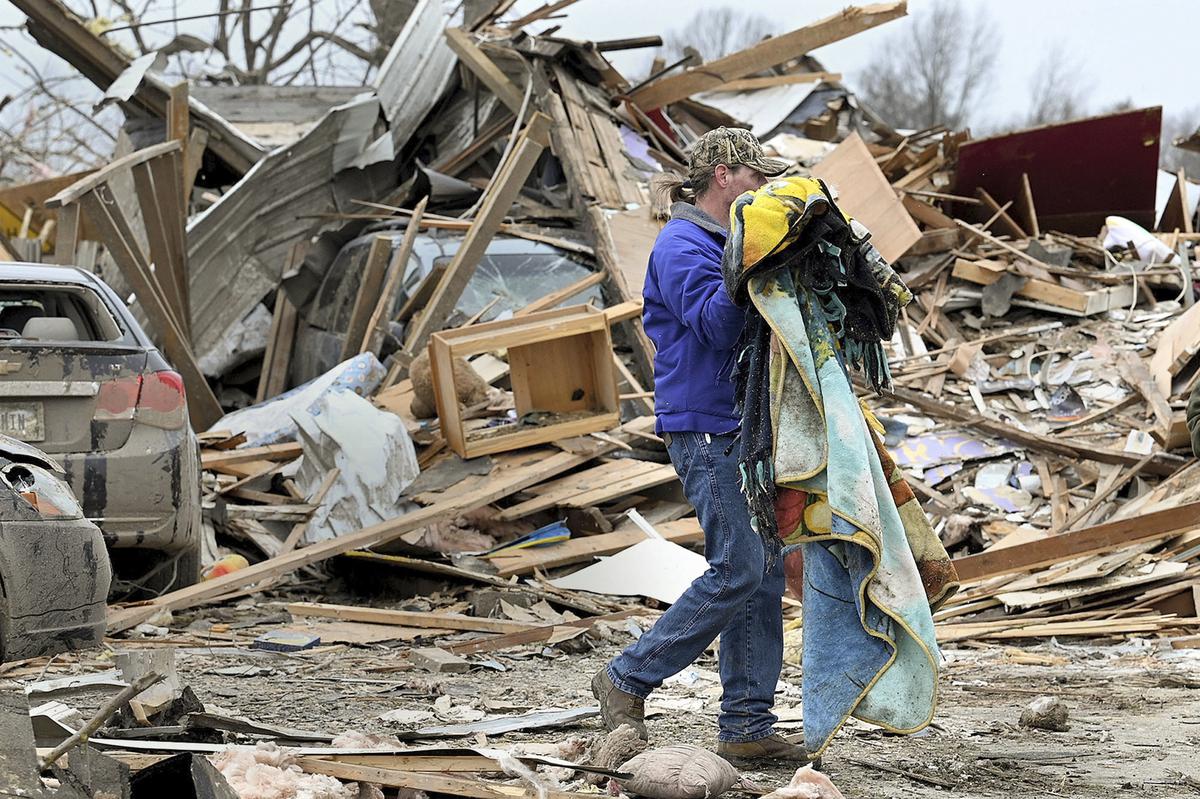 Northern Illinois, from Moline to Chicago, saw 75-80 mph (120-128 kph) winds and hail 2 to 3 inches (5 to 8 centimeters) in diameter Tuesday afternoon, National Weather Service meteorologist Scott Baker said. The agency received reports of semitrucks tipped over by winds in Lee County, about 95 miles (153 km) west of Chicago.
The same conditions that fueled those storms — an area of low pressure combined with strong southerly winds — were setting up the severe weather Tuesday into early Wednesday, said Ryan Bunker, a meteorologist with the National Weather Center in Norman, Oklahoma.
Those conditions, which typically include dry air from the West going up over the Rockies and crashing into warm, moist air from the Gulf of Mexico, are what make the U.S. so prone to tornadoes and other severe storms.
Dramatic temperature changes were taking place, with Tuesday highs of 74 F (23 C) in Des Moines and 86 F (30 C) in Kansas City plunging overnight to 40 F (4 C) or colder overnight. In Little Rock, Arkansas, Tuesday's high of 89 F (32 C) tied the record for the date set in 1880.