Starbucks is an American multinational company that has many coffee houses and roastery reserves. Its main head office is in Seattle, Washington. Starbucks is the largest coffeehouse chain in the world and is loved by many people. It is referred to as one of the most successful companies in the world.
Some of the most luxurious Starbucks Hotels in the world are Starbucks Hualien Bay  Mall, Starbucks Famille Park, Starbucks Capucines, Starbucks Reserve Roastery, and so on.
A list of the top 10 most Luxurious Starbucks Hotels in the world is given below: 
1. Starbucks Kyoto Ninenzaka Yasaka Chaya, Japan
This Starbucks store is located in the center of a quaint district in Kyoto, Japan. It has two stories and 51 seats. You can have a variety of coffee drinks here by taking off your shoes and sitting on tatami cushions.
This Starbucks coffee shop is situated in a 100-year-old traditional Japanese house which is very beautiful to see.
2. Starbucks Hualien Bay Mall, Taiwan
This Starbucks hotel was designed by Kengo Kuma, a Japanese architect. It was built using a total of 29 shipping containers which is a huge number.
The seating arrangement is spread over two floors. The exterior of this store is very stunning and customers can have a nice time here by relaxing and taking pictures.
3. Starbucks Famille Park, Seoul, Korea
This Starbucks store is known as the most beautiful Starbucks in Korea. Starbucks Famille Park has a modern glass dome which is the main attraction. Customers can enjoy drinks as well as take photos of this beautiful store.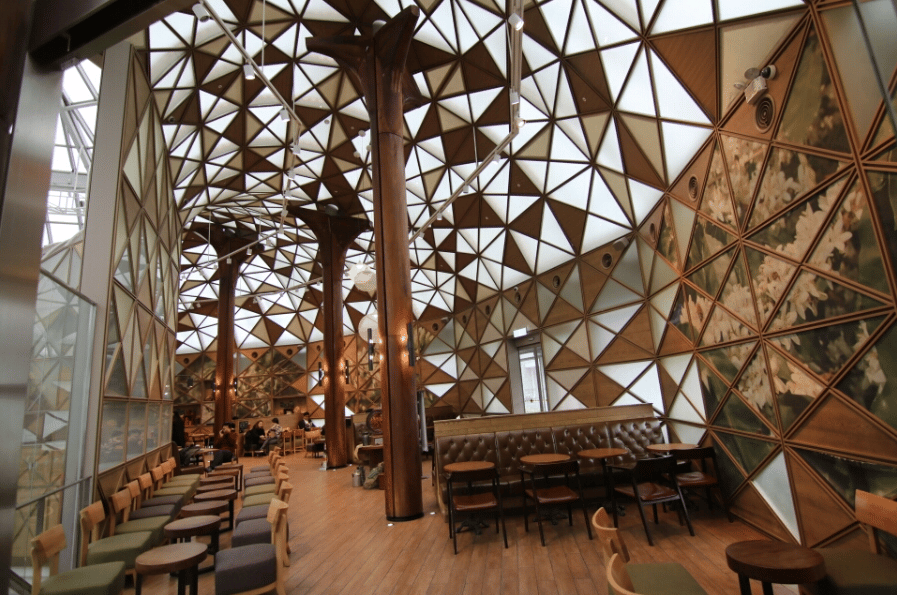 The most popular part of this store is the centerpiece decor which features flying birds. This is a visual treat for customers who come here.
4. Starbucks Davis Bangkok Hotel, Thailand
This Starbucks store in Thailand has an excellent infrastructure that resembles Rome. This store is a major attraction and is situated in the center of Bangkok.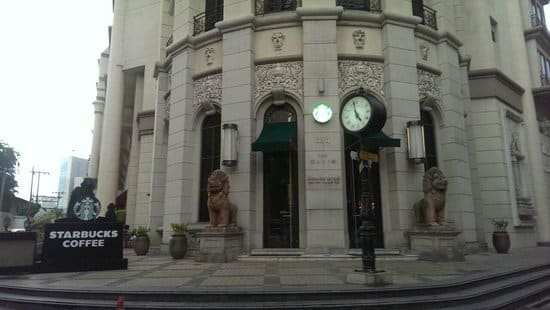 Its infrastructure is inspired by Roman architecture. This Starbucks store is also a favorite spot for tourists and locals who wish to capture beautiful pictures.
5. Starbucks Capucines, Paris, France
This Starbucks is situated in a 17th-century building that was built during the French Renaissance period. This building was later converted to Starbucks Capucines and has a romantic interior that can attract couples.
It is located close to Paris' Opera Garnier and so after a drink at Starbucks Capucines, you can visit this famous spot.
6. Starbucks Roastery, Milan, Italy
The Starbucks in Milan is over 25,000 square feet and is mainly a dine-in museum for coffee lovers who come to taste a variety of drinks. You will be left in a difficult situation here to choose from over 100 different types of Starbucks drinks.
Some famous items here are cocktails, and hand-crafted ice-creams all infused with coffee and you can also have freshly baked treats.
7. Starbucks at Prague Castle, Czech Republic
This Starbucks in the Czech Republic gives you the best view of the famous Shibuya Crossing. You can experience the best view of the whole of Prague from here.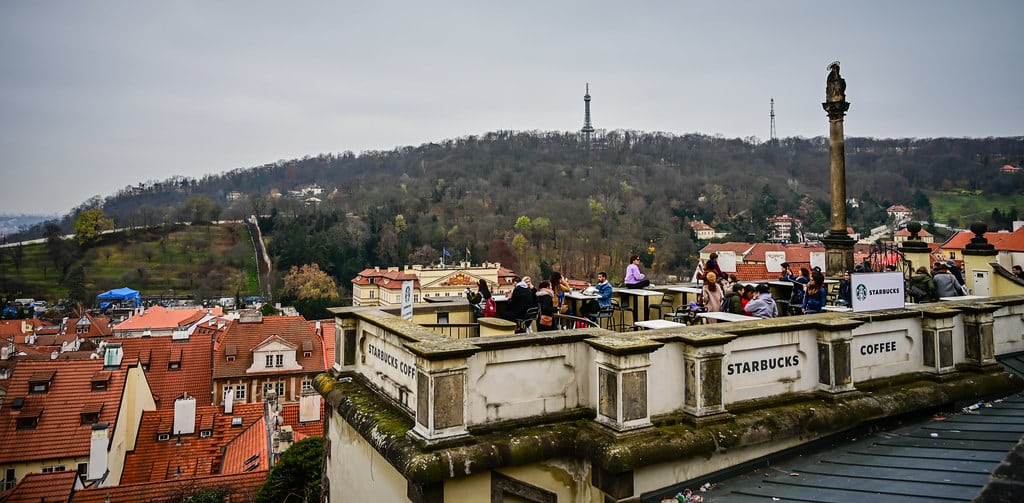 This Starbucks is situated in one of the largest ancient castles in the world which is a famous tourist spot. It has very cozy interiors which are one of the best in the whole of Europe.
8. Starbucks Pike Place Market, Seattle, United States
This Starbucks is situated at Pike Place Market in downtown Seattle, United States. It is referred to as the Original Starbucks and is the first Starbucks hotel in the world. It was established in 1971.
This store has preserved most of its early features such as the original Starbucks logo. The logo of Starbucks has changed over the years but we can see the earliest or original one here.
9. Starbucks Fast Fac Wang Noi, Ayutthaya, Thailand
Ayutthaya is Thailand's most popular archaeological destination which has many temples, monasteries, and ancient palaces. This ancient city is a perfect trip for tourists who come to explore Bangkok as it takes only one hour to reach here.
The famous Starbucks Fast Fac Wang Noi is located in Ayutthaya. Its interiors and exteriors are stunning and offer a variety of drinks. So tourists can visit Starbucks and go around the ancient places here.
10. Starbucks Reserve Dewata, Bali, Indonesia
Starbucks Reserve Dewata in Bali is the largest Starbucks in Southeast Asia. This Starbucks was set up as a coffee sanctuary. Starbucks Reserve Dewata has a large area of about 20,000 square feet and consists of a nursery.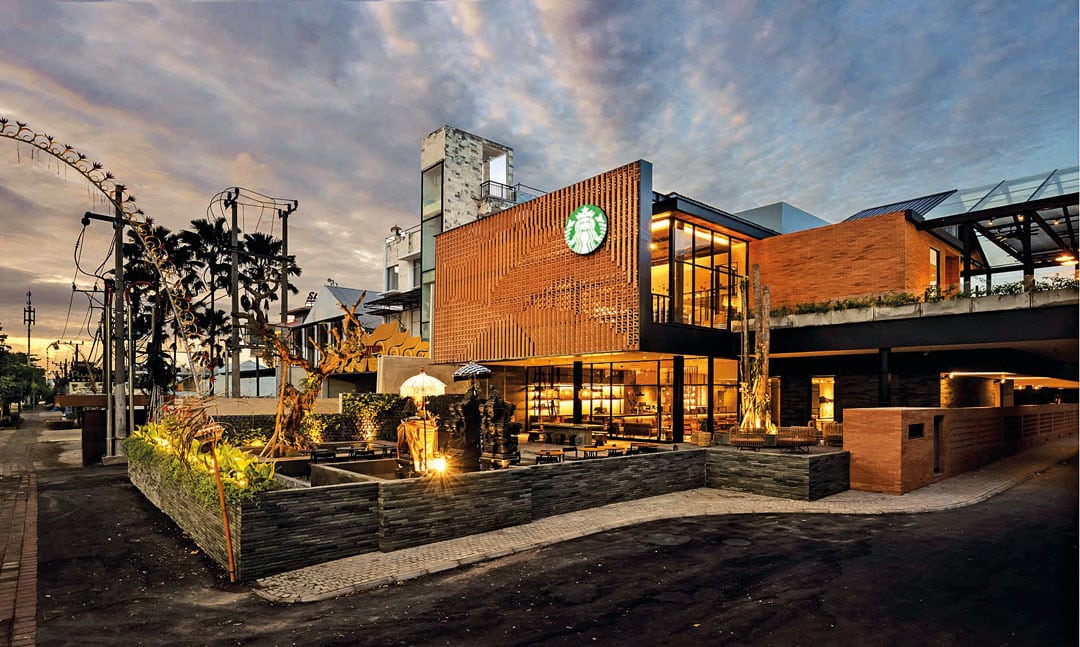 You can enjoy more than 100 handcrafted beverages here and some of them are House Affogato, Lavender Latte, etc which are excellent drinks.
These are some of the most luxurious Starbucks Hotels in the world. This company has many branches all over the world due to the demand for coffee. It has a huge income and is one of the most profitable ventures today. The Vanilla Latte is the most famous drink of Starbucks which is a combination of steamed milk, espresso, and vanilla syrup. So if you visit Starbucks never forget to taste its famous drinks.
Also Read: Top 5 Best Tourist Places To Visit In Kerala