What is Nextlingua App?
Nextlingua is a network of professional linguists and translators. Our products are intended to facilitate language learning at any time, in any location, and regardless of time constraints. Our website and mobile applications provide access to these services.
Find 5,000 illustrations, examples of how to use each term, declensions (depending on the language), verb conjugations for all verbs, basic and advanced grammar, and much more information on each word or expression. Additionally, there are review courses and dialogues that will assist you in consolidating your knowledge. The lectures are divided into three levels: fundamental, intermediate, and advanced.
Main Highlights
The presence of 12 levels, each with 30 courses, ensures that learning is efficient.
Daily exercises and a visual glossary are included in the app.
Additionally, the software incorporates grammatical and phonetic standards.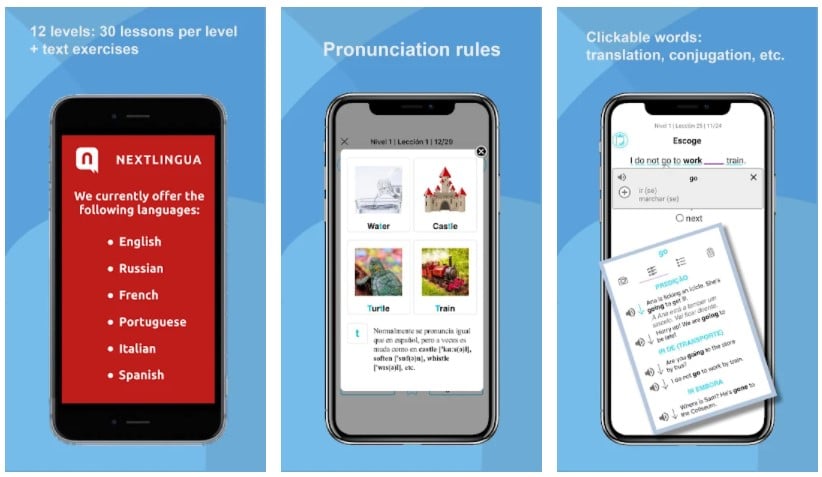 Features of the Nextlingua App
Nextlingua includes a visual dictionary with over 5,000 pictures, usage examples, declensions (depending on the language), verb conjugations for all verbs, basic and advanced grammar, and much more information about each word or expression.
There are review courses and discussions available to aid with your knowledge consolidation. There are three levels of lectures: fundamental, intermediate, and advanced.
Nextlingua now supports the following languages: English, Russian, French, Italian, Portuguese, and Spanish.
You'll find activities like as matching photographs, couples games, word search puzzles, and guessing games in the Nextlingua Games section.
Daily, receive premium information in the form of new flashcards and podcasts.
You'll begin with the fundamentals: the alphabet (with easy words followed by rules for pronunciation), core vocabulary, and simple sentences.
Why choose Nextlingua App?
Nextlingua makes language learning enjoyable and useful. The wide variety of interactive tasks, the informative visual dictionary included in the application, and other useful tools will gradually increase your knowledge without requiring much effort from you and will keep your enthusiasm strong.
Nextlingua App Reviews
Frequently Asked Questions
What types of services does Nextlingua offer?
Nextlingua Professional – Nextlingua Professional is a service that enables professionals to study languages while they work. We provide a range of specialized courses in areas such as hospitality, dentistry, and tourism.
Nextlingua Daily – Nextlingua Daily is a collection of iOS and Android mobile solutions. Develop the language you desire by beginning with the fundamentals: pronunciation rules, essential vocabulary, and simple phrases, and advancing to complex dialogues Based on the content studied. All of this is reinforced through video lectures, video dialogues, and colloquial language.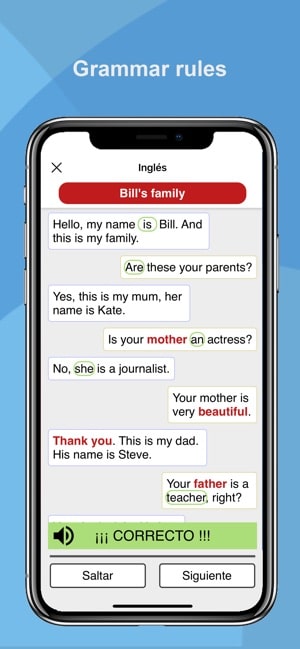 The Nextlingua Dictionary is a visual dictionary that is incorporated into all of our applications. The dictionary includes images, examples, declensions, conjugations, and grammar rules for each term and expression.
Nextlingua Social- Nextlingua Social is a social networking platform that allows you to interact with people who share your interests in languages, culture, travel, or even food. You may communicate with native speakers of the language you're learning, ask them questions, lend each other aid, and make new friends.
Which languages is this application capable of teaching?
Russian is the world's fifth most frequently spoken language. Our classes will walk you through the process of learning Russian step by step, including the Cyrillic alphabet, noun and adjective declensions, perfect and imperfect verbs, and so on. While English is a complex language, our gradual didactics will make it appear relatively straightforward.
English is the world's most frequently spoken language. Throughout the course, you will have all of the necessary rules, verb conjugations, examples, and applications of numerous words and idioms. The English language has never been easier to learn.
Learn French to broaden your professional horizons and make travel more enjoyable. Acquaint yourself with its syntax, its different accent marks (acute, grave, circumflex), and, among other things, its pronunciation standards. Without a doubt, our strategy will help you enjoy learning French.
Spanish, one of the fastest-growing languages in recent years, is available for online learning. Our engaging activities and chats help to simplify the more challenging aspects of Spanish. You will have no problems with the subjunctive. Learning Spanish will significantly simplify travel to several Spanish-speaking countries.
Also Checkout: 7 Best Google Authenticator Alternatives For Android And iOS