Feeding the underprivileged and poor people is one of the most incredible ways of service in society. With this belief, in his hometown, Osmanabad, Atul Ajmera began a movement to feed the underprivileged people who visit the hospital for treatment.
He was raised in Osmanabad and lived near the Civil Hospital. He found that people would come to the hospital from far away villages for treatment. He also knew that arranging food along with treatment expenses won't be easy for poor people. It softens his heart and encourages him to take a big step.
Osmanabad is situated in an area vulnerable to drought and is classified as one of the country's most underdeveloped districts. In recent years, farmers' suicides in the site explain the awful circumstances in which they live.
Atul, with his big heart, always wanted to help society and bring changes to it. After leaving his job as an engineer, he moved back to Osmanabad, where he executed his project Annapurna.
He gave credit to Azhar Maqsusi for inspiration, whose video he, fortunately, watched on Whatsapp. Azhar feeds hundreds of needy on the street of Hyderabad.
After getting motivated by Azhar, he was determined to do something like that to help his community. With his few friends, he started raising funds and took his first step towards his dream project.
Often, many patients have to drive up and down 60 km just to get the treatment for their loved ones. They also have to arrange their food. They are setting meals costs around 1,000-1,200. That is a significant amount for a poor.
It is hugely distressing for farmers to organize all in drought-like conditions, and it puts tremendous pressure on them financially. Ajmera began supplying all those who have been waiting for long hours outside the civil hospital with a simple meal, including rice and vegetables. Some of his friends brought 30 people together and demanded about 1,000 donations from families in the area each month.
After collecting the required funds Atul and his friends laid the foundation of project Annapurna. They decided to establish it outside the hospital.
Total beds in the hospital also grew as a result of food being distributed to patients and their families coming to the hospital. The capacity of the civil hospital has risen from 50 beds now to 200 beds.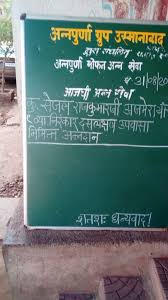 Atul believes this service has played an essential role in the hospital's development. Annapurna started providing food to Kushtidham, a shelter home for leprosy patients, close to their work outside the civil hospital. Annapurna was approached by the local municipality to offer relief to individuals in this shelter house.
Soon, products such as Chapatis were also added to make the meal more nutritious. The Annapurna kitchen today employs three individuals who, under hygienic and healthy conditions, prepare nearly 6,000 meals a month. All the requisite licenses are in place, and CCTV is used to monitor the kitchen.
Annapurna continued to provide the poor with food even during the lockdown. The hospital facility is now proceeding with the current social-distancing norms in place. With every chance he gets, Atul wants to be present outside every civilian hospital to help the poor and inspire others to follow in his footsteps.
Atul's generosity and his kind intention made Annapurna possible. It is an integral part of his life. Atul's firm belief in humanity and community service is a kind example that humans are capable of doing anything. It all takes courage and the first step to make dreams possible.
Where there's a will, there's a way; no one born with the extra ability and knowledge its just our ways of thinking that make us different from others. Atul Ajmera is one of the humans on earth from whom inspiration can be taken.
Also Read: Want To Shred The Daily Work Stress? India's 10 Best Stand-Up Comedians That Will Make You LOL
For more, like us on Facebook or follow us on Twitter, Instagram  and Telegram