Migos rapper Quavo is still grieving his late friend, nephew and former group member Takeoff.
The Atlanta rapper solemnly reflected on Takeoff's death in an 18-minute interview titled "A Conversation For The Fans" posted on his YouTube channel Thursday. Takeoff was tragically gunned down at a bowling alley in Houston, Texas — while playing dice.
"I miss him a lot, and I love him," said Quavo. "He know I love him. That's what we always know. So when you see me, and you see me smiling or something like that, you don't gotta never think I forgot about him, or I'll forget about him. I think about him all the time."
"Sometimes I cry myself to sleep," he continued. "And that's it. I just know he's here. If I can't feel him, I just know he's around. He just do all type of crazy things. I don't even like calling it crazy no more … I don't say stuff like that no more cause it's dead serious. It's real."
Quavo was present at 810 Billiards & Bowling when an altercation broke out, and Takeoff, whose real name was Kirsnick Khari Ball, was killed. Quavo and fellow Migos member Offset recently performed at the 2023 BET Awards to honor him with a medley.
"In the studio, I got this plaque of Take," Quavo said Thursday. "His eyes is on the side of the studio, so every time I record, I look over and just see his eyes looking at me. I ain't wanna call it nothing to dwell upon, what we have going on — I want it to uplift."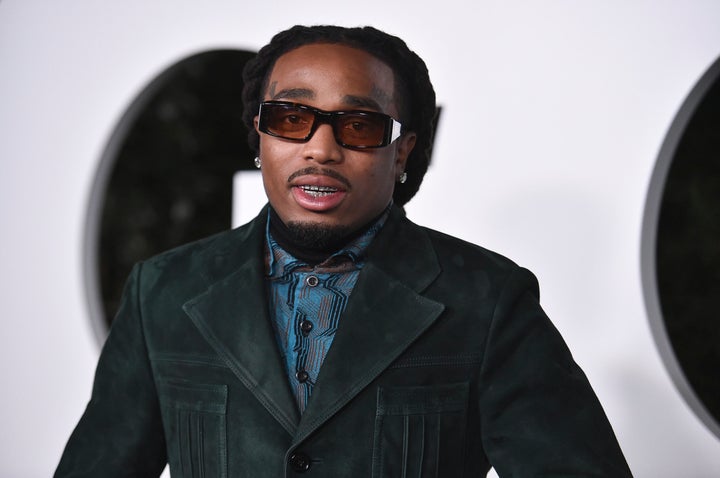 While Quavo has shared his thoughts about his loss recently, Offset has also found ways to honor the late rapper with a massive tattoo of Takeoff, his cousin. Quavo is also promoting his second solo album, "Rocket Power" — in a titular nod to Takeoff's final effort, "The Last Rocket."
"It means everything to me," Quavo said Thursday. "Just being fueled by my brother, Take, and just bottling in all these emotions, all the pain, all the hard times, all the times I cried, and all the times I just made music just to pull up and try to play songs and he not there."
He continued, "I'm just trying to get this fuel from above and this fuel from the sky and call it 'Rocket Power.'"
Fans might be proud to know Quavo has "a couple unreleased verses" from Takeoff on the album but is adamantly protecting a purportedly massive amount of Takeoff's unreleased work for a posthumous album — and "keep his stuff very, very sacred right now."
"Rocket Power" hits stores and streaming services on Aug. 4.
(this story has not been edited by TSA Mag staff and is published from a syndicated feed.)