Anu Menon's film on the life and times of Shakuntala Devi begins with this disclaimer: 'this film is roused by obvious occasions yet doesn't profess to be a narrative/life story of any character delineated in the film'. Good enough for true to life draws in Bollywood, however unexpected in a film whose story was nitty-gritty with the assistance of the maths virtuoso's genuine little girl, Anupama Banerji. So do we think all that we see, or excuse certain occasions as 'inventive freedom'?
It's a fact worth discussing on the grounds that Shakuntala Devi, as played by Vidya Balan with incomparable certainty and conviction, ends up being the sort of solid, autonomous lady that Bollywood for the most part avoids. As a young lady who could process instantly the shape base of an entangled number, and a maths wonder who was denied of 'typical' adolescence by a dad who hauled her starting with one show then onto the next, she was extremely certain that she would be a 'bada aadmi, not a badi aurat', not a craving regularly communicated by young ladies during the 1930s.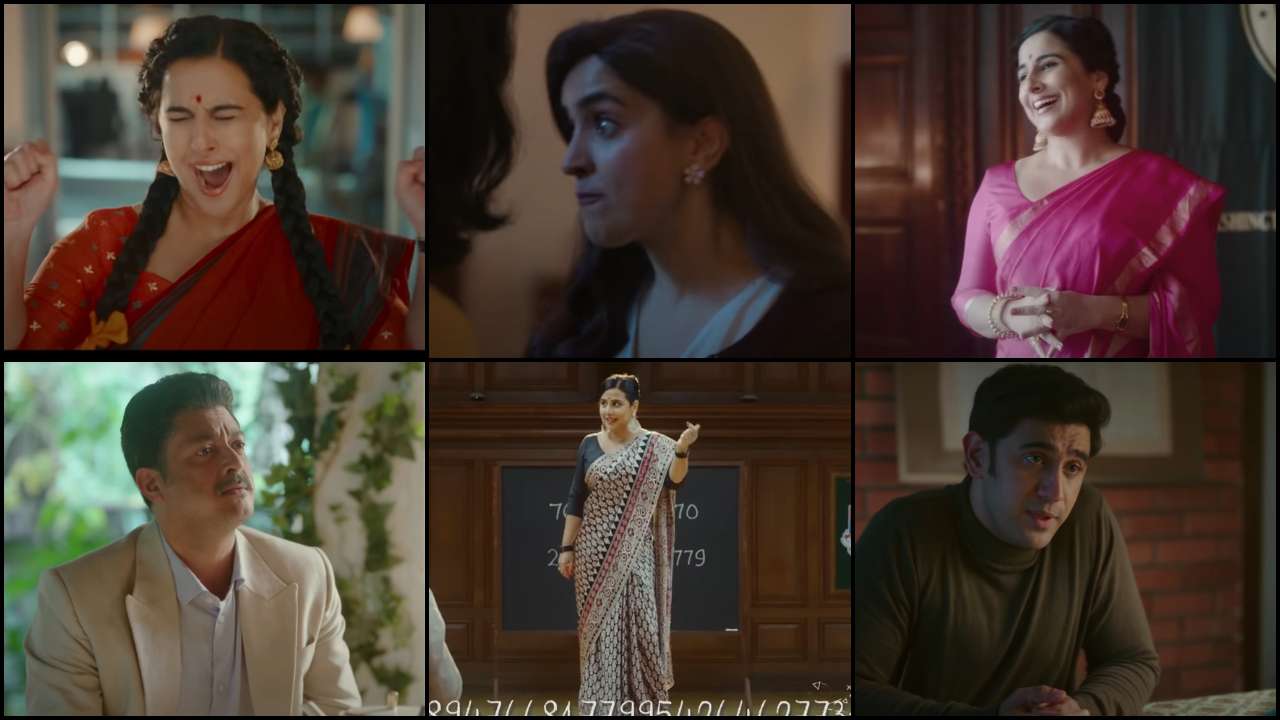 That Shakuntala was never going to touch any line or be any sort of 'ordinary' lady, is the line the film takes and does well by. Particularly when we see her, as a young lady, making her very own existence in England, where she gets up not knowing anybody, communicating in the language in an earthy coloured emphasize, wearing her beautiful saris and braids gladly. She approaches a man, yet very soon we understand Shakuntala Devi needn't bother with male assistance to prop her up. She is most joyful all alone, spreading out her shocking ability with numbers, wowing dazed crowds far and wide. Being her own individual.
We see her conjuring up these muddled answers, with about an excessive number of digits to check, and we are as pleased as she seems to be. Am I right, asks Balan. Obviously, she is. Also, we pillar, as much as she does. And afterwards, she finds an accomplice (Sengupta), and turns into a mother, and the film inclines over into turning into a show about a hesitant mother and a miserable little girl (Malhotra). Shakuntala Devi the ideal analyst offering approach to Shakuntala Devi the flawed mother is the contention the film picks and invests most energy settling. Would it be able to be on the grounds that numbers are alarming and distancing, and mum-and-girls are ameliorating and relatable?
You wish that the film remained with Shakuntala the maths virtuoso somewhat more. It would have been ideal to dive into the procedure with which Shakuntala did what she did, despite the fact that she did not understand: numbers just addressed her. The way that she had a political desire (she represented races, and battled Indira Gandhi in Medak for a Lok Sabha seat) is covered up quickly; somewhat more spotlight on her now-friendly now-prickly relationship with the dad of her girl would have revealed insight into why she composed a book on homosexuality, the first of its sort in Quite a while. What caused her to veer towards soothsaying? All the more light on these interesting perspectives would have given us an increasingly adjusted Shakuntala.
Balan claims the content that she is given, course-adjusting each time she will in general slip into being mannered. The supporting cast is fine. Sengupta functions admirably with Balan, and Malhotra and Sadh, as the cutting edge couple, feel right. The film, which remains strongly lively even in the dim tones of London, slides into evenness to a great extent. The lines are enthusiastic however some of the time startlingly contemporary (did anybody say, for instance, 'how about we take this to the following level', thinking back to the 50s?). Be that as it may, at that point we slide directly back: this is really a Vidya Balan show, and she steals it away, with a flash in the eye, and a lilt in the progression.
TSA Rating – 3.5/5
The author of this review also had the chance to witness an exclusive session with Vidya Balan through a zoom meeting which was moderated by the author's alter ego Rajeev Masand. Here are some of the highlighted questions from the meeting.
Since you are doing biopics like Mission Mangal, and The Dirty picture now Shakuntala Devi do we see you doing something on Sri Devi someday because I know that you are a big fan of her so do we see you doing that anytime in the future?
I'm a crazy fan of Sri Devi and if I got the opportunity to tell her story I'd love to but as of now honestly, no one's approached me with it but I'd really love to do that.
You started your career with humpaanch which was a television series and after a decade coming back on OTT platform which is shaping up how would you define your circular journey?
It's been challenging, it's been tough but it's been exciting and honestly, I wouldn't have it any other way. And I just want to say that you know this is actually the film industry is a beautiful place where meritocracy reigns supreme and there are ups and downs in life that we all have to deal with, But it's if you're true to yourself really the sky's the limit maybe even beyond. So I feel very grateful for these gears for the journey so far and all the experiences I had to relive these years, I would relive it in exactly the same way.
In a very cut-throat industry when there's so much conversation about it one that especially scrutinizes women in terms of their image and their film choices, What would you say was that one incident or moment that shaped you into this bold and independent?
I don't think it was just one moment you know it was years of introspection of having conversations with my closest people of just working with a healer I've been doing that because I think you know life today not just as a public figure but for all of us you know there are too many pressures and it really helps to sometimes talk to someone who's not emotionally invested in you and gives you some tools to just protect yourself, to retain your sanity. So I don't think it's one moment it's actually work in progress. You know I still think sometime's it is normal to feel low, there are times when I feel angry, there are times when I feel resentful, there are times when I want to lash back and with time, with maturity, with the experience I have realised that you know there's no point getting upset or destroying your peace of mind over what someone else says about you as you know who you are. That's all that should matter which is why I don't read anything about myself in the news or social media. I don't even read comments and while some people say that's very unfair to the people who like your posts or who are commenting and making the effort to comment, I just feel you know I'd say a thank you in my heart but I don't want to read what's said about me. I know who I am and that's all that matters to me.
[zombify_post]
Also Checkout: LeBron James Net worth- lifestyle, career, early life, quotes