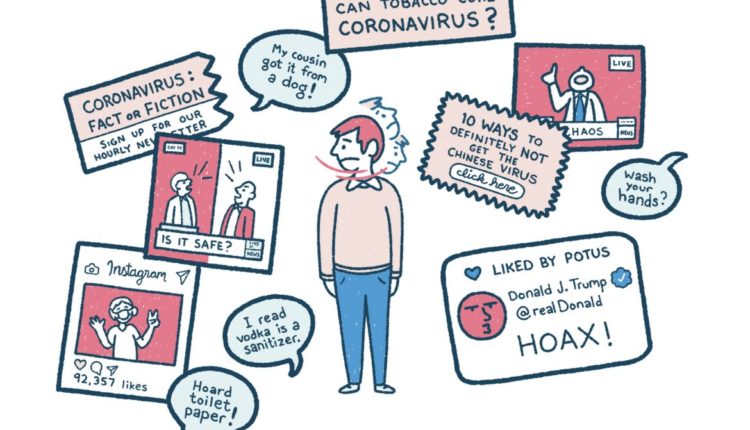 Indian Politicians and their feeble-minded take on Corona-virus Crisis
The country is expecting its political leaders to establish better opportunities for the Indian citizens but our elected leaders are busy pumping their politics around the diversity that the country has.
One such ground of diversity is 'Religion'. People have always been intolerant when it comes to religion and this intolerance has surged even more in recent times.
It is beautiful to have your spiritual views and personal truth, but we must recognize that religion is just an institution. It is not truth itself. Truth is within all.
Indian mainstream media has played a vigorous role in expanding the religious differences among the citizens. During the Delhi riots, religion was one of the central cause for the outbreak of the violence in the national capital. It is so easy for politicians to provoke people in the name of the religion. The New York Times wrote in February, "New Delhi streets turn into battleground, Hindus vs. Muslims".
Not to forget, it was our then reputed media houses which blamed a certain community for the outbreak of COVID-19 in India. The Washington Post published a report in April with a headline, "As the world looks for coronavirus scapegoats, Muslims are blamed in India".
For Indian media, everything goes either Hindu or Muslim, there is nothing in between!
Most of the people intents to cast their belief superior over others'. Amid the exponential rise in the COVID-19 infections and fatalities in the country, our leaders are engaged in a verbal altercation with each other.
According to the World Health Organization, a vaccine may not be coming until early 2021 despite good progress on the front. There is also, so far, no definitive medicine for the virus, yet.
But, our politicians have their way of tackling the COVID crisis!
BJP MP from Bhopal constituency, Pragya Thakur on July 25 appealed people to recite the 'Hanuman Chalisa' five times a day till August 5, which she believes will relieve the world of the COVID-19 pandemic.
She tweeted, "Let us all of us together make a spiritual effort to wish people good health and end of the coronavirus epidemic. Recite "Hanuman Chalisa" five times a day at your home from July 25 to August 5″.
आइए हम सब मिलकर कोरोना महामारी को समाप्त करने के लिए लोगों के अच्छे स्वास्थ्य की कामना के लिए एक आध्यात्मिक प्रयास करें आज25 से 5 अगस्त तक प्रतिदिन शाम 7:00 बजे अपने घरों में हनुमान चालीसा का 5 बार पाठकरें5 अगस्त को अनुष्ठान का रामलला की आरती के साथ घरों में दीप जलाकर समापन करें pic.twitter.com/Ba0J2KrkA8

— Sadhvi Pragya singh thakur (@SadhviPragya_MP) July 25, 2020
Read more, https://thesecondangle.com/hanuman-chalisa-five-times-a-day-will-keep-the-covid-away-says-pragya-singh-thakur/
August 5 marks the 'Bhoomi Pujan' or the sod-turning ceremony for the construction of Ram temple at Ayodhya.
Read more, https://thesecondangle.com/pm-modi-to-be-there-on-bhoomi-pujan-on-aug-5-ayodhya-ram-temple-trust/
Union Minister Arjun Ram Meghwal released a video on July 24 endorsing a 'papad' brand and claiming that it has ingredients that will boost a person's immunity and help defeat the novel coronavirus. 'Bhabhiji Papad' claims that it will help in the formation of antibodies that are required to fight coronavirus.
Watch: MoS Arjun Ram Meghwal launches Bhabhi ji papad, says it will help people fight Corona Virus.

"It will be very helpful in fighting Corona Virus and in developing antibodies" he says. pic.twitter.com/2485cSdI31

— LearnLifeWealthTravel | Dream Big, Think Growth !! (@AnyBodyCanFly) July 24, 2020
The promotional video is doing rounds of social media, however, the union minister is being criticised for making misleading and unscientific claims and the video is removed from his official twitter handle.
Samajwadi Party's MP Shafiqur Rehman Barq has demanded that Muslims be permitted to offer community prayers in mosques on Eid al-Adha, which he considers will eliminate COVID-19. He said that coronavirus is not a disease but punishment by God for people's sins and the best cure of coronavirus is to pray to God.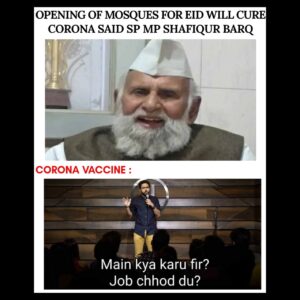 He submitted a memorandum on July 20 to Sambhal district Magistrate Avinash Krishnan saying that offering individual prayers at homes is not enough to fight COVID-19. Quoting him, "Only limited people are allowed to offer prayers in mosques. This won't be sufficient. Authorities must allow all Muslims to offer namaz to get rid of COVID-19 pandemic and save the world.
Madhya Pradesh Protem Speaker and Bharatiya Janata Party(BJP) leader, Rameshwar Sharma, believe that construction of Ram temple in Ayodhya will lead to the end of Coronavirus pandemic.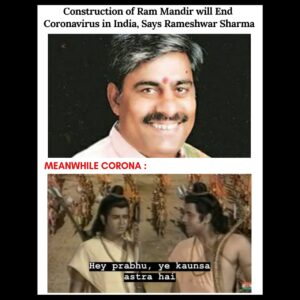 ANI quoted Sharma as saying on July 22, "He (Lord Ram) had reincarnated for the welfare of mankind and to kill demons at that time. As soon as the construction of Ram Temple begins, the destruction of the COVID pandemic will begin too".
BJP MLA Karan Singh had said that 80-95 crore people have been infected in a video clip which went viral in the social media on June 14. These were of course not the official numbers.
MP: In a bizarre statement, former minister and #BJP MLA from Ichchawar assembly constituency in Sehore district, Karan Singh Verma said that more than 85 crore to 90 crore people are suffering from #coronavirus infection. pic.twitter.com/PfKMTbZNwf

— TOI Bhopal (@TOIBhopalNews) June 14, 2020
Another BJP MLA Suman Haripriya from Assam had said that cow urine and cow dung can cure deadly coronavirus. She said this while speaking at the budget session of Assam Legislative Assembly on March 2.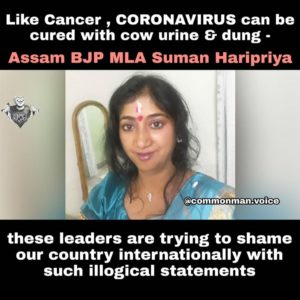 News Live TV quoted Haripriya, "It (cow urine and cow dung) can cure cancer patients. We have got evidence. Even an Ayurvedic hospital in Gujarat applies cow dung to cancer patients. They are given Panchamrit prepared from cow urine and cow dung. Therefore, we can apply the same things in case of coronavirus".
And we all remember Union Minister, Ramdas Bandu Athawale, who chanted 'Corona Go, Go Corona' in a video that went viral in March and became the inspiration for several remixes and memes.
Ramdas Bandu Athawale — the guy in the front, leading the"Go Karuna Karuna Go" chant — is the Minister of State for Social Justice and Empowerment in the BJP Govt.🤦🏾‍♂️

He represents Maharashtra in the upper house of India's Parliament. https://t.co/aPw0GBkOI5

— Sadho (@sadhosays) March 16, 2020
However, now the video is not available at the minister's twitter wall.
These are a few examples of the eccentric statements given by the politicians, now, a volley of these bizarre statements made by the Indian politicians over the last few months on the coronavirus to gleam their agendas somewhere raises questions on the capabilities of the scientists who are putting their best endeavours to discover an antidote for the pandemic, it weakens the morale of the healthcare units who are treating the COVID patients by risking the life and future of themselves and their families, it also creates an ambience of fear among the people who have insufficient resources to support their living.
What kind of message are these statements by the politicians giving to the people who depend on the government policies to substantiate their living? Are they not aware of the alarming situation in the world!
Numerous other issues have followed the coronavirus crisis but our politicians deem that discussing religion and religious places is the most important thing to do right now.
Read about the impact of the COVID crisis on Indian education system here: https://thesecondangle.com/is-the-indian-education-system-proficient-in-filling-the-digital-void-prompted-by-covid-19/
Read about the impact of the COVID crisis on healthcare units here: https://thesecondangle.com/save-the-doctors-after-all-they-are-only-human/
Read about the rise in cases of sexual assaults against women in medical care and quarantine centre here: https://thesecondangle.com/dilemma-for-women-safety-or-life/
These are among the few issues that came into light during COVID crisis, there are many more which our politicians need to talk about but that's not important for them!
The number of cases in the country has risen to around 17 lakhs with more than 35 thousand casualties but the Indian politicians are making humour out of this world emergency! 
This is a question on us, what kind of representatives did we choose! 
Write down in the comments what do you think about these illogical statements given by Indian politicians.