Cold night, we'll see you later—spring has arrived. And we're here to enjoy the longer days and brighter blossoms all around us by planting flowers and bringing the season's vibrancy to our front doors and tables—while also crossing items off our spring cleaning to-do list.
It's no surprise that filmmakers have captured the radiance and joy of the changing seasons on film. Bambi's flower-filled vistas and Memoirs of a Geisha's gorgeous cherry blossoms can't help but make spring days feel even more spring-like. You can revisit your high school prom in 10 Things I Hate About You and the Spring Fling dance in Mean Girls while you're at it, just in case you forgot what else this time of year brings. And, because it's baseball season, we've got plenty more baseball movies (A League of Their Own, anyone?) covered as well.
Check out these books for all the springtime vibes you could want. By the conclusion of the list, you'll be humming "Sing, Sing, Sing" and thinking of frolicking over Austrian mountains.
1. Ferris Bueller's Day Off
In the classic '80s film Ferris Bueller's Day Off, the iconic trio attends a game. The characters drive with the top down and attend street parades, giving the film a "first warm day of the year" feel. "How could I possibly be expected to handle school on a day like this?" says Ferris. It's time to go outside when the weather is nice enough that all you need is a vest.
2. Kal Ho Naa Ho
We're not finished with love triangles yet. Yes, Kal Ho Na Ho is a delightful diversion. Aside from the ever-present Brooklyn Bridge in the background, the way the songs and scenes in this film are shown conjures up images of spring.
3. Bambi
While the painful events of Bambi take place in the winter, we are warmed by the flower-filled sequences between the lovable deer and the ever-enthusiastic Thumper. Cherish those moments, kids.
4. Whisper of the Heart
Mark our words: if a love story begins in a library, it will be epic. Shizuki Tsukishima discovers that a certain boy from the library has checked out all of her favourite books. It's only natural that they fall in love when they finally meet. Shizuki is inspired by Seiji's dedication and passion to pursue her own goals. Spring is a season of dreams and love, isn't it?
5. Mary Poppins
The feel of one of the film's most memorable scenes—the one that teaches us the word "supercalifragilisticexpialidocious"—earns it a spot on this list. Mary Poppins, the five-time Oscar-winning film about a very special nanny (Julie Andrews). Descending from the sky with her umbrella, with a soul-satisfying smile on her face and lots and lots of magic both within and around her. 
6. Dil Chahta Hai
This is a film that can be seen over and over again without becoming boring. Let us describe what spring feels like: it feels like friendship, love, happiness, beginning anew, and moving forward. "Kaisi hai yeh, rut ki jisme phool banke dil khile!" 
7. My Neighbour Totoro
Spring is not far away as the theme tune begins to play. When Mei and Satsuki relocate to a new neighbourhood to be closer to their dying mother, they befriend a spirit named Totoro. They have a lot of fun together and have a lot of adventures. This hand-drawn anime film is a visual and emotional delight.
8. The Sound of Music
Who can forget Andrews galloping across the lovely Austrian countryside as a nun-to-be who becomes a nanny to a naval officer's seven children? One of our favourite springtime activities is watching The Sound of Music, a five-time Academy Award winner.
9. Barfi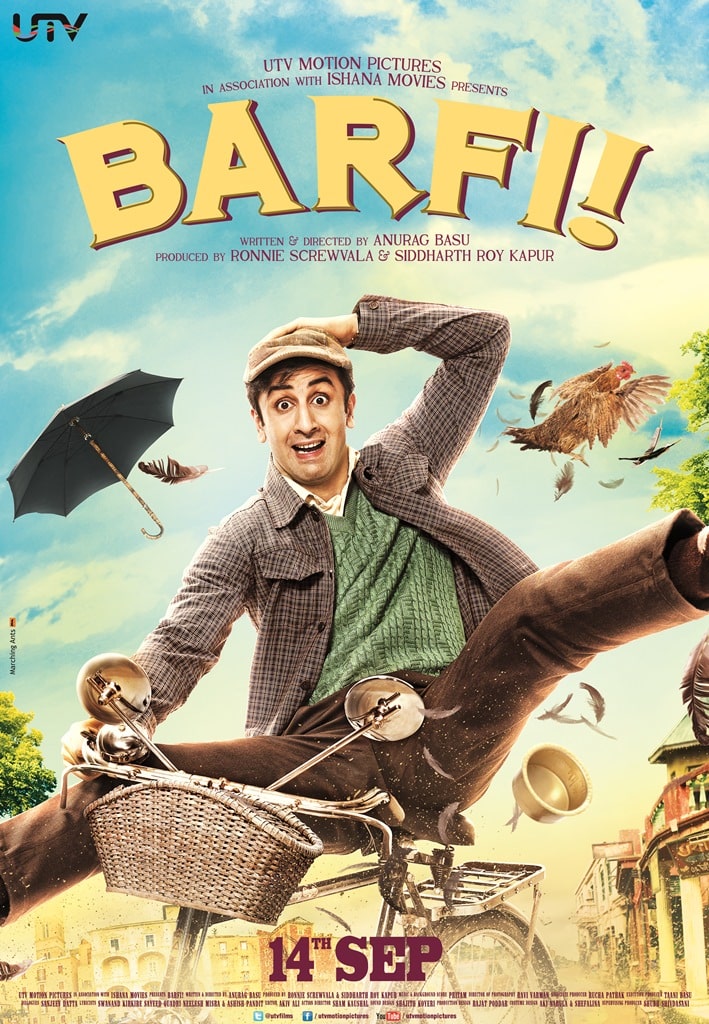 This is what Shelley meant when he said, "If winter comes, can spring be long behind?" A deaf and mute man is smitten by an autistic girl. The film is poetry that breaks your heart every time you read it, but you keep coming back to it because it is the only source of hope you have in this great horrible world. Love in its purest, most obnoxious form. Spring is naive yet mature at the same time.
10. 10 Things I hate About You
What happens at high schools across the United States every spring? The prom is coming up. And what's one of the best movies about prom ever made? That was a popular choice in the 1990s. There are ten things about you that I despise. This modern-day adaptation of Shakespeare's Taming of the Shrew is admired not only for Julia Stiles' outstanding lead performance but also because we all mourn Heath Ledger.
11. Notting Hill
Anything starring Julia Roberts is guaranteed to be as fresh and pleasant as spring. When an actress falls in love with a book salesman, she embarks on a bumpy yet endearing journey that will make your heart swoon. For obvious reasons, the film has risen to the stature of a classic rom-com over time.
Also Checkout: Movies that got snubbed in Oscars 2022

Also Checkout : Angelina Jolie Net Worth – Early Life, Career, How Angelina Jolie Spends Her Millions, 2 Unknown Facts About Angelina Jolie