Ratnagiri, as its name suggests, is full of gems in the form of these alluring beaches in Ratnagiri, just waiting to be discovered! It's a site where the sea meets the land, and there are plenty of gorgeous beaches to be found there. It is essential for travelers to see Ratnagiri's beautiful beaches while on vacation here. 
Here are 10 of the Most Alluring Beaches in Ratnagiri – 'A Maharashtra port town' where you may sunbathe to make your holiday a little easier.
1. Velas Beach
Best time to visit : February to May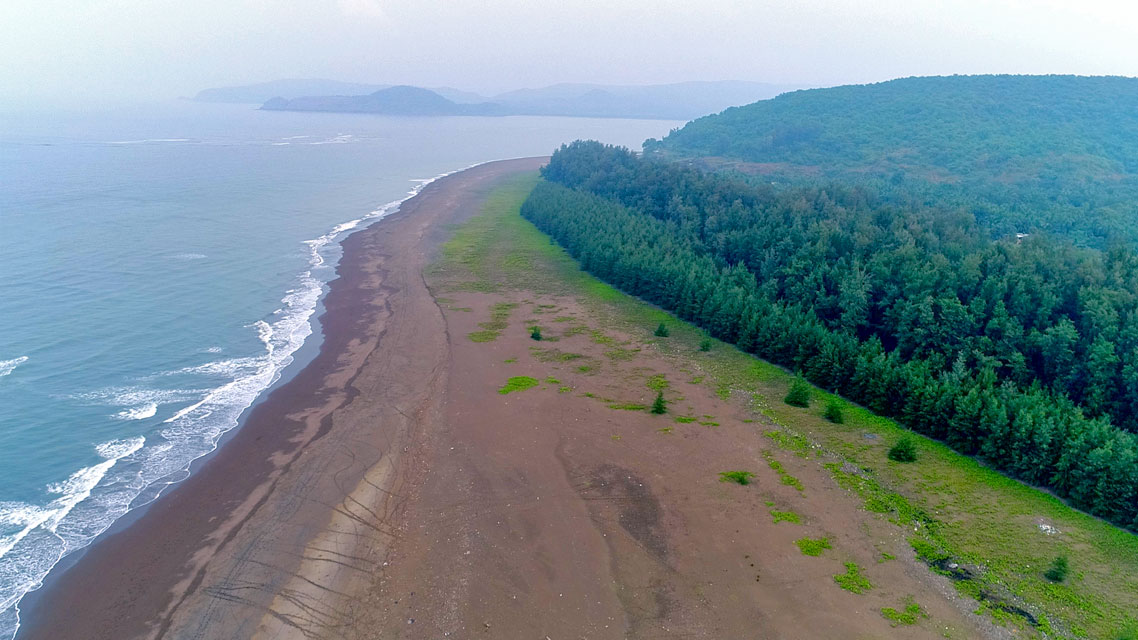 Velas is also known as Turtle Beach since it is home to endangered Olive Ridley turtles. During the breeding season, between February and May, visit Velas Beach to see the magic of turtles laying eggs.
Several female turtles visit the shore to lay their eggs, which the people offer to guard. They safeguard the eggs' safety and provide a safe passage for the turtles to return to the sea. The Turtle Festival is held to commemorate this once-in-a-lifetime occasion, when hundreds of newly hatched Olive Ridley turtles take their first steps into the water.
2. Ganeshgule Beach
Best time to visit : November to March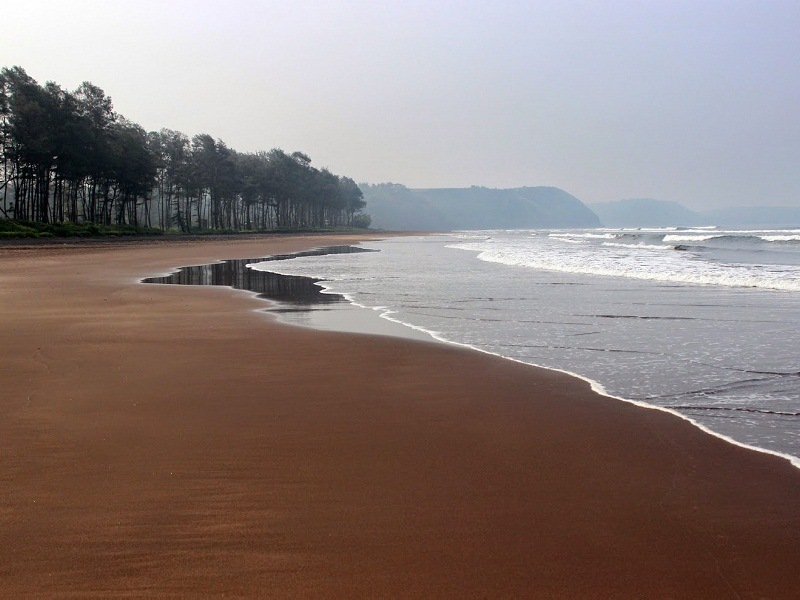 If you're looking for peace and quiet, head to the beach. That is certain to be found at Ratnagiri's Ganeshgule Beach. This 1.5-kilometer length of sandy land provides the best view of the ocean's ebb and flow. The Ganeshgule Temple, which is located on the beach, is a piece of history. 
You, too, can pay a visit to this temple, which is supposed to date back to the Pandava dynasty. Apart from taking a quiet stroll along the sands, you can participate in a variety of activities such as snorkeling, scuba diving, and surfing. As a result, all adventurers should pay a visit to the beautiful beach near Ratnagiri.
3. Ganapatipule Beach
Best time to visit : November to May
Ganapatipule Beach is known for its beautiful stretch of silky white sand and diverse flora and wildlife. Ganapatipule, one of Ratnagiri's most pristine beaches, is quickly becoming a popular beach resort for visitors seeking peace and quiet in the midst of nature.
Visit the 400-year-old Ganesha Temple, whose idol is said to have been made by Ganesha himself and discovered over 1600 years ago. At the numerous food stalls, sample the local cuisine. If you visit the beach during peak season, don't forget to try the Modaks and Alphonso mangoes.
4. Pandre Beach
Best time to visit : Monsoon and winter season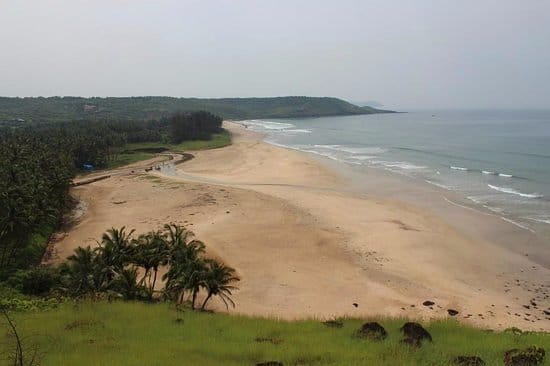 This is the most well-known beach in Ratnagiri, according to many visitors and travelers who have had the opportunity to visit the town. If you have the opportunity to visit it, you will not be able to disagree. The clean sandy terrain is interspersed with palm grove trees that add to the already attractive surroundings, which the locals refer to as the 'White Beach.' 
While it may not have any special attractions on its shores, its capacity to calm and relax any tourist is reason enough to pay a visit and dip your toes in the beautiful waters. You can also finish your day by satisfying your hunger at one of the neighboring restaurants.
5. Kunkeshwar Beach
Best time to visit : October to March
Located in the quiet city of Sindhudurg, Kunkeshwar Beach is one of the most beautiful and serene Ratnagiri beaches noted for jaw-dropping panoramic views of the sky and sea. Famous for the Shiva Temple, this unpolluted beach attracts hundreds of travelers each year making it the perfect weekend escape to restore your body and spirit.
The famed Kunkeshwar Temple, dedicated to Lord Shiva, is located right on the beach. It was built by the Yadav Dynasty in the 12th century and continues to attract hundreds of tourists every year during Mahashivratri.
6. Bhatye Beach 
Best time to visit : Any season without hassle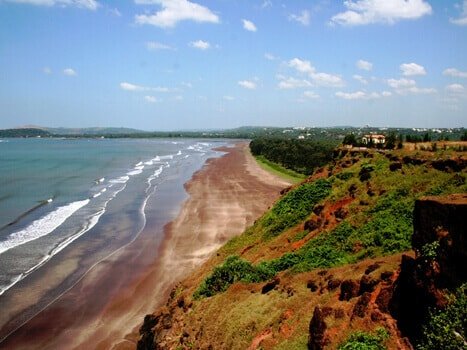 The Bhatye beach is the most remote of the beaches in Ratnagiri, adding to its tranquility. Children can be seen scurrying around with a football or collecting the elegant seashells as people come here for an early morning walk, a picnic with the family, or children can be seen scurrying around with a football or collecting the ornate seashells. 
This beach's slightly coloured sand, which gives it a black tinge, is one of its distinguishing features. So come here if you want to feel the softness of the sand and the serenity of the seaside.
7. Devgad Beach
Best time to visit : October to March
Devgad Beach, around 100 kilometers from the Ratnagiri Bus Stand, is one of Ratnagiri's prettiest and cleanest beaches. It is home to the well-known Devgad Fort, as well as historic temples, a large harbor, and a lighthouse.
The beach, which is located between two tiny hills in Devgad town, also has a few windmills placed atop a cliff. At the beach, you can go swimming and sunbathing. From the top of the lighthouse, you can watch ships pass by while taking in the beautiful views of the sea.
When you visit Devgad, don't forget to try the world-famous Alphonso mangoes.
8. Anjarle Beach
Best time to visit : November to March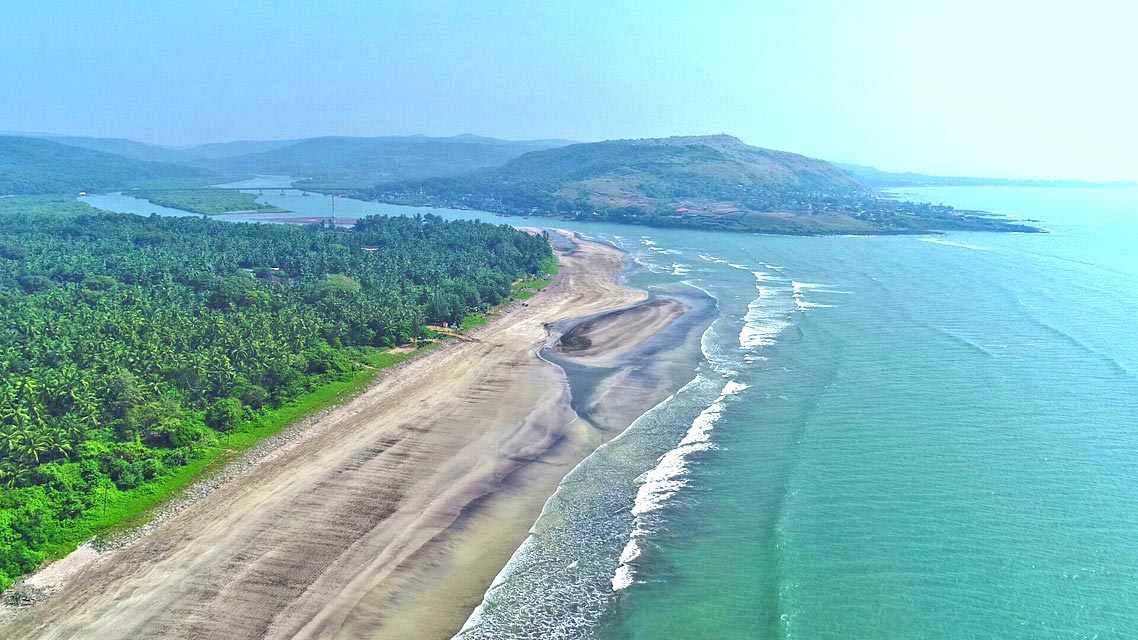 It has a reputation for being one of Ratnagiri's cleanest and least polluted beaches. If you go to the Anjarle beach, you'll discover a thicket of coconut trees, a variety of bird species greeting you, little Konkan towns deep within the forests, and a variety of fishing boats bobbing up and down in the sea at a distance.
 Every February through May, the beach welcomes a fresh batch of turtle hatchlings, which is a stunning sight to behold. If you want to fully appreciate its potential as a tourist destination, be the first to visit and brag about your adventure back home.
Conclusion 
As its name suggests, 'Ratnagiri' has its true gems somewhere in its beautiful beaches. These Alluring beaches in Ratnagiri are a perfect spot for your vacation to allure the nature with a sense of calm breeze you can find only in these beaches in Ratnagiri. Which is your favorite beach among the above mentioned if you have already visited the town in Maharashtra. Let us know in the comment section.
Also Checkout: 7 Best Places for Scuba Diving Around the World