Keeping up with the trend of OTTs delivering content that breaks the stereotypes, Netflix released 'Tribhanga' on the 15th of January, 2021. Amazing actor and director, Renuka Shahane, has written and directed Tribhanga, a universe of women, which breaks many stereotypes of women's lives.
Starring Tanvi Azmi, Kajol, and Mithila Palkar, the movie talks about three generations of women who are different from each other, yet similar at some point in their lives. The movie celebrates the unconventional women who refuse to dance to anyone else's tunes and breaks the stereotype that only flawless is beautiful. The actions of all the three characters, mainly Anu and Nayan, presents how flawed can be beautiful, or we should rather put it as "flawed is the real beautiful."
In the movie and the trailer too, we saw Kajol, playing Anuradha Apte (Anu), introducing herself, her mother, and daughter by three terms, Abhang, Samabhang, and Tribhanga. At first, we were clueless of what they actually mean but after a little googling, we got to know that these are the three positions of Odissi dance:
Abhang – where the body tilts from one side to another – where the body is balanced and Tribhanga – where the upper and lower parts of the body tilts to opposite directions. These positions are used as a symbolic representation of the three women characters of the movie.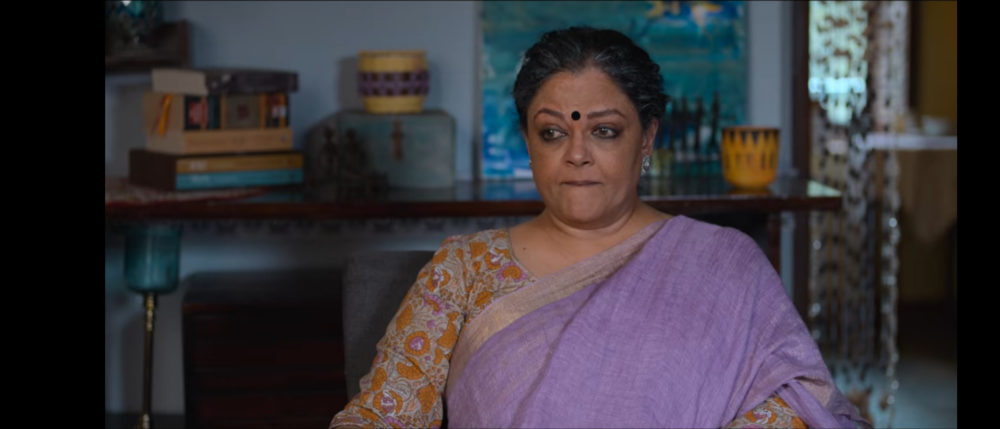 Tanvi playing Nayantara Apte represents Abhang position as she lives her life following the Abhanga position, her life continues to tilt to one or the other thing as the previous gets sour. When her mother in law gives her a hard time in her husband's house and her husband doesn't support her, she leaves the house and her husband both, she further changes two more relationships and finally tilts her life's solace towards alcohol. Tanvi plays a Padma Shri awarded Hindi writer who refuses to live her life on others' terms.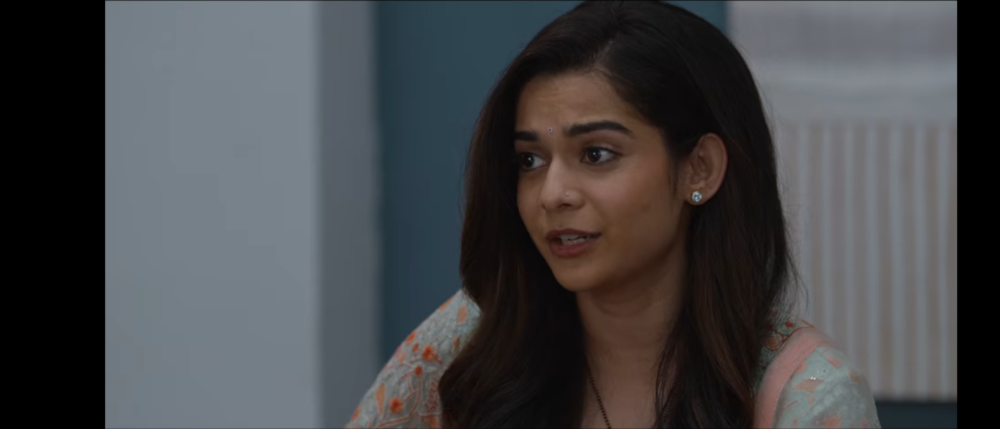 Mithila Palkar playing Masha, Anuradha's daughter, represents Samabhang, a completely balanced self. Her relation with every character of the film, be it an important character like her mother or a filler character like her mother-in-law is perfect. She even got successful with creating a nice and perfect bond with her grandaunt, with whom she was meeting for the first time. Witnessing the extreme lives of her mother and her grandmother, she led her life with compromises and choices her mother or grandmother would have never made.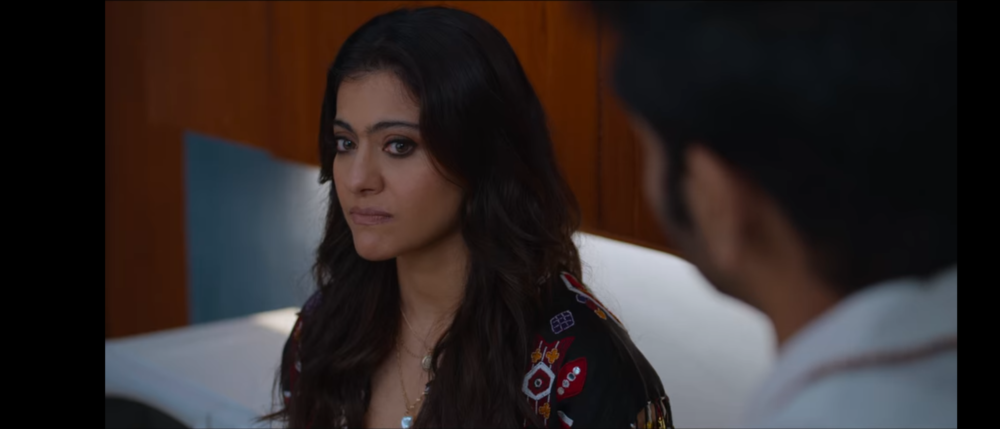 And finally Kajol playing Anu represents Tribhang whose life has always been in a very disbalanced phase. First, the disturbed childhood from the separation of the parents then she became the victim of sexual harassment right under the nose of her mother who was too blind at the moment to see it then an abusive lover and finally a controversial professional life.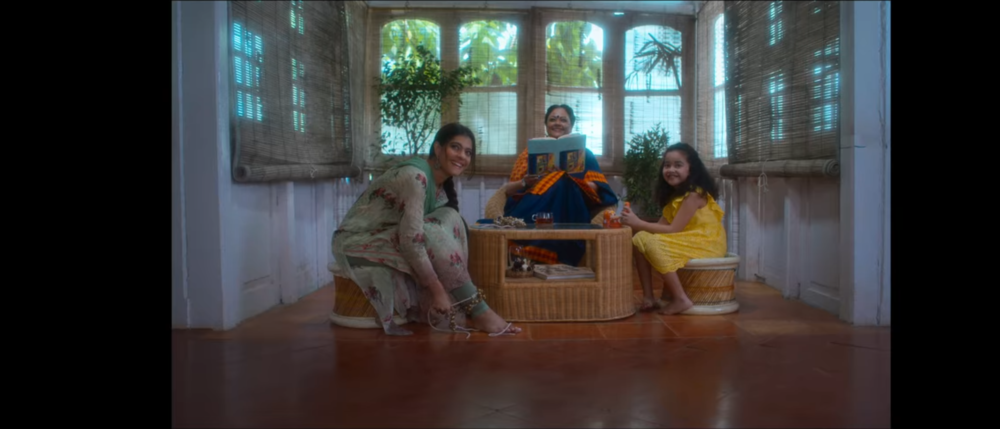 This dysfunctional family consisting of only women is a refreshing take on women centric films. Portraying women with flaws and women who wholeheartedly accept their flaws is definitely new to the table. With Renuka Shahane's brilliant writing and direction, the movie is a bundle of many pluses and very few minuses. Here are we, discussing each one of them in a brief detail. 
The movie's writing, characters, costumes, editing all goes to the lot of plus. What more plus we think the movie brought is some new concepts:
It is very refreshing to see a universe entirely made and run by women but at the same time it doesn't seem something out of the ordinary. The credit goes to the creators who have spun a story where being a woman is just another trait of the character. It is not the only thing you see when the characters come to life. Women characters are portrayed as mere individuals who are capable of making flaws and still be loved for who they are.
The story & the role of mother.
No doubt, the mother-daughter relationship is at the core of the movie but at the same time, it is more than that too. When the daughter has been put through so much that she believes her mother is the one who made her life a living hell, it is definitely not just a mother-daughter story.
It showcases the three women as individuals. Unlike previous Hindi movies, they are not put on a pedestal or thrown away in the dirt. It was more surprising for us to see because Bollywood has always made the character of a mother idol-like. So, it was refreshing to finally see a humane form of mothers, who can make as many mistakes as others and still be loved and praised for their love and care. 
It is also beautiful how the movie implies the need to know everyone's perspective to judge a situation or a person and how most of the time we realize the perspective of others when we are put in their shoes. That's exactly what happened with Kajol's character. She was able to forgive her mother when she realized that she unknowingly did the same thing to her daughter which her mother did to her (again unknowingly). 
Normalised women having multiple partners.
Without having to say much, the movie normalised women not having spent life devoted to one man, no matter how compromising the situations get. It definitely also pointed out that it is a choice of a woman if she wants to settle down with one man, like Masha, or decides against it like Anu.
It also pointed out that not every choice you make for your betterlife, turns out to be a good one. Some choices can turn your life worse but you will eventually learn to grow out of it. 
Especially in times like now when the western culture has such an impacting influence on all, it is very new to see characters who embrace their tradition. Be it Anuradha's love for Odissi (a folk dance from Odisha) or be it Masha's choice of living and embracing the rites and rituals of her traditional in-laws.
The movie has certain nuances and it was lovely to see it. Even the supporting cast showcased the tilt towards tradition.
Nurturing relationships is a must!
This is essentially not new in Bollywood, but it is good to see a different take. All relationships need transparency, trust and a lot of nurturing for them to last long. The movie highlights exactly that. It's important to say things to each other before it is too late.
Also, we found that despite us sympathizing with each of the characters at different points of times, we couldn't take sides, and that was the refreshing part of the storytelling that Renuka Shahane told. 
Talking about the minuses, the movies has a couple of them too:
We missed seeing more of her acting and telling her side of the story herself, rather than Kajol recalling. It felt rather abrupt to only hear her story in hindsight. It would have definitely added another layer if Nayantara Apte could have had the screen time to tell her part.
The storytelling felt a little incomplete to see the reality dawn upon the characters without one of them having the chance to justify.
Mithila Palkar's filler story.
Being the brilliant actress she is, she definitely made her presence felt, but her story feels like a filler. There are abrupt shots of her narrating her story without any precedence, which makes it a little unconvincing for us to absorb. She is more of a Kajol's daughter than Masha, a character of her own.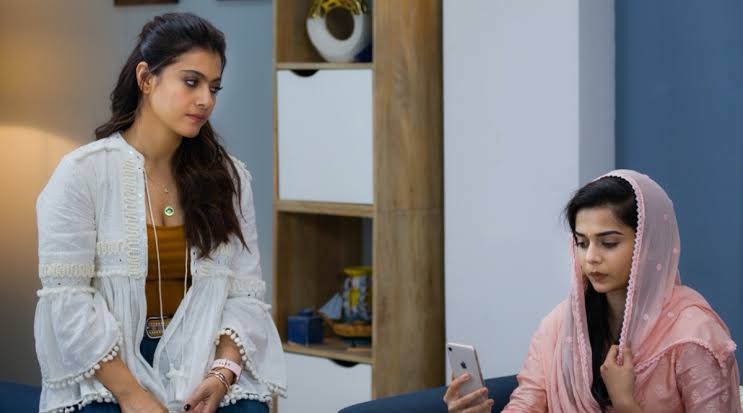 Excess of anything is bad, this phrase stands true in the movie too with respect to the cuss words used by Kajol in the movie. Rarely any of her dialogue was spared by them. It somehow made us feel a little repetitive and unreal, not much, just a tiny bit but yes it did.
Many questions remained unanswered, like why Vinayak didn't agree to take Anu and Robindro home remained answerless. Why didn't he go after Nayan when she left him and his house, although he loved her all his life. 
With all these goods and the bads, Tribhanga is an 1 hour 35 minutes long movie which doesn't repeat any point making the show refreshing for the audience. The story is well told and we absolutely enjoyed watching it and would definitely recommend you to watch it too. Also, please do keep a tissue paper box near you because you'll be needing it at various points as we did. 🙈
This review has been co-written by another TSA writer, Mahvish Fatima.
Also Read: 10 Unforgettable Dialogues Of Peaky Blinders