Several foldable phones from different brands are available on the market, making it difficult to choose one. Some brands even have different models of foldable phones, making it confusing for people to decide what will work best for them. 
Since their introduction, foldable phones have increased significantly in popularity, and it is clear why. You get a truly unique experience, especially for things like gaming on foldable phones, which give the user a much bigger screen to immerse themselves in the games they are playing. To make your search for the best foldable phone easier, here is a list of the best available foldable phones. 
Samsung Galaxy Z Fold 4
First up is the Samsung Galaxy Z Fold 4, which is considered by many as the best foldable phone available on the market at this current time. It has a main screen that is 7.6 inches and a secondary screen that spans 6.2 inches. On top of this, the phone uses a Snapdragon 8 Plus Gen 1 CPU, allowing you to play your most demanding games on the highest graphics settings whilst still having a smooth gaming experience. If you are into photography, you will be pleased to hear that this phone boasts a 50-megapixel camera that will give you fantastic shots to capture all of your special moments in life. Compared to the model before, it is also lighter, making it easier to carry around with you in your pocket. 
Other desirable features of this foldable phone include a new taskbar that simplifies multitasking and improves the overall experience of using the phone. Although this phone has several improvements on older models, it still comes with a hefty price tag however you do get what you pay for.
Samsung Galaxy Z Flip 4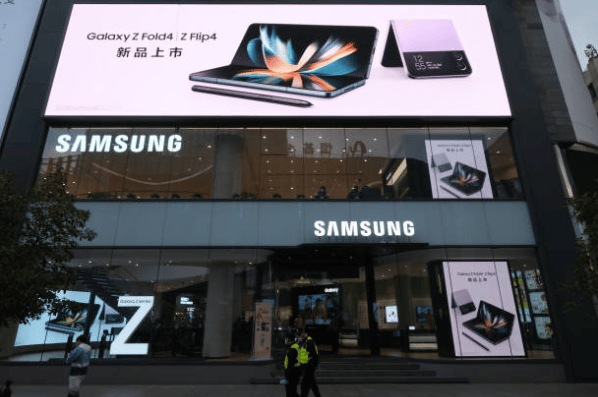 The next foldable phone on this list comes from Samsung again, the Galaxy Z Flip 4. This phone is similar in many ways to the Samsung Galaxy Z Fold 4; however, it has a much more affordable price tag. It has the same CPU as the Fold 4, so you can expect a similar performance whilst using it however, it does have a much smaller secondary screen at just 1.9 inches. Some of the more notable features include good battery life and a better quality of photos taken in low light compared to the Samsung Galaxy Z Flip 3. Weighing in at around 6.5 ounces, you won't feel like you are carrying around a heavy brick as you go about your daily life. 
The most interesting aspect of this mobile device is its ability to unfold and utilize a much bigger screen. This has some advantages, including watching films and playing games whilst you are traveling somewhere. When you want to use it like a normal phone, you can fold it, and you won't notice much difference in bulkiness. Overall this is a great introduction to the world of foldable phones, and you won't have to invest too much money to try out this innovative piece of technology.
Oppo Find N
The Oppo Find N is regarded as one of the best foldable phones on the market that wasn't created by Microsoft. Some people argue that it actually beats the Samsung foldable phones on a number of features, including a more sleek overall design and an improved display that doesn't have the same gap at the hinge that you can find on the Samsung models. 
The main screen is 7.1 inches in size, with a secondary screen that spans 5.9 inches. This gives you a fantastic user experience allowing you to turn your phone into a mini tablet to enjoy things like watching movies or playing your favorite games. It uses the Snapdragon 888 CPU for power, which means that you won't experience any lag whilst using it. It does weigh slightly more than the Samsung models at around 9.7 ounces however many people have stated that the phone does not feel bulky whilst carrying it around in their pocket. Some downsides to this phone include a battery life that some say is not as long as they would like and the camera being less powerful than the quality of Samsung phones.