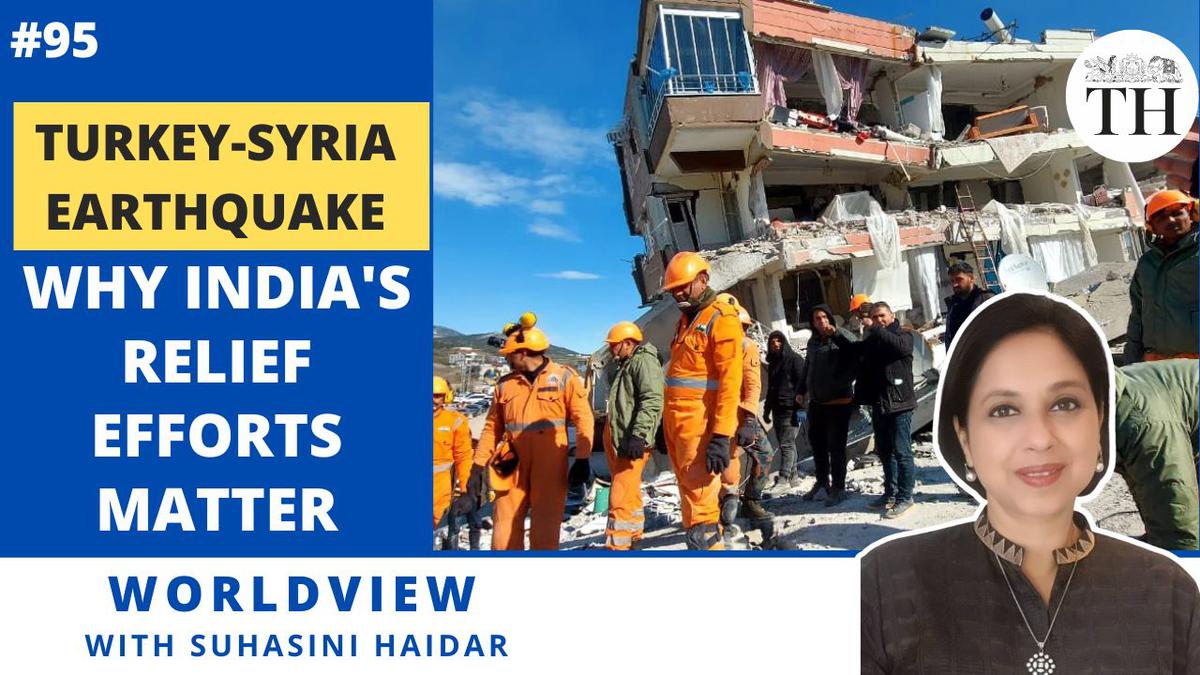 A global rescue effort is underway for Quake hit Turkiye and Syria- where the deathtoll is in the thousands already- Will India's assistance be a diplomatic gamechanger?
– On February 6, an earthquake measuring a massive 7.8 on the Richter scale hit Southern Turkiye or Turkey and parts of Syria, followed by a second quake of the same magnitude a few hours later.
– The scale of the devastation has been immense- the worst such in the region in nearly a century. More than 16,000 are confirmed dead, but with the critical period of 72 hours passing, the fear that many more bodies are under the rubble still and the death toll could rise sharply.
– In Turkey, the cities of Antakya and Gazantiep are amongst the worst hit, and in Syria Alleppo and Idlib, and the destruction of buildings and roads have also cut off communication with many parts.
– A global effort is underway. More than 30 countries are a part of the relief effort, sending planes with relief, field hospitals, diggers and rescue teams- including India, US, UK, Russia, China, Japan, Pakistan, Israel, and most European countries. Israel is particularly significant as it has tense ties with Turkiye and is at war with Syria, but has coordinated with both for assistance
FACTORS HAMPERING THE RESPONSE:
1. Bad weather that is hampering relief flights, and harsh winds and snow making conditions for survivors difficult
2. Many are already living in refugee camps along the Turkey-Syria border and need immediate assistance
3. Sanctions on Syria that have degraded their response systems and are delaying relief, 
4. Parts of the war-torn country are under rebel control- and even some under ISIS – which could turn violent or take advantage of the disaster.
HOW IS INDIA HELPING?
1. The NDRF has already flown close to 100 rescue workers along with dog squads to help with efforts, using specialised CSSR (Collapsed Structure Search and Rescue) equipment and techniques.
2. A military medical contingent has set up a field hospital in Turkiye for a 30-bed facility and specials, xray machines, ventilators, generators and ambulances
3. About 25 Tonnes of relief material, protective gear, clothes, emergency medicines, medical items have already reached, more to follow
4. In addition- the Indian Embassy has been tracking details of Indians in Turkiye- about 3,000 live there at present, information or assistance requested for about 10 nationals, while one national is missing at present.
5. India one of the few helping both Turkiye and Syria, which is under sanctions
INDIAN RESPONSES TO PREVIOUS DISASTERS
2004 Tsunami: 300,000 people died across 12 countries around the Indian Ocean. India was one of the worst hit, in Tamil Nadu and the Andaman and Nicobar islands, and yet launched HADR operations for Indonesia, Maldives and Sri Lanka- the Indian Navy deployed 32 Naval ships, 7 planes, 20 helicopters in support of 5 simultaneous rescue, relief and reconstruction missionsIndian Naval groups were able to start the rescue operations in neighbouring countries within 12 hours from the time of the Tsunami and were the first foreign navy to reach in most cases.
2005 India-Pakistan earthquake- Kashmir was the worst hit on both sides of the LoC with about 85,000 dead, mostly on the Pakistani side, and we saw rare cooperative relief efforts along the LoC. Indian aircraft flew relief supplies and equipment to Pakistan in three consignments, and New Delhi channeled $25 million through a United Nations fundraising program in order to support Pakistani relief efforts.
2008 Cyclone Nargis hit Myanmar, 140,000 killed and India launched Operation Sahayata- 2 Naval ships, 2 Air force planes supplied the first international relief in the country. More than 100 tonnes of relief material.
2011 Fukushima Earthquake and Tsunami that killed 15,000 and caused the meltdown of the Fukushima nuclear power plant. An Indian relief and rehabilitation team, consisting of 46 specialists from the National Disaster Management Authority were part of a 10-day long aid mission, and India offered nuclear safety experts as well, sent blankets, water and other relief
2015 Nepal earthquake- about 9,000 people died in the earthquake of magnitude 7.8, the same as the one right now in Turkiye. National Disaster Response Force (NDRF) deployed 16 teams comprising helicopters, transport aircraft carrying 700 rescuers along with 18 dogs,and the government dispatched 1200 tonnes of relief by rail and road. In addition Indian aid for the reconstruction effort has been used for rebuilding homes, schools etc. But this came with some bumps, as many Nepalis felt insulted by the media coverage of India's largesse.
Since then, the NDRF and Indian military have been pressed in for operations during the 2016 Mora Cyclone in Bangladesh and Cyclone Idai in Mozambque. In far off Fiji ,two cyclones hit -2016 Winston and 2021 Yasa- where NDRF put together supplies and they were flown commercially. However, in 2022, despite proximity and the scale of the Pakistan floods devastation, Islamabad did not request and New Delhi did not send any aid.
DIPLOMATICALLY, WHAT DOES INDIA GAIN?
1. Bilateral ties reset: In this case, India's assistance to Turkiye comes at a time when ties are still tense- particularly over Turkish statements on Kashmir. Even so the fact that the government put aside political considerations and sent aid, just as Turkiye did in sending relief to India during Covid does help the bilateral relationship. With Syria, India has solidified its traditional position of support to Damascus.
2. Global responder image- Especially in the year of India's G20 presidency, India's assistance burnishes its image as a leader of the developing world.
3. The Indian naval operations that coordinate 5 simultaneous missions caught global attention during the 2004 Tsunami, and was a key reason for the Quad to be formed. India has schowcased its HADR prowess since then, both independently and as part of the Quad in the Indo-Pacific.
4. Military capability on display- including transporters, field hospitals, and technical teams
5. Improves response time- helps with future calamities
Diplomatically, there is everything to gain and little to lose by helping a country in times of need. However, disaster diplomacy does bring in more dividends in goodwill when it is done discreetly, as all nations, especially those in the neighbourhood, as we saw with Nepal, have their sovereign pride.
READING RECOMMENDATIONS:
3 papers on India's HADR in the 21 st century
India's Response to Disasters and Humanitarian Assistance in South Asia by Shreya Upadhyay
Indian Foreign Affairs Journal
Indian Military Diplomacy: Humanitarian Assistance and Disaster Relief by C Raja Mohan at ISAS
NEIGHBOURHOOD FIRST RESPONDER: INDIA'S HUMANITARIAN ASSISTANCE AND DISASTER RELIEF by Saneet Chakradeo, Brookings
Books on Turkey:
1. Erdogan's Empire: Turkey and the Politics of the Middle East by Soner Cagaptay
2. A Question of Order: India, Turkey, and the Return of Strongmen by Basharat Peer
Syria Humanitarian crisis:
3. Thou Shalt Not Stand Idly By: How One Woman Confronted the Greatest Humanitarian Crisis of Our by Georgette F. Bennett
4. The Girl from Aleppo: Nujeen's Escape from War to Freedom Paperback – Illustrated, October 10, 2017 by Nujeen Mustafa and Christina Lamb
5. Tsunami : 7 Hours That Shook the World by Satinder Bindra
6. Kathmandu Dilemma: Resetting India-Nepal Ties by Ranjit Rae
7. No Bad News for the King: The True Story of Cyclone Nargis and Its Aftermath in Burma by Emma Larkin
8. The Political Biography of an Earthquake: Aftermath and Amnesia in Gujarat, India by Edward Simpson
9. Disaster Diplomacy: How Disasters Affect Peace and Conflict 1st Edition by Ilan Kelma
10. The Disaster Profiteers: How Natural Disasters Make the Rich Richer and the Poor Even Poorer Kindle Edition by John C. Mutter
Script and Presentation: Suhasini Haidar
Production: Gayatri Menon and Reenu Cyriac