There's no shortage of good TV out there, but sifting through a slew of bad shows to get to the good stuff — especially in the age of streaming — can be a test of patience.
The good news is that binge-watching and steaming give fresh opportunities for catching up on some of the best entertainment that consumers may have missed the first time around. In this post, you will see some of the best HBO Shows or HBO Series to watch.
HBO has established itself as a prestige player in both comedy and drama over the years, winning accolades and spending incomprehensible sums of money to acquire and maintain some of the best talents in the industry. With the debut of HBO Max, the cabler's vault of similarly prestigious shows is now available to watch in its entirety.
Check out these Best HBO Shows or HBO Series-
1. The Sopranos – (1999-2007)
Without The Sopranos, many of the series we enjoy today would not exist. As Tony Soprano, a mob lord trying to juggle his business and family while attending treatment, James Gandolfini offers one of the best performances of all time.
When he created The Sopranos, David Chase took a lot of chances, and they all paid off. This show has a lot to offer, including a terrific mix of drama and comedy, fantastic supporting characters, and, of course, the food.
2. Veep – (2012-2019)
When Julia Louis-Dreyfus and Armando Iannucci introduced viewers to Selina Meyer, America's first female Vice President, they set out to create a political comedy with heightened reality and larger-than-life characters — complete with expletives and backdoor nonsense.
The show had stretched its limitations as far as it could be the time it concluded, and with the real political scene becoming more cartoonish than the show itself, the crew decided to call it a day on their own terms. "Veep" won 17 Emmys in the end, proving that female characters don't always have to be pleasant in order to be 100% watchable.
3. Six Feet Under – (2001-2005)
In this dysfunctional family drama, creator Alan Ball tackles mortality, death, and the ways Americans deal with such things head-on. The show was set at a family-run funeral house, although it focused primarily on the Fisher family and their existential and emotional issues.
The show was quickly popular with viewers, and it is still praised for its groundbreaking portrayal of LGBT characters. It was nominated for dozens of Emmys and won nine of them.
4. Deadwood – (2004-2006)
The early cancellation of this historical drama was heartbreaking for the fans and critics who lauded it, but the fact that the cast and crew couldn't agree on conditions for a fourth season cemented "Deadwood's" status as a near-perfect series among the same group. 
Timothy Olyphant, Ian McShane, and Molly Parker were among the noteworthy actors who helped bring the outlaw community at the center of the series to life, portraying misfit individuals who existed at the age of America's richest gold strike.
5. The Wire – (2002-2008)
When it first aired, David Simon's unique, journalistic take on the Baltimore drug scene was hailed as essential viewing, with each season focusing on a different aspect of life in the city: law enforcement, schools, media, government, and the maritime system.
Many people consider this crime drama to be the best television show of all time. The project was both a social commentary and a gripping drama based on true events. The ensemble cast, including real Baltimore residents in guest and recurring roles, is top-notch from beginning to end.
6. Game of Thrones – (2011-2019)
The epic adaptation of George R. R. Martin's novels will go down in television history as one of the most popular shows ever. The ensemble cast and intertwined plots create an epic fantasy tale that millions of people adore. While the tale itself had its ups and downs over the seasons, there's no doubting "Game of Thrones" was a blockbuster hit with high ratings, a cast of stars, and a healthy bottom line.
With all of the spinoffs and prequels in the works, there's no denying HBO is keen to catch what many execs refer to as "fire in a bottle" once again.
7. Curb Your Enthusiasm – (2000-present)
Larry David is a master at portraying himself as a fictitious version of himself in his daily life. Curb Your Enthusiasm is basically entirely made up. The actors have to get to certain points in the script, but how they get there is up to them.
Some see the documentary series as a spin-off of "Seinfeld," but it's more than that: it's a playground for David's celebrity pals. Even if you don't like the guy at the center of it all, viewers can find humor in how others see him thanks to the free conversation and stories, which are enhanced by genuine improv and relatable reactions.
8. Sex and the City – (1998-2004)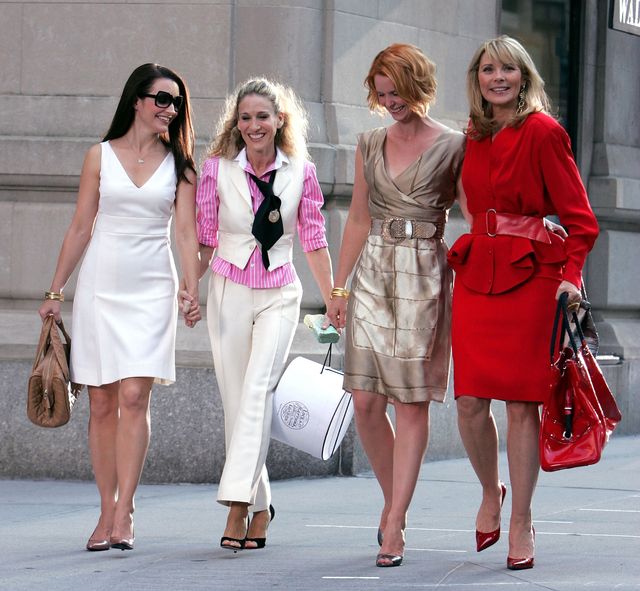 It was a different era when Candace Bushnell's quartet of unforgettable characters was brought to life onscreen by creator Darren Star. The concept of "older" women looking for love while maintaining lifelong friendships was groundbreaking at a time when ageism and a female's perspective on sex hadn't yet been explored or pushed to the extent that they have now.
"SATC" was also one of the most financially successful shows on the cabler, thanks to two big-screen pictures and an anticipated revival TV series.
9. Boardwalk Empire – (2010-2014)
Terrence Winter's anticipated prohibition drama, which featured a cast of gangsters, politicians, and other colorful characters striving for power in Atlantic City, brought viewers back to the Roaring Twenties. From the photography to the crisp dialogue, to the clothing, to the setting itself, the Steve Buscemi-led drama was an entire atmosphere.
While the slower pace didn't appeal to everyone as the seasons continued, it remained a character study with Kelly Macdonald, Michael Shannon, and Michael K. Williams among the cast. Over the course of its five-season run, it received wonderful reviews from reviewers and won 20 Primetime Emmys, cementing its reputation as one of the cable network's best dramas.
10. Succession – (2018-present)
During the first two seasons of "Succession," creator Jesse Armstrong built a powerful cast of characters who have wowed reviewers and viewers alike (prompting a fourth-season renewal in the process).
The two-year hiatus caused by the pandemic between Seasons 2 and 3 only improved the show, as the writers focused on what worked (grandiose in-fighting and brilliantly flawed characters you love to hate) while continuing to deliver some of the most dysfunctional family dynamics ever seen on television.
HBO was one of the first networks to realize that television, as a medium, could provide large-scale stories on a smaller screen. HBO's original series have tackled global stories that span continents and time since their inception in the late 1990s and continue to be aided by dragons. Some of the best HBO Shows or HBO Series for you to explore are listed above.
Also Checkout: 30 Famous Dialogues Of Fight Club