An Australian woman and her 3-year-old miniature dachshund were attacked by another dog while walking at an off-leash dog park on the Gold Coast in Australia.
Bodybuilder Isabelle Payne and her pup, Lola, were both "attacked unprovoked and mauled" by a bull terrier at the park on Wednesday, according to a GoFundMe post by her fiancée, Jacob Thirkettle.
The couple's wedding day is set to take place in about seven weeks.
Thirkettle, who was walking with Payne and Lola when they were attacked, said his fiancée was injured "very badly" in her attempt to free the small dog from the bull terrier's mouth.
US ARMY SOLDIERS DEPLOYED TO MIDDLE EAST SAVE MAMA DOG AND 8 NEWBORN PUPS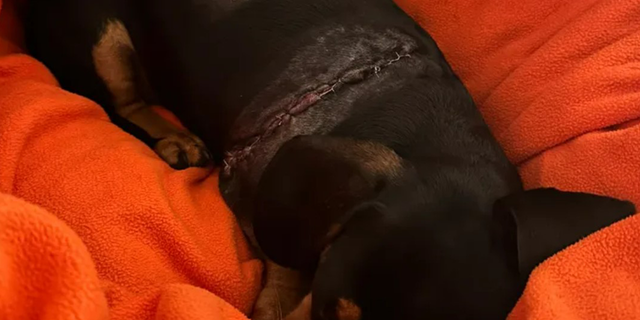 Lola was rushed to the veterinarian after the incident and underwent surgery to repair lacerations on her back and the fur near her ribcage, the post revealed. While the operation was successful, the young dog has a long road ahead for a full recovery.
The dog's injuries could have been life-threatening if not for Payne's efforts to save her, Thirkettle shared in the post to raise money for Lola's veterinary bills and recovery.
"Safe to say that without Isabelle's quick thinking Lola wouldn't be here with us today," he wrote. "We're so grateful to the members of the community who we don't know that came to their rescue."
The dachshund will require additional visits to the veterinarian and continued treatment, according to News.com.au.
POLICE BODYCAM SHOWS FRANTIC RESCUE OF THREE DOGS FROM HOUSE FIRE IN FAIRFAX COUNTY, VIRGINIA
Payne also sustained significant injuries in the attack and received treatment for several bruises, scratches and punctures, according to the outlet.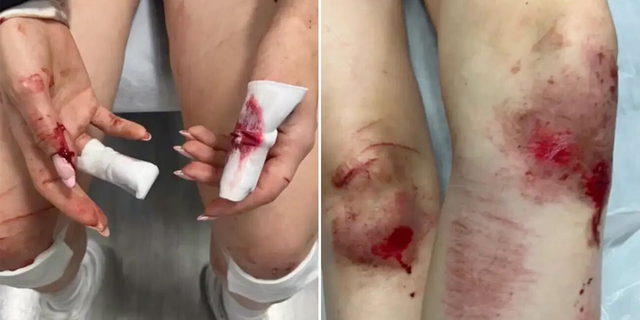 The soon-to-be newlyweds posted an update on the GoFundMe page on Thursday in appreciation of everyone who had donated at that point. As of Monday morning, the account had raised more than $3,000 AUD.
"We just want to thank everyone who's supported the [GoFundMe] and for all the messages we've both received," the couple wrote on the fundraiser. "We're honestly just so grateful to everyone and are deeply overwhelmed by the love and incredible support. Thank you from the bottom of our hearts."
CLICK HERE TO GET THE FOX NEWS APP
Payne and Thirkettle also have another miniature dachshund, according to an Instagram video Payne posted showing her and Lola's recovery.
(this story has not been edited by TSA Mag staff and is published from a syndicated feed.)