The dispute in the territory of Nagorno- Karabakh has once again been triggered which lies in the South Caucasus region. The separatist authorities claim that their 31 soldiers have died while some lost portions have also been redeemed.
Azerbaijan alleges Armenia to have killed their 26 civilians due to shelling in a densely populated area.
Nagorno-Karabakh is a mountainous region of around 4,400 sq. km and is recognized as a part of Azerbaijan internationally. However, the region is controlled by ethnic Armenians.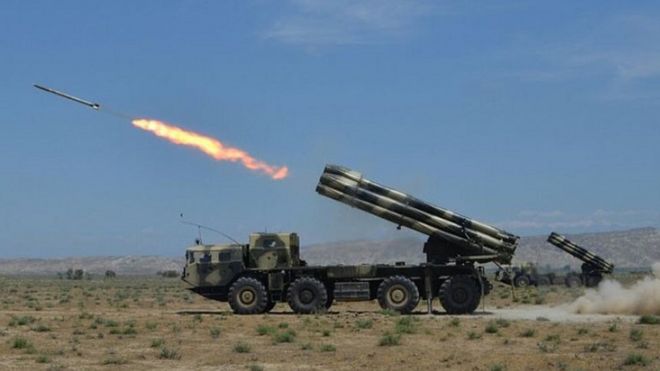 The Muslim majority Azerbaijani President Ilham Aliyev showed confidence over their control on the lost regions of the disputed territory. On the other hand Christian majority, Armenian Prime Minister Nikol Pashinyan warned of a full-scale war in the South Caucasus.
History of Nagorno- Karabakh 
A mountainous region of about 4,400 sq. km (1700 sq. miles).
Traditionally inhabited by Christian Armenians and Muslim Turks.
During the Soviet era, it became an autonomous region within the Republic of Azerbaijan.
Internationally recognized as part of Azerbaijan, but the majority of the population is of ethnic Armenian.
An estimated one million people displaced by 1990s war, and about 30,000 killed.
Separatist forces captured some extra territory around the enclave in Azerbaijan in the 1990s war.
The stalemate has largely prevailed since 1994 ceasefire.
Turkey openly supports Azerbaijan.
Russia has military bases in Armenia.
Decades-long territorial dispute in the South Caucasus region has international inclinations as well.
Antonio Guterres (UN Secretary-General) said he was extremely concerned, urging both sides to stop fighting.
Urgent talks were held by Russia's foreign minister with Armenian and Azeri leaders.
France calls for an immediate ceasefire as it has a large Armenian community residing in the country. The country has appealed for the dialogue to sort the matter out.
US President Donald Trump said, "The US was seeking to stop the violence".
Because of the unresolved issues during and after soviet regimes, the matter is still frozen and facing multiple clashes since then.