Cruise ships are becoming increasingly massive, and by the time a new world's largest cruise ship is completed, another even larger ship is being planned. The globe saw something it had never seen before: a complete shutdown of the cruise industry. In this post, we have compiled a list of the 10 biggest cruise ships in the world.
However, cruise shipping companies are doing all possible to weather the storm, and the sector is anticipated to rebound in 2021 with some of the world's largest and most technologically advanced cruise ships.
The cruise industry is becoming more suited to provide the best vacation experiences to its clients all around the world as more new ships enter the market. The modern technologically advanced cruise ships come in larger proportions, with improved amenities, and are certainly as luxurious as they can be to accommodate the diverse interests of travellers.
Without any further ado, let's dive into our list of 10 Biggest Cruise Ships in the World-
1. Symphony of the Seas
Symphony of the Seas is Royal Caribbean's fourth Oasis-class and 25th cruise ship, and she is somewhat larger than her sisters, making her the world's largest cruise ship. On March 23, 2018, the cruise line received Symphony of the Seas, which was built at the STX France shipyard at the time.
The massive cruise ship has a total registered tonnage of 228,081 tons, stands 238 feet tall, and spans 1,188 feet.
On March 31, 2018, the ship set sail on her maiden one-time special preview sailing. The first official debut trip, a 7-night Mediterranean voyage from Barcelona, Spain, departed on April 7, 2018. From November 10, 2018, Symphony of the Seas will be based in PortMiami, Florida.
2. Harmony of the Seas
Harmony of the Seas, a Royal Caribbean Oasis-Class ship, is now the world's second-largest cruise ship. Harmony of the Seas, the third vessel in the series, was delivered in May 2016 by STX France at its Saint-Nazaire shipyard. The ship had her inaugural journey in June of last year, offering seven-night Western Mediterranean excursions between Barcelona and Civitavecchia.
Harmony of the Seas has a length of 362.12 meters and a maximum beam of 66 meters, with a gross tonnage of 226,963 GT. This largest ship, with 2,747 cabins with virtual balconies, can seat 5,479 passengers at double occupancy.
Harmony of the Seas, like its sister ships, includes all of Royal Caribbean's distinctive attractions, such as Central Park, Vitality at Sea Spa and Fitness Center, Boardwalk, the Royal Promenade, and Entertainment Place.
3. The allure of the Seas
The allure of the Seas is the second Royal Caribbean cruise ship in the Oasis-class series, built at the STX Europe shipyards in Turku, Finland. There are 25 food options onboard, including the world's first Starbucks coffee shop at sea. The Allure of the Seas has a state-of-the-art Fitness Center with classes like yoga and tai chi, as well as multiple whirlpools, including some with views of the ocean.
The ship has a gross tonnage of 225,282GT, stands 72 meters tall, and has a maximum beam of 60.5 meters.
The allure of the Seas was launched in October 2010 and has a capacity of 5,400 people in double occupancy. The opulent cruise ship has a two-deck dance hall, a 1,380-seat theatre, an ice rink, a concierge club and spa, and workout facilities, among other amenities.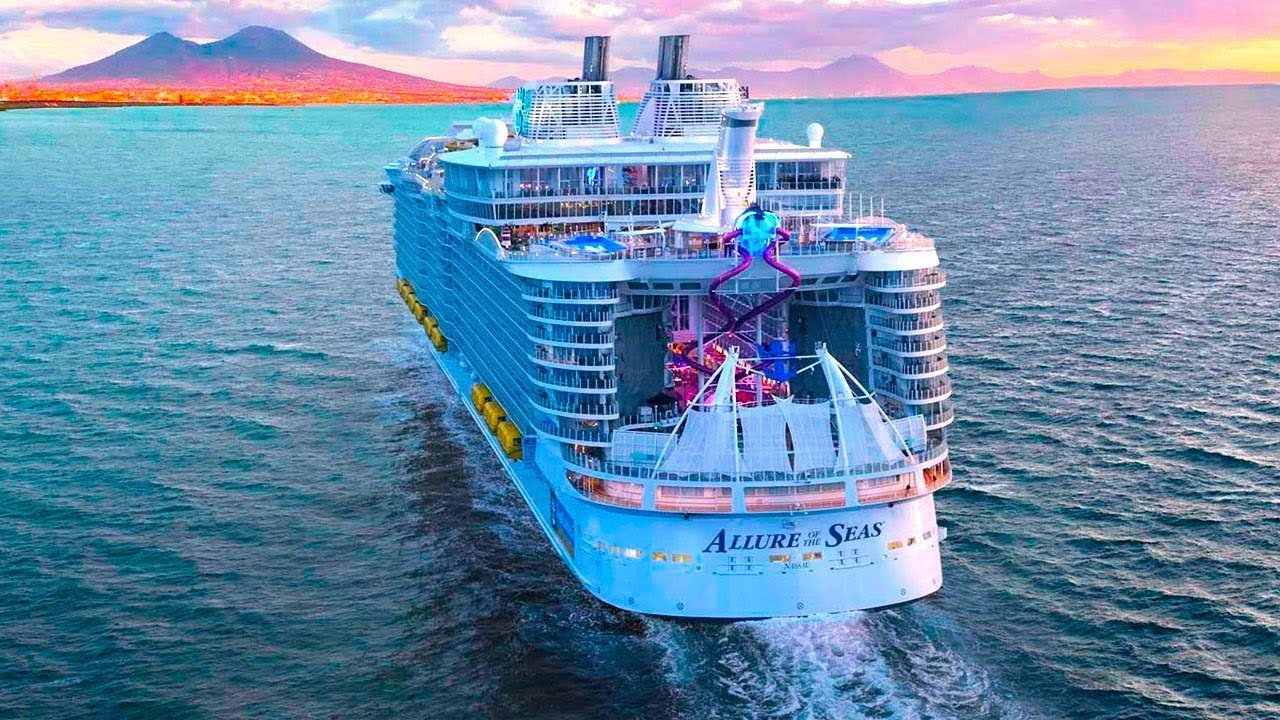 4. Oasis of the Seas
The vessel was ordered in February 2006 and launched in 2008 from STX Europe's Turku Shipyard, heralding the arrival of new class vessels in Royal Caribbean International's fleet. The yacht can carry 5,400 passengers at double occupancy on its 16 passenger decks and can serve a maximum of 6,296 passengers.
The Oasis of the Seas is 361.6 meters long overall, 72 meters tall above the waterline, and 22.55 meters deep, with a gross tonnage of 225,282.
Oasis of the Seas has an outdoor Aqua Theater, an open-air walkway cut out down the length of the ship, and an eatery-filled Central Park, all of which are industry firsts. Other top entertainment options on the cruise ship include a glass-covered Solarium with pool, surf simulators, Zipline, and rock-climbing walls.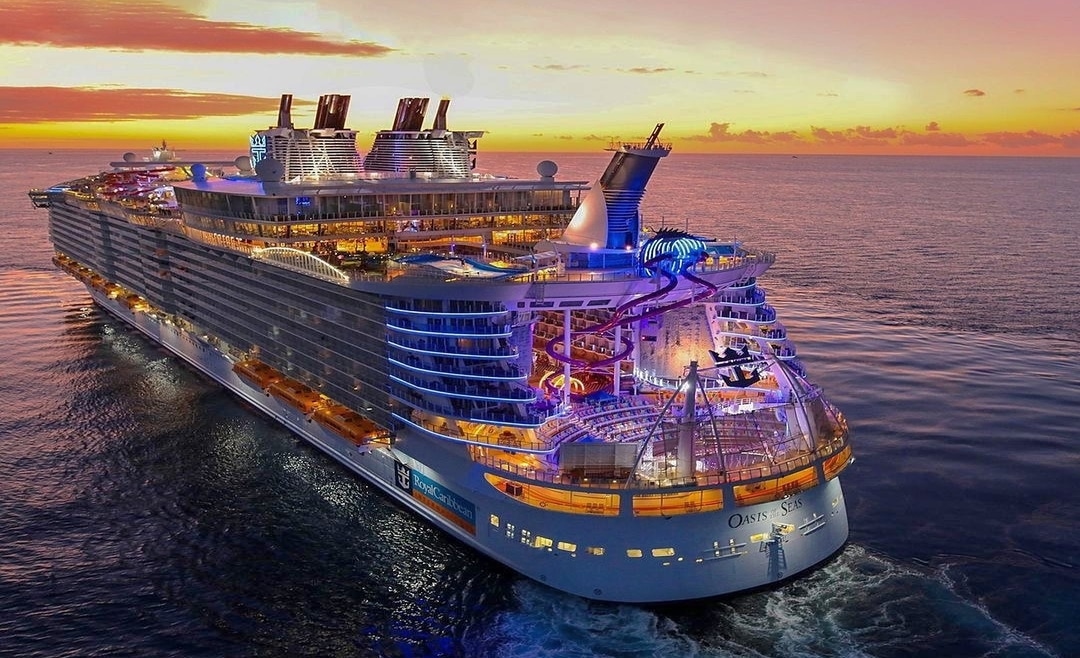 5. Costa Smeralda 
The Costa Smeralda is a highly advanced LNG-powered cruise ship operated by Italian cruise line Costa Cruises and named after Sardinia's Emerald Coast. The Costa Smeralda has begun passenger service and is now operating in the Mediterranean Sea.
With 185,100GT and a length of 337 meters and a width of 42 meters, it is Costa Cruises' largest cruise ship. It has the capacity to accommodate 6554 passengers and 1646 crew members.
The ship is developed with several sustainable technologies in mind, resulting in a "Smart floating City" that gives luxury to its passengers while also reducing the ship's carbon impact. This is one of the ships that was delivered right before the COVID 19 Pandemic broke out.
6. P&O Iona 
Iona, another LNG-powered cruise ship from P&O Cruises, was set to launch in May 2020. However, because of the Coronavirus epidemic, delivery was delayed, and the P&O voyage only received it in October 2020. Despite the fact that Iona was delivered, she was put on hold for several months as the cruise industry, including P&O Cruises, shut down.
Iona is the largest cruise ship ever built for a cruise service located in the United Kingdom. It has 17 passenger decks and measures 345 meters in length. Iona can carry 5,200 passengers and 1,800 crew members for a high-end luxury experience, with a gross tonnage of 185,000.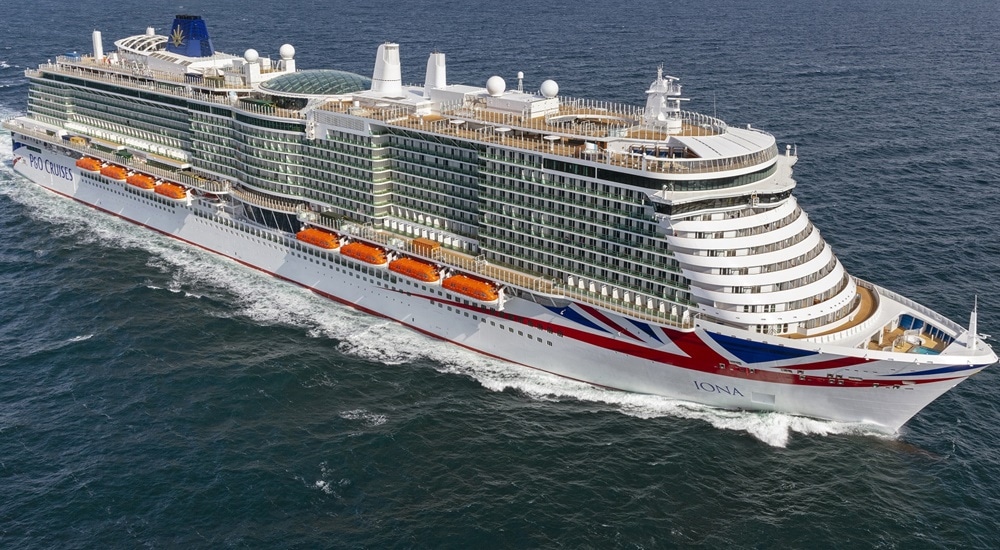 7. AID Nova
AIDAnova by AIDA Cruises is the world's first cruise ship that can run on liquefied natural gas both at sea and in port (LNG). With a gross tonnage of around 183,900 GT, a length of 337 meters, and a width of 42 meters, the AIDAnova offers almost 2,600 passenger staterooms. AIDAnova is the first ship in MEYER WERFT's Helios class, which will be built for the AIDA CRUISES cruise line.
Following AIDAnova, Carnival Corporation has placed an order for ten further next-generation "green" cruise ships that will be powered by LNG in port and at sea, with delivery dates ranging from 2019 to 2025, putting the cruise industry at the forefront of LNG utilization.
8. MSC Grandiosa
MSC Grandiosa is a Meraviglia Plus – Class cruise ship that was launched in November 2019. It is larger than MSC Meraviglia, which was launched in 2017. At sea, she has the world's first Humanoid Robotic Bartender!
The ship is the first of the Meraviglia-Plus class, and it was built in France at the Chantiers de l'Atlantique shipyard and delivered in late October 2019. She was christened in Hamburg, Germany, on November 10, 2019, and has been sailing since then, with the exception of the 2020 industry shutdown.
MSC Cruises operates it, and this new flagship is 331 meters long (16 meters longer than MSC Meraviglia). It has a maximum capacity of 6334 passengers in its 2421 cabins, thanks to its 181, 541 GT. In addition, it has the largest capacity shopping area inside the cruise ship.
9. Carnival Mardi Grass
The Mardi Grass is a 180,000 gross tonnage LNG-powered cruise ship operated by Carnival Cruise Lines, the world's largest cruise ship operator. The Mardi Gras is Carnival Cruise Line's first XL-class ship, ushering the company into the LNG age.
It was delivered in December 2020 by Meuer Turku Shipyard, which was built in the midst of the pandemic. The name Mardi Grass is a nod to the company's first cruise ship, the TSS Mardi Gras, which debuted in 1972. The Carnival Mardi Gras is set to begin operations in April 2021.
The ship has a pandemic preparedness plan in place, as well as a state-of-the-art medical centre for testing and treating passengers in need. It will have a total of 1745 officers and crew on board, with a capacity of 6630 passengers.
10. MSC Meraviglia
The MSC Meraviglia is 315 meters long, 43 meters wide, and 65 meters tall, with a tonnage of 171,598 tons. She has been built to operate in all seasons and can call at most of the world's international cruise ports, with a top speed of 22.7 knots.
MSC Meraviglia has been making waves in the cruise and tourism industries since her debut in June 2017, winning significant prizes for her exceptional product.
The ship has been lauded for bringing to sea some of the most cutting-edge developments in customer-centric technology, digital advancements, and unique guest experiences. The ship is also recognised for its state-of-the-art Quality, Health, Safety, and Environmental (QHSE) management, in addition to this industry-wide honour.
Also Read:  10 Unforgettable Dialogues Of Peaky Blinders