Robert Downey Jr., one of Hollywood's highest-paid actors, is noted for being both a great and successful actor as well as his battle with addiction. He spent decades sobering up, slipping up, and getting arrested in and out of treatment. He ended himself in state jail as a result of his downward spiral. He is the hardworking star of the Marvel Universe To ultimately face his addiction and find his way to recovery, he had to lose everything—his money, profession, and family.
The Iron Man actor didn't only portray a superhero on screen; his battle with addiction is a great narrative of overcoming adversity and undoing years of bad habits.  Downey was designated one of Time magazine's 100 most important people in the world in 2008, and Forbes labelled him Hollywood's highest-paid actor from 2013 to 2015.
Growing Up And Drugs Abuse-
Robert Downey Jr., the son of underground filmmaker Robert Downey Sr. and actress Elsie Downey, was born in New York City in 1965. His father, who suffered from substance misuse himself, exposed him to drugs at a young age, enabling him to consume marijuana at a party when he was only eight years old. Downey Jr. recounted in an interview with People Magazine how consuming drugs with his father became a way for them to bond, and how this early exposure to drugs led him to spend most evenings in his 20s and 30s getting drunk and scouting suppliers.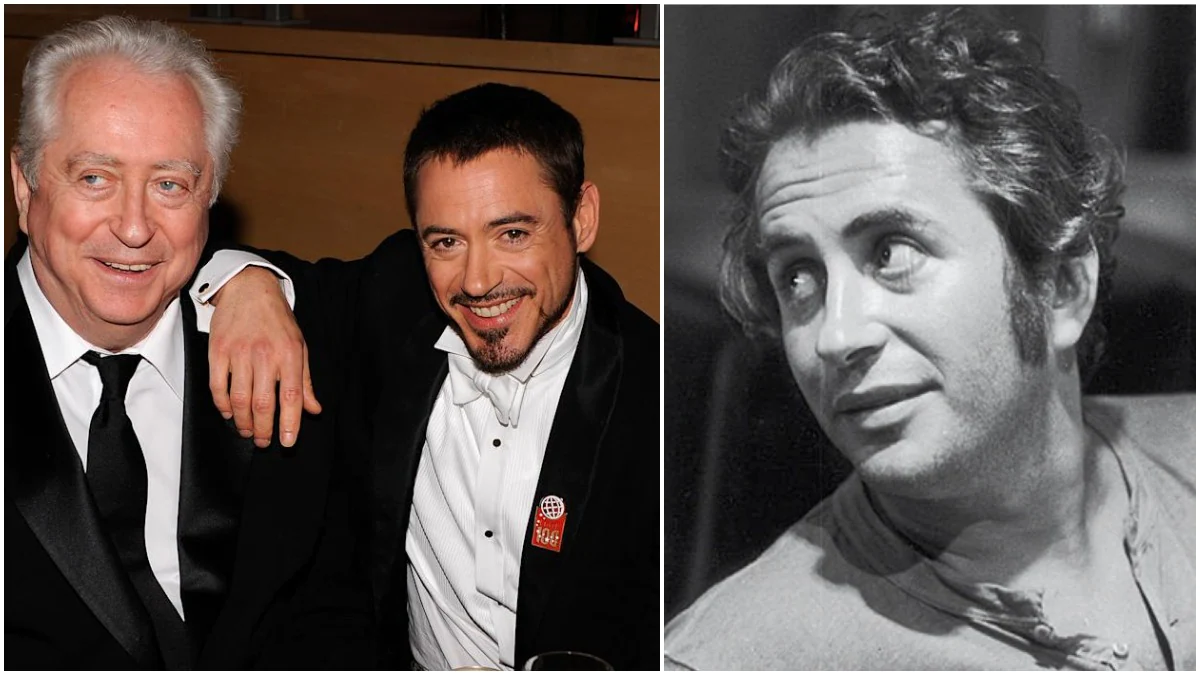 Robert Downey Jr. moved to Hollywood in the early 1980s to pursue a career as an actor, and his appearance in the film Weird Science won him a seat in The Brat Pack, a group of teenage actors who acted in many of the decade's most memorable coming-of-age films. He spent a year on the cast of Saturday Night Live in 1985 before receiving his first major part in The Pick-Up Artist, which launched his acting career.
Downey Jr. Early Life and Family
Downey was born the youngest of two children in Manhattan, New York City. Robert Downey Sr., his father, was an actor and director, and Elsie Ann (née Ford), his mother, was an actress who starred in Downey Sr. films. Downey's father was half Lithuanian Jewish, a quarter Hungarian Jewish, and a quarter Irish, whereas Downey's mother was Scottish, German, and Swiss. Robert's first name was Elias, but his father changed it to Robert in order for him to enrol in the army. Downey grew up in Greenwich Village with his older sister Allyson.
Downey was "surrounded by drugs" as a youngster. Downey's father, a drug addict, let him try marijuana when he was six years old, an act that his father subsequently regretted. "When my dad and I would use drugs together, it was like him attempting to communicate his love for me is the only manner he knew how," Downey later said of drug usage as an emotional tie between him and his father. Downey eventually began consuming booze every night and "made a thousand phone calls in search of drugs."
Downey had modest appearances in his father's films when he was younger. At the age of five, he had his acting debut in the absurdist comedy Pound (1970), portraying a sick dog, and at the age of seven, he starred in the surrealist Western Greaser's Palace (1972). He was born in England and learned classical ballet as part of a bigger curriculum when he was ten years old. As a youngster, he went to the Stagedoor Manor Performing Arts Training Center in upstate New York. Downey relocated to California with his father after his parents separated in 1978, but he dropped out of Santa Monica High School in 1982 and returned to New York to pursue an acting career full-time.
Downey and Kiefer Sutherland, who co-starred in the 1988 drama 1969, shared a room for three years when Downey initially arrived in Hollywood to pursue his acting career.
Addiction Battle and the Beginning of His Career
In 1987, Downey Jr. starred in the film Less Than Zero as a rich, disturbed adolescent, followed by an unexpected triumph as Charlie Chaplin in Richard Attenborough's biopic Chaplin in 1992, for which he was nominated for an Academy Award. Even as his problem with alcohol and drug abuse began to take a grip of his life away from the set, he continued to act in films. For a time, he was able to stay sober while working on a film, but he quickly fell off the wagon and began using again, going on days-long binges. He was consuming heroin and freebasing cocaine by 1995, which led to multiple arrests and rehab sessions.
Downey Jr. was arrested many times in the summer of 1996, all within a few weeks, for odd and dangerous drug-fueled conduct. One incident occurred when authorities pulled him over for speeding and discovered him not only inebriated but also in possession of heroin and cocaine, as well as an unloaded.356 magnum in his passenger seat. He was apprehended by police again shortly after when he strolled into a neighbour's home and passed out in their son's room. Downey Jr.'s downward spiral began at this point.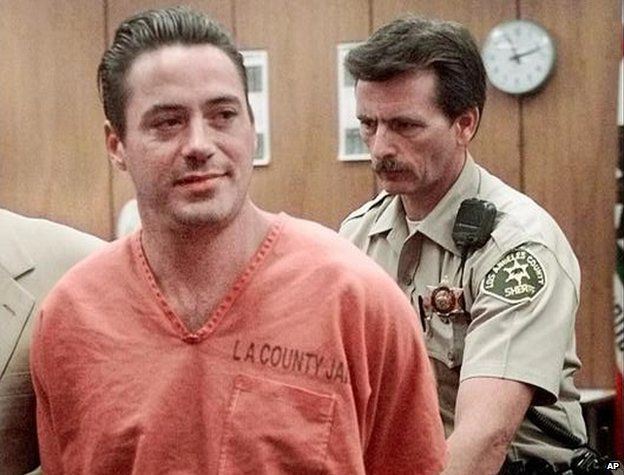 Tough days of Downey's life
Downey Jr. spent the following five years in and out of state-run drug treatment centres around California. He was sentenced to 36 months in state prison in 1999, and he served 12 months before being paroled. He was arrested twice more in the next eight months before being transferred to Wavelengths International for six months of rehab, one of several court-ordered addiction treatment institutions he had visited over the years. This moment in Robert Downey, Jr.'s life was what he refers to as his "rock bottom," when he hit rock bottom with his addiction and lost everything. His wife abandoned him and absconded with their son. He was sacked from his role as Ally McBeal on the sitcom. He was deeply in debt and on the point of declaring bankruptcy. Moreover, he decided at that point that it was time to take a year off and focus only on his substance usage. It was time to get back on track.
Robert Downey Jr. as The Emerging Star of Hollywood
In 2002, Robert Downey Jr. returned to acting following a stint in recovery, with parts in Kiss, Kiss, Bang, Bang, and the box office smashes Zodiac. However, it was while shooting the film Gothika in 2003 that he began his affair with film producer Susan Levin that he became really devoted to his rehabilitation. They married in 2005 and are the parents of two children. His dedication to overcoming addiction and resurrecting his acting career paid off when he was cast as Tony Stark in Marvel Studios' Iron Man and The Avengers film franchises.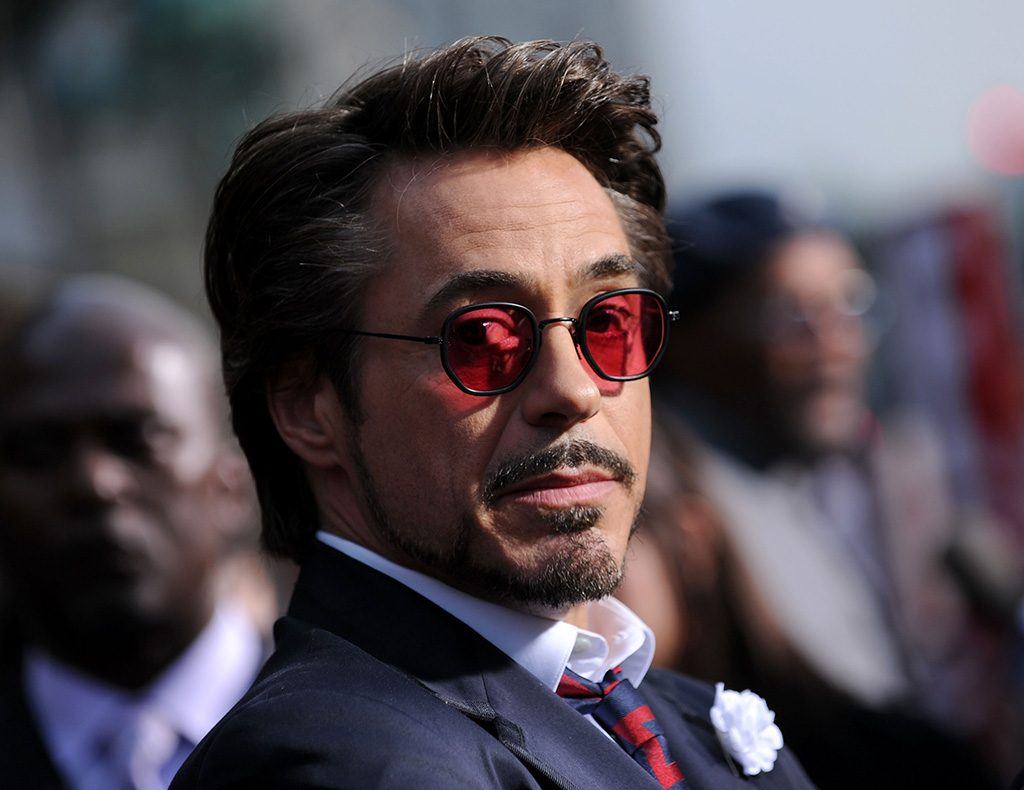 Robert Downey Jr. now lives a relatively tranquil life, preferring nights in and weekends spent with his family in their Malibu home over crazy nights out and weekend-long drug binges. For helping him conquer his addiction and stay clean, the 54-year-old cites his connection with his wife Susan, his children, Eastern martial arts, yoga, and the 12-Step program. His job, of course, keeps him occupied and focused. Dolittle, his most recent feature, was released earlier this year. He and his wife are also co-founders of Team Downey, a film production firm.
Pearls of Wisdom
"The lesson is that you can still make mistakes and be forgiven."
 "Job one is to get out of that cave. A lot of people do get out but don't change.
"Maybe the goal really should be a life that values honour, duty, good work, friends, and family."
"I'm not afraid of total failure because I don't think that will happen. I'm not afraid of success because that beats the hell out of failure."
"Worrying is like praying for something that you don't want to happen."
"People never change because they are under threat or under duress. Never. They change because they see something that makes their life seem valuable enough to start moving toward a life worth living."
"Do I want to be a hero to my son? No. I would like to be a very real human being. That's hard enough."
"Look, even bad years are pretty good years, I think."
"Discipline for me is about respect. It's not even about self-respect; it's about respect for life and all it offers."
"If I'm not on my team, why should anybody else be?"
Downey Jr., then 49 and sober for roughly a decade, stated in a famous Vanity Fair interview, "For some individuals, it's just a function of age." It's quite natural for individuals to get obsessed with something for a while and then abandon it." Here is the total rundown of the life history of the star of the marvel universe. While not everyone's road to recovery is as dramatic and well-publicized as Robert Downey Jr.'s, anybody can overcome addiction and live a sober, full life in recovery.
Also Checkout: Tracing the life of Winona Ryder