Bilal Ahmed, a maths teacher and innovator from Srinagar, has created a solar car that is not only luxurious but also affordable for the general public, shattering the myth that only the elite can own opulent vehicles.
Bilal, who is from the Sanat Nagar neighbourhood of Srinagar, has worked on this project for more than 11 years and now drives his solar car with confidence. He created a cutting-edge vehicle that uses solar power and has solar panels all over its exterior.
He observed and researched various high-end vehicles produced since 1950. Furthermore, he also learned about an engineer and inventor by the name of John DeLorean, who founded the business DMC and inspired him to create a car that is both opulent and inexpensive for the average person.
"For the average person, driving a Mercedes, Ferrari, or BMW is just a pipe dream. The ability to drive such cars and travel in them is still only within the reach of a limited number of people. I also considered a way to make the populace feel opulent," said Bilal.
By watching various videos, he began modifying the car and adding features to it. He then started working on the vehicle. He originally intended to build a car for people with disabilities, but due to his financial situation, he was unable to fathom the idea and had to postpone it. "At that time, the government did not assist me. I couldn't bear the cost of the innovation because I wasn't financially stable," he claimed.
He considered using solar energy to power the car in light of the rising cost of fuel. He travelled to Chennai in 2019 to contact the manufacturer of solar panels. Not only that, but he also conducted research and held brainstorming sessions with a number of subject-matter experts.
"The weather is typically gloomy in Kashmir. I used solar panels, which can operate more effectively even on days with little sunlight. I visited numerous solar companies to evaluate the effectiveness of solar panels," he claimed.
He used monocrystalline solar panels to solve the problem of how the solar panels could be used over the car and how much efficiency they could provide on the smaller surface area. "A car's surface area is smaller than the roof of a house, and vice versa. I purchased solar panels that are highly efficient while taking up little space," Bilal said.
It is pertinent to note that solar panels come in two varieties: monocrystalline and polycrystalline. Bilal used monocrystalline solar panels because they were more efficient and took up less space. He sought to resolve the solar car's shortcomings. When the car was parked, the doors occasionally received some light sunlight. To solve this issue, he created a Gull wing door that opens upwards like the ones in a Ferrari. He faced a challenge and a difficult task in creating and balancing the gull-wing doors. The solar panels attached to the doors will also rise up with gull-wing doors, allowing direct sunlight to hit them, the man explained.
Additionally, the solar panels have the ability to adjust automatically to the sun's changing directions. In order to achieve this, he created a remote control that operates within a 1.5 km range and can be used to change the direction of panels in order to increase light absorption.
He has also increased the car's seating capacity. "Four people can sit comfortably here, compared to the sports car's two-person seating capacity. In order to conserve energy, the braking system will also regenerate power to its batteries. It uses renewable energy sources and is environmentally friendly. It has the potential to completely transform the market," he said. He added, "the vehicle is a fully luxurious vehicle; it is not a prototype. The prices of the other expensive vehicles on the market are enormous, measured in crores. I want common people to have access to affordable inventions. I want people to have access to affordable advanced technology."
He has driven the car on the roads and has got positive feedback from onlookers. In the car, he claimed to have used a lead-acid battery. We can also use a lithium battery in it, but additional protection must be added, and a protection circuit must be used, he said.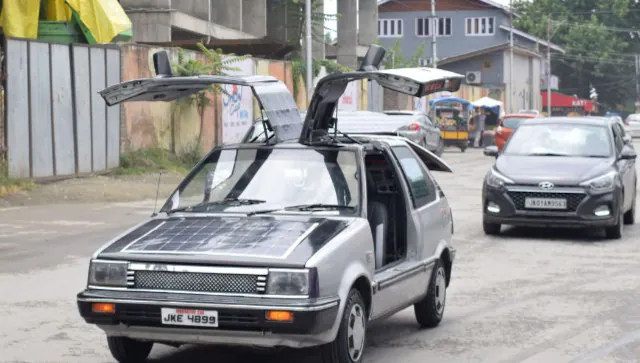 Speaking of his challenges, he mentioned that the lack of tools and technology is a significant problem faced by innovators in this area. Another issue is the local mechanics' lack of exposure. It is very challenging to explain them because of their limited knowledge, the speaker said. He added that Kashmiri youth have more talent than they are given credit for but lack exposure and venues to display it.
He believes that a place like Kashmir needs to have appealing features to draw both tourists and locals. "The on-road electric vehicles lack that opulent appearance. Kashmir is a popular tourist destination, so we ought to have attractions there just like in any other foreign country, such as Switzerland," said Bilal.
He hopes to launch his business soon so that it can produce goods in large quantities and provide jobs for Kashmiri youth. "In honour of my daughters Yosha and Maisha, I will call the business YMC. The business will produce high-end vehicles for the general public," he added.
Bilal is an inventor connected to the NIT, Srinagar IIED centre. He will receive assistance from the centre for this innovation. IIED centre director Saad Parvez said, "The IIED centre will support him in the development of his innovation and put him in touch with the organizations or forums that can be of assistance. Our community's innovators require encouragement and a market. The marketing of the innovation is the challenge."
He has a B.Tech in civil engineering, but he also shows a strong interest in electronics. He has worked as an assistant professor for 14 years in a variety of colleges and universities. He previously created an LPG gas controlling safety device in 2009. Using a mobile app, the device allows for remote automatic LPG cylinder shut off.
Also read – PM Narendra Modi Net Worth – Wealth of our Prime Minister, Assets, Life, 5 Unknown Facts