With the completion of a successful round of Summer Olympics 2020 in Tokyo, Japan where India outshined all its previous records with a total of 7 medals, it is ready for the Summer Paralympics to be held in Tokyo, Japan from the month of August to September.
And here is a champion, rising like a phoenix who is all set for his performance at the Paralympics to be held from August to September. 
This is an inspiring, humbling and courageous life story of India's 40-year-old Paralympic Javelin thrower who won two gold medals at the Paralympics, in 2004 and 2016 Summer Paralympics in Athens and Rio de Janeiro respectively, making him the first-ever and the only Indian to do so. For Devendra, Javelin's throw is just a matter of his 'right hand'.
Devendra was born in the district of Churu, Rajasthan in the year 1981. One of the three sons of Father Ram Singh Jhajharia and Mother Jivani Devi, Devendra has two brothers, Pradeep and Arvind.
He wasn't very old when at the age of merely 8, Devendra met with an unexpected accident that was life-changing. 
As a kid, he would love to play around and have fun with his friends but never thought of sports as a professional option.
But destiny has her ways; once, when he was climbing a tree in his village, he accidentally touched a live cable that apparently was 11,000 volts.
As a result, his left hand had to be operated on and amputated as soon as possible and everyone around him was scared, worried, and unsure if he would recover from it at all. Faced a lot of criticism, unwanted sympathy but not a lot of empathy, coming from friends and surrounding villagers.
But that didn't discourage him to sit back and give up. It did the opposite. Showing real sportsmanship and diligence, Devendra took this criticism as a motivation to rise up from the fallen.
It was from here that his journey of perseverance, hard work and a long mile of dedication that would later make him a celebrated Olympian began.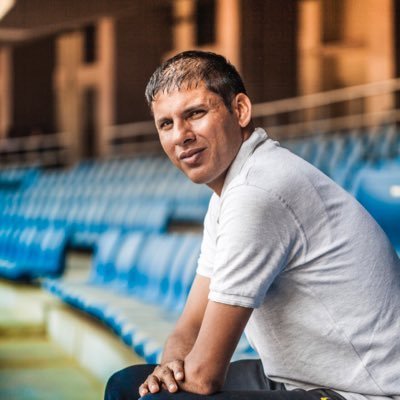 He would spend most of his hours and days in sports fields, practicing and perfecting. In the year 1997, while he was competing at his school on the occasion of sports day, R.D Singh, who himself was a Dronacharya Awardee, spotted him and decided to coach him.
"He gives me a lot of advice and helps me during training", said Devendra after his win at the 2004 Paralympic games. 
In July this year, the national selection trials for the Indian Paralympics team in Tokyo were held and Devendra threw the spear to a distance of 65.71m and yet again qualified for the game.
This time he will be competing for the gold for the third time and everyone's eyes are filled with expectations and hope to see him at the Paralympics this time.
People are sharing videos of his winning throw at Rio over the internet, 'when he sent it flying'.
Devendra's wife, Manju herself has been a professional kabaddi player and the couple is blessed with two sweet children. 
Despite all his setbacks and a major challenge, Jhajharia has numerous awards and accolades in his name.
In 2002, he won his first gold in the 8th edition of the FESPIC Games held in South Korea.
After two years in Athens, he went on to win his first Paralympic Gold. He threw a distance of 62.15m making him the second Indian to bring home gold at Paralympics after Murlikant Petkar.
Further, in 2014, he settled with a silver at the Asian Para Games in South Korea and finished second with a distance of 59.06m in the year 2015, at IPC Athletics World Championships.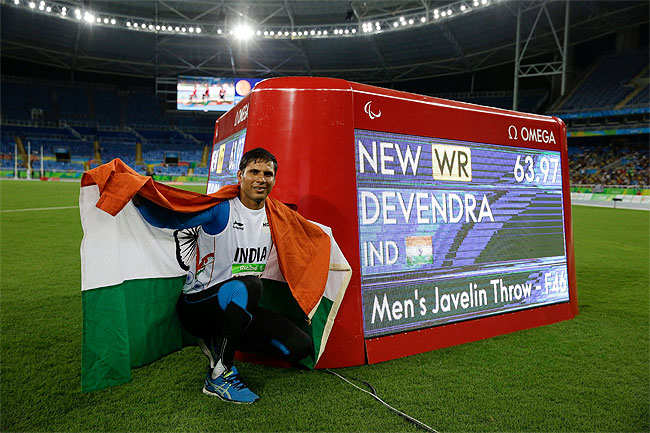 Devendra has been awarded the prestigious Major Dhyan Chand Khel Ratna Award in 2017 followed by a Padma Shri (fourth-highest civilian honor of India) and an Arjuna Award in the years 2012 and 2004 respectively.
The Paralympic athlete was the first one to be honored with Padma Shri. Formerly, he worked in the Indian Railways and currently is an employee of the Sports Authority of India. He is supported by the GoSports Foundation.
Also Checkout: Inspiring Story Of Alan Turing