From the best-selling Novel "Firefly Lane" written by Kristin Hannah, the new Netflix TV series of the same name sifts through the journey of two childhood best friends Kate and Tully played by Sarah Chalke and Katherine Heigl respectively.
Two fourteen-year-old eighth graders become friends when Tully shifts to Firefly Lane, the place on which the title 'Firefly Lane' is based.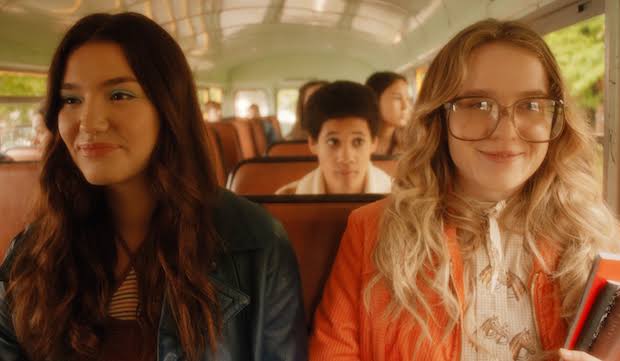 Tully is rebellious, ambitious, confident and glamorous with a narcissistic hippie mom who taints her life with loneliness since childhood.
Kate, on the other hand, is kind, sweet, awkward, nerdy, horse-lover with a loving and warm family and hauls within herself a wholesomeness that persists her in her adulthood.
And hence begins the cliche venture of two best-friends one of them garnering all the fame she could and another struggling her way through it all.
The distinguished Tully Hart is always seen through a rose-tinted mirror with her life being up-to-the-mark with her posh penthouse and a life full of riches. Yet there is a solitary and broken side of Tully hidden behind the veils.  
Kate, on the contrary, swirls in the fame and name of her best friend both of which she was unable to accomplish. It was as if whatever she wished for was with Tully and still, all she had was Tully.
Firefly lane rows from their eighth-grade to collage and finally into middle-age, both of them carrying their issues with them.
By that period, Tully is a well-known and successful Talk-show host and Kate, with a marriage that is collapsing and a daughter shooting tantrums every now and then, without a job departing from her journalism career for her family.
The series begins with Tully on her way to a talk show grumbling underneath of how she 'used to be a journalist', and with Kate on her way to find a job again after 12 years.
The show unquestionably concentrates on the problems dealt by middle-aged women and the jealousy, hatred, rivalry, hurt etc experienced in friendship.
Moving in timelines between the '70s, the '80s and 2003 can be easily reckoned by cinematography and dressing tone.
However the various layers are shown in these years and their subsequent effects are thrown in the series to the extent where they lose their sentimental influence and on the contrary, are simply abandoned as precise equation exhibiting cause and its effect.
At least their friendship is competently explored via their connections to the people around them: Kate's 14-year-old daughter Marah (Yael Yurman), who accuses her mom of her parents' looming divorce; and Kate's closeted brother Sean, who comes out to Tully decades before he told Kate.
Johnny, another one of the supporting characters in Firefly Lane, is shown as Tully and Kate's boss, who is more of a jerk then is shown in the series.
Shifting to 2003 it is perceived that Johnny and Kate ( who had a big crush on him back in the '80s) are on the verge of getting divorced.
He is a war correspondent in the Salvadoran Civil War in 1984 and goes to Iraq in 2003.
Johnny even has PTSD from El Salvador, but the whole ordeal and his character-focused episode come so late in the series that it loses its game.
Nevertheless, the series is a light-watch and ten-episode long as well.
For someone who has not read the book, I could not compare the book and the tv series but as far as the series is concerned, it certainly lacked at several places.
Still, the Firefly Lane also talks about various issues pertained to parenting, substance abuse, childhood trauma, friendship, relationship, self-destruction, loneliness, mid-life crisis etc.
Even after various limitations, Firefly Lane can be easily binge-watched and surely at times you may predict the upcoming twist or the frantic storyline but the friendship between Tully and Kate is full of warmth and love and the series has its own sappy yet lovable mojo.
Also at times, it demonstrates how it is really important to see that no human is perfect and each of us makes their own mistakes but still thirty-years after only they hold on to each other through it all.
Do watch this comedy-drama and let us know your view about it down below.
Firefly Lane is now streaming on Netflix.