Google presented its long-rumored wristwatch for the first time at Google I/O 2022. Though there were several reasons to suspect that a Pixel-branded wearable was on the road, Google confirmed that it is. In this article, we have covered Google Pixel Watch Review from everything we know so far.
After years of planning, cancellations, rumors, gossip, and speculation, Google's wearable has finally been confirmed. Technically, this is more of a tease than a complete announcement – that will come later this year – but Google was generous with its insights, showing off the design and discussing what the wearable is capable of – as well as confirming that Fitbit technology will be incorporated. 
Price and Release Date
Google has officially stated that the Pixel Watch will be available this 'fall,' which will most likely be between September and November. However, the firm also stated that it would be launched with the Pixel 7, which is expected to be released in October based on historical trends. However, it may not be available everywhere, with some claiming a "limited release," albeit the US and UK appear to be included.
According to the source, the price of a 'Pixel Watch Fit' will be approximately $400. That puts it on par with the Apple Watch 7, however, it's unclear if this is the primary Pixel Watch or a spin-off. According to a little more current pricing leak, it might cost between $300 and $400.
Google Pixel Watch Design
Based on what Google has teased, the Google Pixel Watch design still appears to be mockups. It features a circular appearance with what seems to be a digital crown on the right side and perhaps some buttons. The color shown during I/O is silver, with no indication of additional colors or size possibilities. Many smartwatches on the market are available in two sizes; perhaps Google will follow suit.
As a result, the Pixel Watch appears to be a relatively clean and basic wristwatch, similar to the design of previous Pixel gadgets. Meanwhile, interchangeable bands would allow wearers to personalize their watches. For the time being, the inside design is a mystery.
Specifications and Features
Google didn't provide many details about the Pixel Watch's specifications, but it does incorporate Fitbit hardware, which powers things like sleep tracking, heart rate monitoring, seeing active zone minutes, and measuring your progress against personal fitness goals.
In addition, Google has discussed Wear OS on the device, claiming that the operating system is better than before and feels more fluid beneath the finger. It will let you conduct contactless payments, access Google Maps (even if you leave your phone at home), communicate with Google Assistant, and manage your smart home devices from your wrist.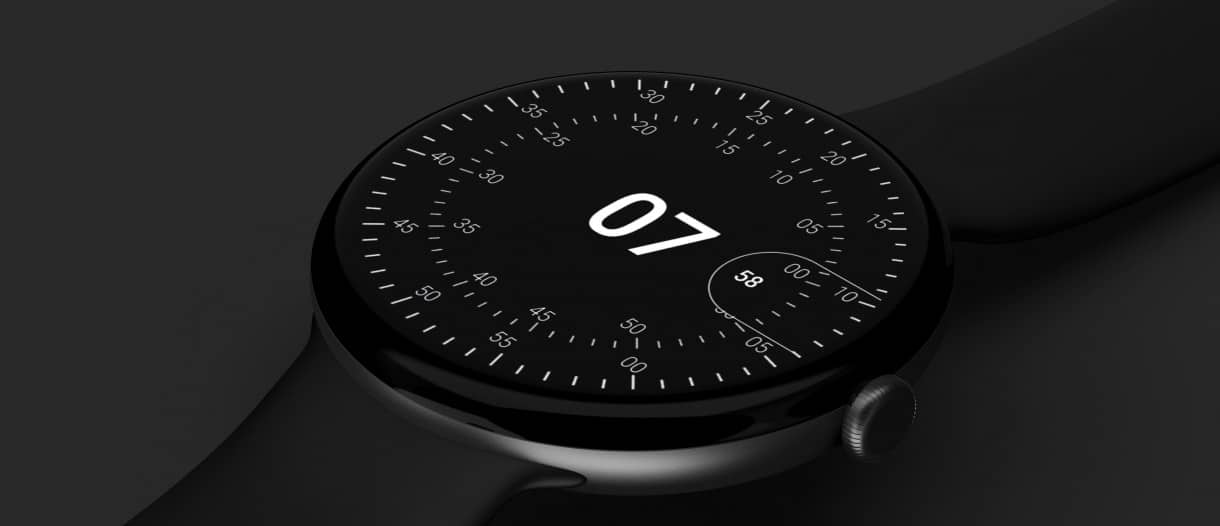 Beyond that, we're still in leak territory, but we're starting to get a good image of the Google Pixel Watch's specifications. According to one somewhat sad report, the wearable would be powered by an outdated processor.
According to recent rumors, the wearable will contain a 300mAh battery (similar to the Fossil Gen 6) and cellular connection on at least one model, allowing you to make and receive calls even when your phone isn't connected.
A carrier's inventory system also identifies the wearable as having 32GB of capacity, implying that there will almost certainly be a cellular version, given this carrier has never marketed a non-cellular wristwatch.
There's also evidence that there may be a strong emphasis on fitness, both because Google purchased Fitbit and because Google sent out a survey asking people what features they'd like to see in Wear OS, and those features included SPO2 (oxygenation) tracking, sleep apnea detection, sleep analysis, heartbeat alerts, recovery time monitoring, stress tracking, pairing for medical devices and gym equipment, rep detection, and calorie tracking.
One speculated feature was nicknamed 'Blackghost.' It was assumed to be a power management integrated circuit incorporated into the chipset itself that would allow the watch to constantly listen for voice instructions without exhausting the battery.
If this does come, expect to be able to ask Google Assistant queries without needing to either deplete your wristwatch or push a button first. Similarly, we've learned that the Pixel Watch may feature on-device processing for Google Assistant, potentially speeding up the service.
Another rumor, this time from WinFuture, suggests that three variants of the Pixel Watch are in the works. The website has learned that gadgets with the code names Ling, Triton, and Sardine are all being developed at Google HQ. The exact distinctions between the devices are still unknown. It's possible that three versions of the Pixel Watch will be released. According to the same claim, at least one version of the watch will include 1GB of RAM.
Three distinct Pixel Watch versions appear to have been certified, and we've heard rumors of a Pixel Watch Fit spin-off. One source also mentions two distinct watch sizes, which might be another way the watches differ. A Google patent describes a gesture control system that would allow a wristwatch to recognize motions made with your arm, wrist, or fingers.
What People Want:
In-Display Fingerprint Sensor
If Google truly wants to put the Pixel Watch on the map, an in-display fingerprint scanner would help a lot. Currently, Wear OS watches (including the Apple Watch) may be secured using a PIN number – but this is not the most secure method of security available.
The secure biometric technology would integrate smoothly into the wearable with an in-display fingerprint reader, without interfering with the aesthetic attractiveness of the watch. It would also allow you to authorize transactions that are more than the existing contactless limit (assuming the Pixel Watch comes with NFC).
Swimproof
We're familiar with smartwatches with dust and water resistance, but few have an IP rating high enough to secure their life when we leap into the neighborhood pool. A genuinely swim-proof Google Pixel Watch would allow users to not only use the device while bathing but also track workouts in the water without fear of malfunction.
3 Day Battery Life
This one is straightforward, but we want the Google Pixel Watch to survive as long as possible. Consider a fully functional smartwatch that does not require charging after two days of heavy use. Wear OS has a beneficial improved energy conservation option that should offer you a lot more time with your wristwatch, but it will limit the number of functions you can use while it's turned on.
Clearly, Google wants to increase how long your watch lasts on a single charge, but we'd want to see a larger battery within the watch and well-optimized software that provides the greatest battery for a smartwatch on the market right now.
Conclusion
Google has traditionally depended on other OEMs to carry the hardware torch for its software from the outset of its wearable strategy. However, since Wear OS 3 was released last year, the demand for an official Google Pixel Watch has only risen.
However, Google's statement was simply a sneak peek, not a complete launch. As a result, much information, such as the watch's pricing, battery life, and health sensors, remains unknown (to name a few). Google will most certainly publish additional information about the Pixel Watch as it approaches its autumn 2022 debut date, but here's what we know so far.
Hope this Google Pixel Watch Review was helpful to you. Keep following for more such tech-related content!
Also Checkout: SLED Vs QLED Vs OLED: Which TV is the best to buy this season?